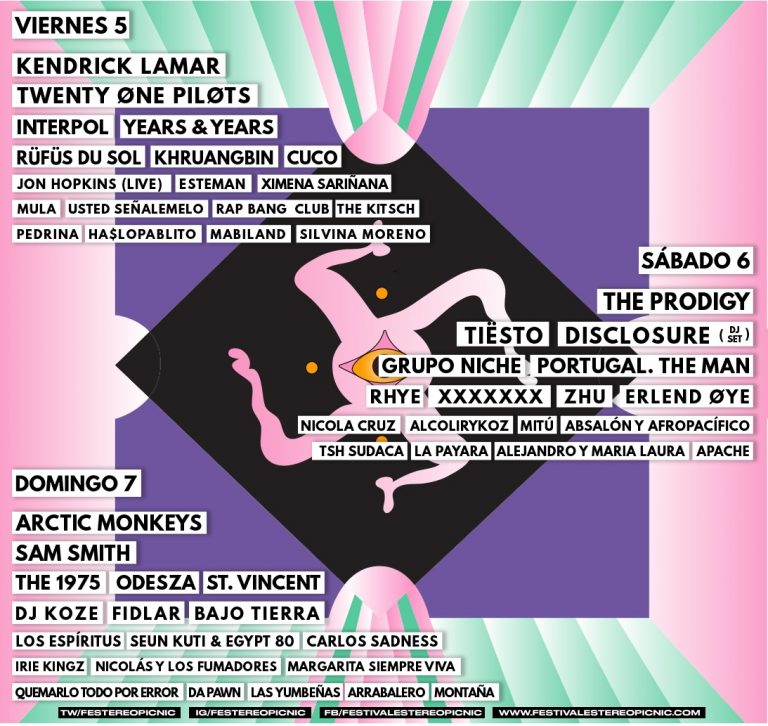 Festival Estéreo Picnic X: Looking Beyond its Mainstream Success
14 March, 2019
Bogotá's Festival Estéreo Picnic has become one of the top players on the festival circuit when it comes to putting together the planet's biggest acts along with the most on-trend local artists, and not to mention a good chunk of the region's up-and-coming talent. Line-ups have become exponentially larger since the festival's inception back in 2010, but even so, carefully-curated Latin American talent has remained one of the, if not the, most impressive constants throughout its almost 10 years of existence.
Unlike other huge festival franchises in the region such as Lollapalooza, Corona Capital and Cosquín Rock, FEP's curiosity for the current state of Latin America's rich and highly diverse music scene has become one of the festival's strongest trademarks, and an important reason for its success. Though it's now recognized as a mainstream event, back in the day its appeal was mostly rooted in modern day explorers of traditional Latin music such as Instituto Mexicano del Sonido, Blow-Up-era Bomba Estéreo and early prototypes of Frente Cumbiero and Palenke Soultribe. In its first couple of editions when it was nothing but an ambitious and risky experiment, a powerful dose of Latino flavor and Rock en Español was a must. 'Música Urbana' ambassadors Calle 13 and Chocquibtown headlined in 2011, and a highly unexpected reunion of Mexican rock legends Caifanes arrived in 12, were some of FEP's baby steps into becoming what is nowadays marketed as Colombia's most important music festival.
The lineup's definitive 180º twist into its current identity, where the big acts sit next to the local and continental, occurred around 2013, with the 2014 edition of the festival still regarded by some as the best ever, and it's hard to argue otherwise. Three days stacked with some of the biggest heavyweights in modern rock music, including a memorable performance by Los Fabulosos Cadillacs, which gave closure to this epic event. Right after 2014's installment, it was clear that the event had guaranteed itself a spot amongst Latin America's world class festival circuit. From then on it started to attract big names like Gorillaz, Lana del Rey, New Order and The Strokes, just some of the artists who've played the festival and who, undoubtedly, many people flock to see.
Yet, FEP's latest lineups have certainly maintained its habitual dose of Latin rock n' roll: Andrés Calamaro, unadvertised reunions by Colombian rock idols Aterciopelados and Bajo Tierra, and multiple shows from Mexican alternative rock band Zoé, among others. But most importantly, they have effectively created a habitat for the biggest in mainstream pop culture to coexist with the forefathers of the region's traditions, and some of its most renowned current representatives.
Noteworthy examples of this phenomenon include 2017's edition, which featured appearances by The Strokes and The Weeknd as the main courses, but also a fleshy middle-section starring sonic delicacies such as Totó la Momposina, Quantic, Chancha Vía Circuito, Mateo Kingman and Elkin Robinson. Recent appearances from 'Godfather of Psychedelic Champeta' Abelardo Carbonó and bands like Tribu Baharú, Ondatrópica, Canalón de Timbiquí, Romperayo, Nelda Piña & La BOA, among a myriad of other artists, are also worth highlighting.
The tenth edition of Festival Estéreo Picnic will feature a massive lineup which maintains the highly eclectic nature of the festival. Besides headline performances from Kendrick Lamar and the Arctic Monkeys, the current lineup includes Andean Step ambassador Nicola Cruz, acclaimed Argentine psych-rockers Los Espiritus, and a powerful selection of local talent including legendary salsa orchestra Grupo Niche, Esteman, Mitú, Mabiland, and many many more.
Festival Estéreo Picnic will take place on April 5th, 6th and 7th, 2019 at Briceño 18 Golf Course, a few miles away from Bogotá. Stay tuned for S&C's full coverage of the event, including featured interviews and reviews.

Follow Sounds and Colours: Facebook / Twitter / Instagram / Mixcloud / Soundcloud / Bandcamp

Subscribe to the Sounds and Colours Newsletter for regular updates, news and competitions bringing the best of Latin American culture direct to your Inbox.
Share: