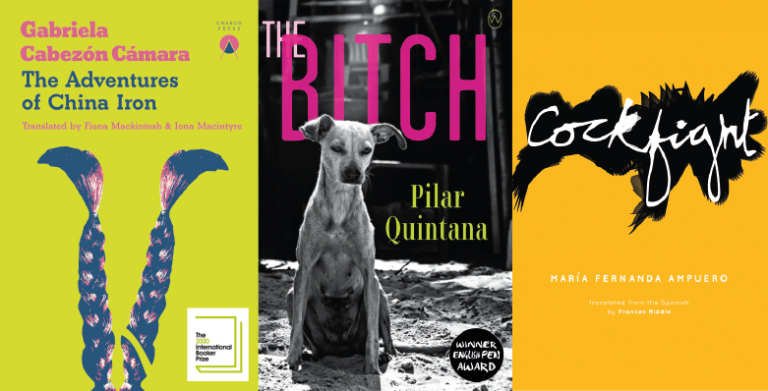 Five Latin American Books to Read for Women in Translation Month
03 August, 2020
The month of August is Women in Translation Month: an initiative created in 2014 by book blogger Meytal Radzinski to celebrate translated fiction written by women.
Translated literature accounted for 5.63% of literature published in English in 2019, a slight increase from a very low 3% some years previously, and the majority of translated books are written by men. There has been a shift towards more female representation in translation recently; encouragingly, five out of the six authors shortlisted for the 2020 International Man Booker Prize are female.
So, to celebrate Women In Translation Month, here are some recently-published Latin American novels to read, both written and translated by women.
Argentina – The Adventures of China Iron by Gabriela Cabezón Cámara, translated by Iona Macintyre and Fiona Mackintosh
Translated from Spanish, this novel also gives readers an insight into the linguistic diversity of Argentina. Publisher Charco Press calls it "a riotous romp taking the reader from the turbulent frontier culture of the pampas deep into indigenous territories. It charts the adventures of Mrs China Iron, Martín Fierro's abandoned wife, in her travels across the pampas in a covered wagon with her new-found friend, soon to become lover, a Scottish woman named Liz."
The Adventures of China Iron was shortlisted for the 2020 International Man Booker Prize and you can watch an interview with the author and the translators here.
Colombia – The Bitch by Pilar Quintana, translated by Lisa Dillman
This novel won Colombia's prestigious Biblioteca de Narrativa Prize in 2018. The Bitch takes place on Colombia's Pacific Coast and tells the story of Damaris, who can't have children and decides to adopt an orphaned puppy. Publisher World Editions calls it "an exploration of the many meanings of motherhood and love".
Acclaimed Mexican author Yuri Herrera recommended this book in a recent interview, as a novel that "uncovers wounds we didn't know we had, shows us their beauty, and then throws a handful of salt in them."
Dominican Republic – Made in Saturn by Rita Indiana, translated by Syndey Hutchinson
And Other Stories, Indiana's publisher in English, calls Made in Saturn "A generational portrait of Latin America in its post-revolutionary come-down, through the eyes of a recovering heroin addict and artist." Sharply written and full of wit, this is the tale of Argenis Luna: a washed-up artist and the son of political revolutionaries, living in Cuba after being kicked out of rehab.
Rita Indiana is an award-winning writer, as well as being a musician and singer-songwriter. Rolling Stone featured her new single here.
Ecuador – Cockfight by María Fernanda Ampuero, translated by Frances Riddle
This collection of short stories by Ampuero, a writer and journalist from Ecuador, is published by The Feminist Press, who describe it as an exploration of "domestic horrors and everyday violence, providing an intimate and unflinching portrait of twenty-first-century Latin America". When this book was published in Spanish in 2018, The New York Times En Español named it as one of the 10 best fictional books of the year.
Mexico – Hurricane Season by Fernanda Melchor, translated by Sophie Hughes
You can't help but be intrigued by the 'tear' that seems to rip through the US front cover of this vivid deluge of a novel by Fernanda Melchor, which, like The Adventures of China Iron, was shortlisted for the 2020 International Man Booker Prize. You can watch an interview with Melchor and Hughes here, where Melchor talks about the book's "exploration of the darkest corners of the human soul" in a story which asks "Who killed the village witch?"
The International Man Booker Prize's chair of judges praised Sophie Hughes' translation as "a work of remarkable boldness and artistic bravery." This book is published by New Directions.
You can order these books from hive.co.uk, which supports independent booksellers in the UK, and Bookshop, which does likewise in the USA.
More from Women in Translation Month
For more ideas on what to read for Women in Translation Month, or to join the conversation, follow @Read_WIT on Twitter or readwit on Instagram.

Follow Sounds and Colours: Facebook / Twitter / Instagram / Mixcloud / Soundcloud / Bandcamp

Subscribe to the Sounds and Colours Newsletter for regular updates, news and competitions bringing the best of Latin American culture direct to your Inbox.
Share: