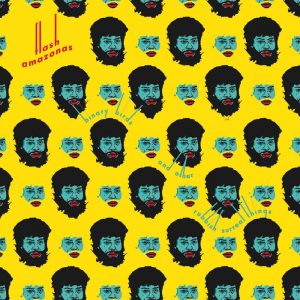 Review
Flash Amazonas – Binary Birds and Other Rubbish Surreal Things
Julián Mayorga has been silently flourishing in the depths of Colombia's avant-garde, as one of its most exciting and creative representatives. His current catalogue includes a handful of inventive and colorful records published under his name, as well as recently assembled duo Islas Atlánticas: a conceptual laboratory of sound polished between Spain and Colombia, and conducted side by side with Bogotá's own Andrés Gualdrón.
This time around, Julián is back with what is definitely his most ambitious and sensational project yet. Born back in 2016, and produced as a joint experiment alongside Tokyo-based musician/sound designer Ryota Miyake, Flash Amazonas' debut achieves a solid blend of Julian's playful, experimental style, with Ryota's pop sensitivity and his phenomenal lo-fi aesthetics. These elements are not only prominent during the entire recording, but also on the album's visual kit: a high contrast collection starring the amusing and somewhat corky videoclips for lead singles "Agua" and "Baby Invasion". The videos portray both the band's members, as well as a peculiar 8-bit collage starring some of Colombia's most beloved soccer legends.
Binary Birds and Other Rubbish Surreal Things presents an hypnotic, yet lovely and enjoyable revision of Latin American music traditions, while giving it an indistinguishable twist into the future. Based upon what was classified as "futuristic bolero" the band seems to be looking for more of an electronic and disruptive reinvention of current trends, than to an amalgamation of genres from the past. Tracks like "Don't Feel Sorry" and "So Much Hotness", present a vast and urgent array of piano-driven textures and melodies that deliver equal parts catchy pop tunes and mesmerizing psychedelia. Some other elements worth noting are Julian's unrestrained lyrical style on "Baby Invasion", plus the band's thorough exploration of new and unforeseen rhythmic patterns and sound qualities on "Phantasmagoria" and "Ie Ni Kaeritai", and the marvelous, synthy soundscape of "Binary Birds", which brilliantly dissects minimalistic noises such as the ringing of a telephone, and beautifully builds the track's structure on top of it.
The newfound society between Mayorga and Miyake was certainly a pretty suitable and appropriate step to take for both musicians. Their new record not only has the potential to resonate among Latin American audiences, but also in the global spheres of alternative music. With vibrant, forward-thinking tunes and a sharp visual identity, this album is one of 2019's most rich and interesting releases in Latin American music.
Listen to Binary Birds and Other Rubbish Surreal Things on Sello In-Correcto's Bandcamp. You can also check out Julián Mayorga and Ryota Miyake's individual catalogues here and here.

Follow Sounds and Colours: Facebook / Twitter / Instagram / Mixcloud / Soundcloud / Bandcamp

Subscribe to the Sounds and Colours Newsletter for regular updates, news and competitions bringing the best of Latin American culture direct to your Inbox.
Share: