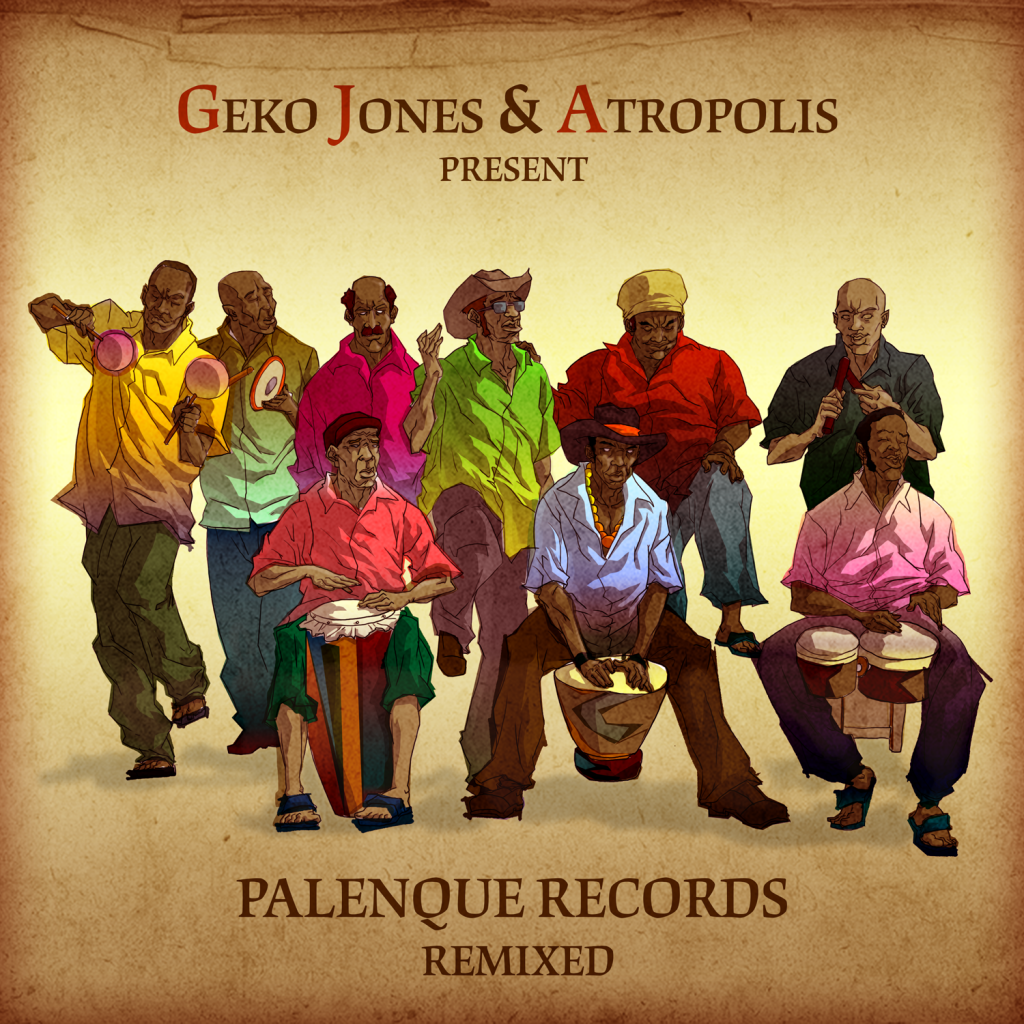 Palenque Records Remixed is a unique compilation which features two different meetings of cultures in two different moments in time. The first meeting dates back to the 70s, when inhabitants from San Basilio de Palenque – a community in the Colombian Caribbean Coast settled by slaves who escaped Spanish bondage in the 1600s – had access to Afropop vinyl LPs that arrived to the ports of Cartagena and Barranquilla. They immediately started mixing these African beats with their musical heritage, also African but dating from centuries back, to create something called champeta criolla. The second meeting dates from present times and results from Geko Jones, Atropolis and other New York Dutty Arts DJs remixing a compilation of champeta criolla songs, introducing the music to a wider club-going audience.
The compilation starts out with "Calabongo (Thornato Remix)" which introduces a punchy bass drum and afro guitar groove to then explode with a deep Dem Bow beat that uplifts this Son Palenque original. The vocals are what stick most to the traditional Afro-Colombian roots over the calypso-style electro background. "Macaco Mata el Toro (So Shifty Remix)" features accordion and horns which allude to vallenato (the former) and porro (the latter) alongside a deep and big bass and drum electro beat for a club-friendly and uplifting version of Batata y Su Rumba Palenquera's original. [Batata was a legendary drummer and composer from Palenque who passed away a couple of years ago and who played for Toto La Momposina.]
[soundcloud url="http://api.soundcloud.com/tracks/97346342″ params="" width=" 100%" height="166″ iframe="true" /]
"Esto es Candela (Captain Planet Remix)" features a futuristic sounding synth, dubstep bass line, super clubby beats and the vocals of two of the singers from Sexteto Tabala, a group of elderly straw-hat wearing men from San Basilio de Palenque. "Un Solo Pie (Geko Jones & Atropolis Remix)" changes the mood into a mid-tempo Dem Bow/reggaeton beat that speeds up, joined by bassy synths and the classic vocal call-and-response of Afro-Colombian tradition by Sexteto Tabala, with delay effects used at times.
"No Habla Na (Chief Boima Remix)" starts out with a gorgeous crunchy vintage Afropop guitar that soon plays over techno beats and sounds that remind me of old school drum machines. The vocals are sung in Palenque dialect (a kind of Caribbean patois) by Colombiafrica Mystic Orchestra. "Chimbumbe (Atropolis Remix)" is a trancey track, with Afro-Colombian vocals by Son Palenque and a champeta feel full of the scratching sounds that are so typical to the genre. "Ataole" is another track originally performed by Batata, but in this Matt Shadetek remix, it combines the African/champeta with wah wah guitar.
One of my favourite tracks on this compilation is "Esto es Candela (Beat Laden Remix)", especially because of it's dark bouncy vibe. It features Afro-Colombian traditional drumming, deep house beats, and what sounds like an electronically produced African marimba. It's completely percussive, simulating the original puya (fast upbeat rhythm) and afro root beats. "Yo No Puedo Mas (Rafi El Remix)" keeps up the traditional Palenque drumming (alegre, tambora and llamador drums, and maracas) and typical Afro-Colombian singing by Son Palenque with a hip hop beat and deep synth bass.
"Sambingo (Geko Jones Remix)" is the only tune by Estrellas del Caribe, and the remix keeps it simple, percussive, carnival style, with the chanting, the drums and a couple of electro sounds here and there. Somehow, together with the two previous tracks, the compilation turns very tribal towards the end. Next we have a Reaganomics Remix of "Macaco Mata el Toro" again, but this one introduces a freestyling ragga singer and retains some of the original accordion and vocal parts. It also brings in the millo flute, a traditional cane flute played in the Colombian Caribbean. The compilation ends with a percussive electro remix of "Adios Batata". The synths that slowly come in and give it a tribal techno vibe remind me of Goa Trance! Delay-affected vocals wishing Batata a good trip (the original track was written after his death) are prominent throughout. It's a blasting track to finish on.
This compilation is good for partying, especially if you like electronic club beats, and it has an exquisite ethnic Afro-Colombian feel. I do recommend listening to the original versions of these traditional tracks featured in albums edited by Palenque Records if you want to grasp a feeling of the source. Nevertheless, these remixes are totally cool, I'd say give it a go!
You can get Palenque Records Remixed from Amazon and iTunes

Follow Sounds and Colours: Facebook / Twitter / Instagram / Mixcloud / Soundcloud / Bandcamp

Subscribe to the Sounds and Colours Newsletter for regular updates, news and competitions bringing the best of Latin American culture direct to your Inbox.
Share: