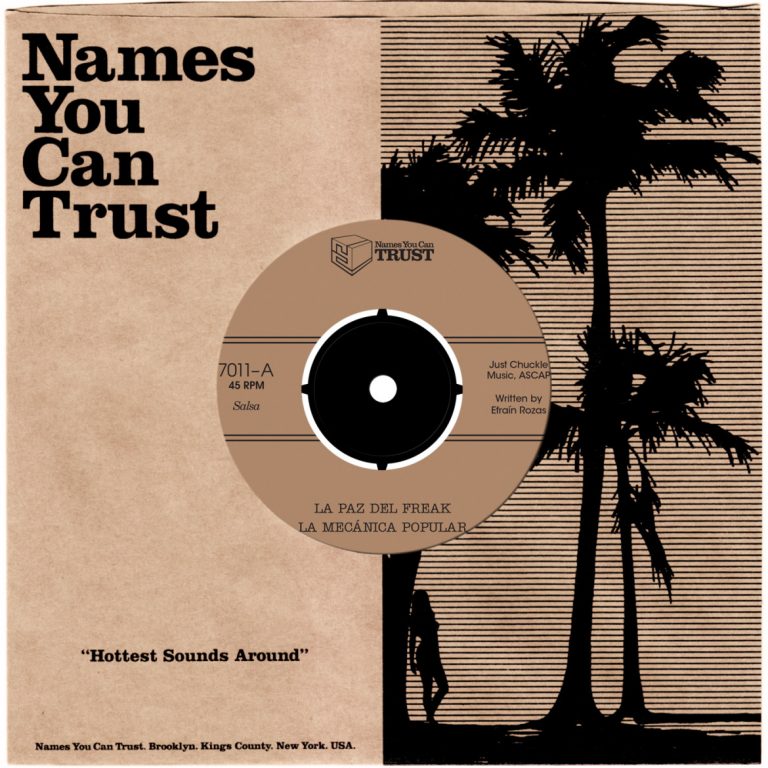 'I Just Like Making the Records I Would Want to Hear": An Interview with Names You Can Trust's Eric Banta
14 November, 2018
Ask anyone who knows a thing or two about making music in Colombia and Eric Banta is a name you can trust.
Best known for his work in the studio, as well as being celebrated for his craft behind the decks, the Brooklyn-based producer and DJ is well known throughout music scenes in New York and Latin America. You certainly don't have to venture through too many of Colombia's independent venues before you hear a record his label has put out working its way through the revolutions.
"This is my fourth consecutive year down here [Bogotá]" says Banta. He has just finished working on the forthcoming La Boa album, Máquina, a band with whom he is familiar after putting out the Nidia Góngora-featured track 'Giumbele' on the label in 2016.
"I've barely left Teusaquillo this time; just for gigs. I've got everything I need here in the neighbourhood. Mambo Negro (recording studio) is there, the tienda is just here, and La Roma (record shop) is just up the road", arms darting in matching directions.
"We always wanted to make records we just needed to get a little steam going before doing that."
After setting up record label Names You Can Trust over 10 years ago, Banta, along with label partner Monk One, has in that time moved from releasing their own collections of mixes to producing some of the hottest sounds on the Latin America radar, pressed on 7″ and resulting in a rather impressive catalogue of vinyl releases.
Much of the early days were really about finding their feet and following hunches. "We didn't know a whole lot about the record business side of knowing records and knowing music, and stuff like that. We always wanted to make records we just needed to get a little steam going before doing that."
It was around eight years ago and with the introduction to Frente Cumbiero, fresh out of Bogotá at the time, that Names You Can Trust found said steam and took to producing underground Latin American sounds.
Having grown up with a love of old salsa and cumbia it was an interaction with a friend in New York that provided the decisive impetus, "A friend of our's, Bento, had heard we were kind of leaning in that direction [cumbia] and suggested we check out Frente [Cumbiero]. I listened and was like, 'woah! This is super dope'", explains Banta.
Subsequently came the first international release on Names You Can Trust, Frente Cumbiero's "Pitchito". "I tell this story a lot and huge amount of credit has to go to Mario [Galeano – Frente Cumbiero] just for being so open to everything." Eric recalls, "I contacted him and was like, 'hey, what's up? this is a label from New York, do you wanna put out a '45?' He was like, 'yeah, yeah of course – let's go!' He was into it from like the very beginning. Dude, it was a simple as that!"
"It just spread like wildfire"
Following "Pitchito", Frente Cumbiero travelled to New York where they stayed and recorded in the Names You Can Trust studio. The band also played impromptu gigs for Eric's neighbours, "I had them playing in the neighbourhood. Just a small pop-up show. Can you imagine? People just walking past like 'what the fuck?'. They loved it. They'd never seen anything like it."
It was that trip where Banta got to better connect with the band and in doing so found himself falling down a rabbit-hole of new Colombian sounds. "It's just crazy you know, everyone is working across so many projects. Eblis [Álvarez] was like, 'I have this other project, Meridian Brothers; we've made like a load of music up to now.' We played it and of course, it was weird, but it was awesome. Next Pedro [Ojeda] played me Romperayo. Well, you can imagine, it really kind of just spread like wildfire after that."
This 'go-to' mentality has since taken the label all over Latin America, through Argentina, Brazil and Peru in addition to Colombia. "There's been bands like Sabor y Control from Peru. Man, these guys have been making salsa tunes for years now. They're an essential part of that scene and really keep salsa culture going there. It was just something we knew we had to get on record."
"It's important that we can all share in the process"
Despite drawing on an international roster of artists, it is a human connection and working closely and directly with musicians themselves that continues to motivate Banta, "Doing it with an actual band that is together and wants to move and do stuff is awesome, that collaboration is great."
That 360° collaboration with the people behind the record continues to act as a fundamental part of the Names You Can Trust identity, a label aiming to bring artists, listeners and the label closer together. Whittling it down, Banta outlines: "It's a big thing, that philosophy of working with people. We're gonna make the record but then also send some down here for you guys to sell. It's important that we can all share in the process and make sure music reaches those that really want to hear it."
For someone as competent in seeing records find their way into the right hands, unsurprisingly perhaps, Banta spends his time straddling both sides of the record making/buying paradigm.  It is very much this record-buyers head with which Banta approaches the record-making process. "We're always looking for music, for records and it's just that same approach. What would I want I want to hear? Music that I would want to play; that I would want to DJ with. That's why it's all 45s. It's what I carry, it's what I DJ with, it's more portable, it is the best sound quality. It's the best format, in my opinion" 
"If it's got something and it works for us, then awesome"
It's not just about hunting in the depths of continental Latin America for new sounds.
Names You Can Trust draws upon a large pool of talent from Latin American diaspora throughout the US. "You know, if it's got something and it works for us,  then awesome. Recent releases include Alba Ponce & The Almighty Mighty Lions, an excellent debut release from a prominent figure across many Daptone Records, as well as Los Angeles' purveyors of tropical-ruckus, Buyepongo.
"I love Jamaican music, too, that's a big part of how I produce, with dub-plates", a love demonstrated via another recent release with Combo Lulo, a New York collective packing dub-fused horns and offbeat rhythms in an Afro-Latin soiree. 
Also well and truly on the Names You Can Trust roster for some time now have been La Mecánica Popular. "La Mecánica Popular have been well known in New York for a while now. I connected with Efrain [Rozas] a few years back, we played some of his music and again I was like 'this is awesome'. We worked on some bits together; did a show, made videos, released an album."
Whilst Banta stresses his level of input differs from project-to-project – "it's different in that each release needs different things" – it's clear too he recognizes the benefit of working closely in both a creative and physical space over time.
Discussing the Roza Cruz [La Mecánica Popular's last album] release, he reflects on how collaborative working really helped shape the project: "the more we worked together, the more we developed a similar aesthetic and we started to outline projects from Efrain's conceptual demos with a full realization of how it would be tracked in the studio and mixed. Basically, we were on the same wavelength when it came time to approach the Roza Cruz project. That collaboration and trust with each other was as much a part of the end result in my opinion."
As for the future, it seems there is plenty to look forward to as well, "We've got about 15 discs currently in the pipeline, and we'll just keep checking music out from everywhere. We're just putting out Lola's Dice now, who are a group from Holland, made up with diaspora from Chile and Venezuela. It's been a really cool project."
As for South America, it seems it can rest well too, with a strong affinity going nowhere and records crying out to be made, another visit looks to be on the cards in the not-too-distant future. "It's awesome down here. Bogotá in particular just has something really special about it; it's so real, so genuine. I love the collaborative spirit. It really doesn't exist in other places like it does here."
Check out Viaje El Centro Del Ritmo, below – the latest release from Amsterdam-based South Americans, Lola's Dice. A frenzied blend of tropical-rhythms, still coloured by the hard to shake punk and hard rock influences that the band's members grew up on.
Check out nyctrust.com or Names You Can Trust's Bandcamp to check out their extensive catalogue of releases.

Follow Sounds and Colours: Facebook / Twitter / Instagram / Mixcloud / Soundcloud / Bandcamp

Subscribe to the Sounds and Colours Newsletter for regular updates, news and competitions bringing the best of Latin American culture direct to your Inbox.
Share: