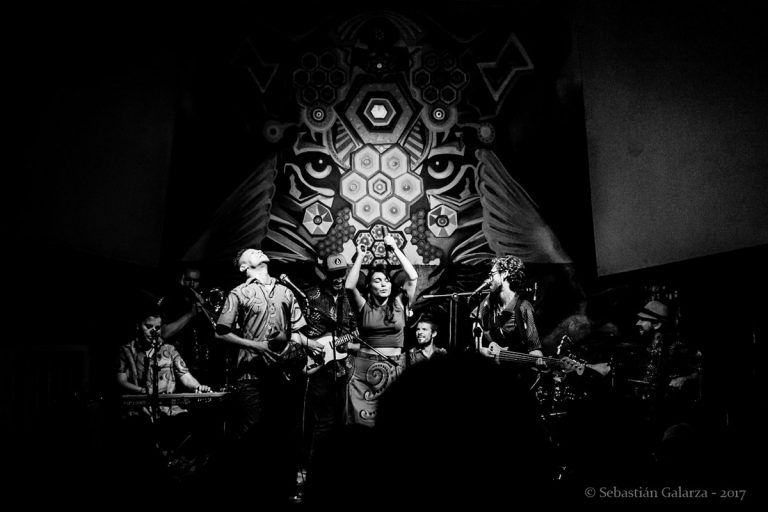 Sebastián Galarza
Creating A Colombian Afrobeat: An Interview with La BOA
26 September, 2017
Tucked away in the residential streets of Bogotá's Teusaquillo district, there's something of a musical revolution taking place. I'm at the home of Mambo Negro, a label working with the artists that are pioneering a large section of Bogotá's music scene.
Downstairs, in a house that almost has me feeling like I'm back somewhere in the UK, a Tom Waits poster hangs on a narrow hallway which opens into a living space, out back is a kitchen, beyond which a table and chairs sit on a small patio. You could be mistaken for thinking there was nothing remarkable happening here. Nothing remarkable perhaps, if it weren't for a group musicians piling down the stairs from a soundproofed den in the adjoining garage, kicking off all the heat of a two hour rehearsal in-between grateful gasps of fresh air.
Kitted to the nines with vintage analogue equipment, upstairs is where much of the Mambo Negro magic takes place. From the creation of ideas and rehearsals through to recording. This little patch of Bogotá is starting to make big waves.
I'm here to speak with Daniel Michel and Sebastian Carrizosa from La BOA, who (along with Marco Farjado, also in the band) have just finished rehearsing with one of their newer musical projects, Kokodrilo which started in 2016.
Following the release of their latest album, Volumen, earlier in the year, we'd been keen to catch up with La BOA for a while to learn a bit more about the band and their Colombian afrobeat proposition. With a busy schedule of live dates and most of the respective members managing their time across at least one other musical project, we finally managed to sit down for a chat after a couple of months of trying. We dive straight into music…
Tell me about La BOA. Who are you and how did it all start?
Well, we started in 2013; there were four of us with the idea of creating an Afrobeat Orchestra: David Cantoni – Percussion, Alejandro Calderon – Drums, Sebastian Carrizosa – Guitar and Daniel Michel – Bass. We started with the idea, as an orchestra, rehearsing and trying out the sounds that we wanted to create.
At some point Nelda Piña came to David's (Cantoni) studio, Chango Records, to record her music, focusing on folklore from the Atlantic. We made the suggestion that perhaps we could go ahead with a musical interchange, recording on some of her tracks and she tries out some of our songs and themes, with La BOA, the orchestra.
We were at a stage where we didn't have anyone to sing with us yet. Nelda arrived, we recorded some demos and everything kind of just fell in to place. By the time we finished recording we all found ourselves in agreement; it was 'una chimba', it was fantastic, and well, she liked it too. We said 'do you want to play with the band', she said 'yes', and that was it!
At that point, when we had Nelda lined up as a singer, it obviously made it a lot easier for us to grow the band and other people wanted to be a part of it. Between May and November the band grew; we got a pianist, Pio (Molina) and Diana Sanmiguel joined the band, and we added the horn sections.
In November 2013 we played our first gigs in Quiebracanto and then Smoking Molly. We had a change in the horn section before going into the studio the following January to record our first EP Afrobeat Y Caribe. This was our first release in May 2014 on seven inch, building something from the interchange we had created and from that point on, we started as Nelda Piña and La BOA. That was really our first year, how we came to be.
Between that and Volumen there was Animal…
Yeah, well that August we started our first intentional tour, we went to Cuba. Santiago de Cuba and Havana. Everything happened so fast and it was a little like, it's been a year already, how did we get here?
In Cuba, we had the opportunity to record in the legendary EGREM studios. They are studios with everything we needed, and so this is where we did the recordings for Animal.
We recorded them at EGREM records, we made some complimentary recordings here, and it was mixed in the studios of La Siesta del Fauno, in Argentina. We mixed the album there, released it here. The next phase was to then take this album live; we went to Uruguay, Argentina and Chile.
That was the second year of La BOA, and then, after the album and the Animal tour we started to work on the latest album (Volumen). We took a few more breaks with this one, and during that process, we went to Mexico and Argentina, it was great. There we started to create new experiences and decided on this occasion to release the next album as 'La BOA'.
What brought about that decision to change to 'La BOA'?
It had it always been a component of Nelda Piña Y La BOA, that's how we had become recognised. In the context of that musical exchange, we had created, combining with Nelda's lyrics and themes.
However, our subject matter and themes come from our surroundings, where we are. Nelda lives in Gamero, Bolívar, the coast so, it wasn't always so practical to continue like that. So well for Volumen, it was different to the rest in this case, and we had a job to do as a much more advanced Bogotá Orquestra Afrobeat than with Nelda Piña.
So well, this was it, we released the album as La BOA.
And how did working with Nidia Gongóra come about, how was it?
Working with Nidia was great. It was all very strange how it happened, I say this because it was an occasion on which I (Daniel) met her and just said "I would like to make a track with you", and she replied "send me something. Send me something and we'll see!" so, well, OK!
We began to work as a band and decided upon a demo, we sent it to her and she was like "yeah it's cool, come to Cali and we'll record it here. I love the song, I have the lyrics." It was recorded with some members of Herencia de Timbiqui, along with Nidia obviously, mixed and then released through Eric Banta from Names You Can Trust.
Tell me about your live dates this year, where have you been and how has it gone… and you have your own festival, BOA Fest, right?
It has been great, we started touring the album at the Guadalajara International Music Fair in Mexico – then we were in Boogaloop (Bogotá), Medellín, Cali, Pereira, Villa de Leyva and then here again.
As for BOA Fest, it's something independent we have put on to share the music we make, but also the music we come in to contact with and enjoy. Like a collective. All of the members of La BOA are playing in at least one other project, so it is an opportunity to share these sounds and influences. The rest of the bands all have a relationship with La BOA in some way.
Last year we put it on over 6 weeks from October – December to celebrate the music. Every week there is a different line up of these bands.
We also invite international artists who we have come in to contact with. So last year we had Carmen Costa (Mexico City), The Smoke Rings (Guadalajara), Little Dynasty (New York), well, this list goes on, there were loads of international bands.
Plus obviously all of the bands that the other members of La BOA are performing with; Bandejas Espaciales (Marco Fajardo), Kokodrilo (Sebastian, Daniel, Marco), La Perla (Diana Sanmiguel), Especial De La House (Pio Molina), No Mas Vale, The Paramos, again the list goes on.
This year BOA Fest will be back, the first date will be Bandejas Espaciales with a group from Medellín called Militantex and then we will we play the second date on 7th October in Boogaloop. Again, it will be a similar spirit to last year, just trying to continue sharing what we do and love.
The idea is to maintain the premise that we can always listen and share something new. To bring artists that we are not used to hearing. If it's something new, then better. For example Gordo's Project from Medellín, who play with La BOA on the 7th. They've been going for a while, have released two vinyls, they have a label and a cultural centre in Medellín called La Pascasia, but have never played in Bogotá.
So this is part of what we are doing, La BOA and Mambo Negro along with all of its associated bands, sharing and exchanging all these sounds and influences; bringing artists together from all over.
In reality there isn't an established circuit. For this reason we want to bring something together through our experiences.
Tell us about the influences for the album.
We have influences from all sides and sounds. It's not like we have the influence of 'world music'.
In reality, this album was an open experiment, it was a collaborative composition the whole time, in which all of the members supported the creative process.
What happened with the sound is that, well we're the Bogota Orquestra Afrobeat (with an emphasis put on afrobeat), so it's really easy to say "we're going to make Afrobeat". This is the easy route, to just say we're going to do something in the style of Fela (Kuti), and well there's nothing wrong with that. Many bands have done it and done it really well. There's nothing wrong with playing Fela.
The afrobeat of the 70s was great, however, we wanted to open it up and put something on the table to move the genre forward as well. It's always been a genre of exchange; Cuban music, music from Africa, soul, funk, it comes and goes, but it takes something from the place in which it develops.
For us it was important we didn't fall into just recreating these musical resources but to try and see and present it as something from here, from Bogotá. To identify this as afrobeat from Bogotá, something Colombian.
Yeah, there is some soul and funk elements to the album but it really is about introducing the Colombian music too, we have "Tambora", but we filtered through a more Massive Attack-style production, or well something from another place.
We've also played around with the guitar sounds and have produced the keyboards through analog synthesizers, creating something that isn't exactly already the property of afrobeat as a genre but it's a sound that seems to us that we like, it goes with what we listen to.
The album was a process that came together with all of our ideas. It was an exploration, and of course we still keep things in the style of afrobeat, but for this reason we have many additional elements, hip hop for example, it's all a part of our musical proposal.
And well, as you know, we don't stop searching for sounds.
How did you settle upon the themes of the album, the subject matter?
We have to acknowledge that this is an afrobeat project. Ideologically as well you have to understand that, it's a beautiful thing and nothing more. You don't need to understand political contexts, nor is not about taking a flag and waving it everywhere. It's not about that.
It's simply to understand that music causes intellectual revolutions, it has a lot do with social criticism, and to be constantly talking about what you see in your environment. What's not cool, and what is cool. It's important to draw opinions on your surroundings and provide some degree of lyrical reflection.
So well, between Animal and Volumen one of the biggest changes in the spirit of the La BOA was in the lyrics. With Animal it was more impulsive, 'this is our first album, let's go!', it was an album in which lyrically things were interesting, but many times it didn't touch on subjects that were too serious; it was relaxed, polite, all good. The reality is Colombia is not all good.
I believe this is a consequence of, well, we're still growing as a band and if we want to grow in this genre then we're trying to do so in a way that means something as well.
The process was really cool, it all started from a concept. When we were starting with this album we thought about creating something with similar themes throughout, it's for this reason we have lots of references to the water for example. We tried thinking beyond having lots of individual songs on one album, but something as conceptual and consistent.
We created many songs to tell a story, this was really fun for the band; entertaining and enriching, so this was the story of making the album.
We've taken this into the the live shows. There are parts of the album we can better conceptualise live and bring to life, to give people a two-fold experience.
It's a genre which has so much power when performed live, in front of you. It's not just a process of taking it live and punching it out a stream of songs, the same as the record, so we wanted to present it live in new ways.
So tell us how the themes were applied to the album more practically…
In reality, we started with this question. For example, we had "Giumbele", which was one of the first tracks off the album. Nidia's lyrics are great so we could build from that.
The story is certainly an experience of the sea. It's the story of a fisherman who stays in the sea and has these thoughts about living alongside the water.
So, in some ways, this was the first hint of how to proceed lyrically. We were trying to view things from a distance, rather than up close, to get the panorama, the big picture. To understand and view what was going on in that way. So most of the songs are views from here, from afar. Trying to separate a little and see how things really are.
It's not about just entering the theme up close, but thinking 'wait… there's loads of things going on here!'
And well, from this distance you can see a little more chaos in the world. It's like "Pájara", a huge bird, you could say a Phoenix, that can see everything from the distance and in that context you can see the shittier things about Bogotá that exist too, and in this case 'light the fires'.
"Tambora" speaks about getting up over and over again. Here we talk a little bit about the different themes of displacement. You know, it's a Colombian reality. You know it's easy to talk about the peace in Colombia, but you can also take a little distance and think about what is really going on here. So yeah, we think like that; stand back a little and think what are the problems here, and how we can tell that from a new perspective.
This thematic element has gone so far as to include the album artwork too, it's a pixelated image, the idea is the same. It's a work by Carlos Torres, a Mexican artist, painted. If you look closely it's pixels but when you step back and take a distance you can see a whole new image.
And for the same reason we went with the name Volumen, because it can talk about many things too.
What next?
At the moment we are still heavily involved in where we are at, finishing the process we have started with La BOA. We've released the LP digitally but we're going to release it on vinyl later in the year.
Then, really it's about continuing the story of Volumen, in that vein, but we're always creating new things. It's important to not stop producing, it's important that we don't stop the creative process. So for now, we are continuing to evolve with that into our future music and grow from where we are.
We will be going to Envision in Costa Rica next February and returning to Mexico so these our two commitments for next year. From there we will continue to keep thinking about BOA Fest and continue making music.
Furthermore, we really just want to keep taking advantage of the cultural spaces we come in to contact with, because it is something fundamental for independent bands, as is the case of La BOA. For example, in Argentina, there are heaps of bands who are working and touring within the same country, doing circuits of the whole country
We have places like Baranaquilla, Cali, Medellín and well there is of course more, but unfortunately after a point it becomes more complicated to look at where we can go. Colombia has lots of smaller towns where it is very complicated to play, well but we really just want to reach people with our music. However, as we've seen in Mexico, there are opportunities, and well we'd love to take advantage of these, to play in some more of the places that we have already been and to grow this principle.
We just want to carry on with the music ultimately; we do it for the music. We are not doing it for commercial ends. It's to share and so we want to go about it in that way because people like it and we love what we do.
Listen to all of La BOA's releases at laboa.bandcamp.com. Latest news at facebook.com/BogotaOrquestaAfrobeat

Follow Sounds and Colours: Facebook / Twitter / Instagram / Mixcloud / Soundcloud / Bandcamp

Subscribe to the Sounds and Colours Newsletter for regular updates, news and competitions bringing the best of Latin American culture direct to your Inbox.
Share: