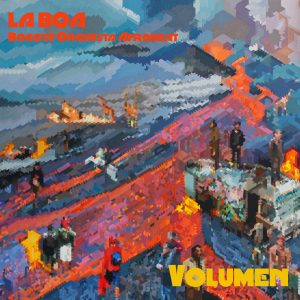 Bogotá, Colombia, an untamed and often less predictable beast of a city. At times, emitting a looming ambience of darker more powerful forces at work. This is one of those times and the all-enchanting forces are of the best kind.
Whilst Cali will stake its claim to salsa and the coast to porro, the Colombian capital remains a steadfast hub of contemporary artists plying tirelessly to innovate and fuse traditional with contemporary sounds. Rarely, however, is this crafted with quite the authenticity and originality that La BOA (Bogotá Orquestra Afrobeat) have achieved on their latest album, Volumen.
Bogotá-born perhaps, but the sound is truly worldly: funk guitar rhythms glue together bars of marimba, horn sections punctuate between rap and soulful vocal delivery. The percussion is sensory with ambient beats raining down amidst the wide-spanning harmonies that soak them up. Undertones of jazz rear their heads from within.
Where their namesake constricts, this BOA induces movement and liberates. It's afrobeat, albeit with a distinctly Latin American-blend of attitude, elegance and swagger.
The band's second album, Volumen follows 2015's Animal. Yet, where the last was an album in full collaboration with talismanic afro-roots singer Nelda Piña, on this new disc Piña only fleetingly accompanies the celebrations. That is not, of course, to understate the power of her voice; when it does return to the fold in the simply sublime "Que Mate El Mar" it does so with a reassurance that belies her aching tones. 2016's collaboration with Nidia Góngora sounds arguably even better now that it did before, as it sits alongside six other tracks which compliment it's brilliance.
Yet despite collaborations and odes to the genre's forerunners, Volumen thrusts La BOA into the fore in their own right. Derived from and staying true to traditional sounds, the album brings together an eclectic array of influences whilst maintaining its artistic cohesiveness. What is produced as a result is unique and you can't shake the impression you are listening to a set of musicians who will have a major role to play in the evolution of afrobeat and world music in its wider sphere.
Simply divine and one of the most exciting new sounds in Latin America right now. Afrobeat may well be finding its future, in Colombia.
Volumen is available from Bandcamp.

Follow Sounds and Colours: Facebook / Twitter / Instagram / Mixcloud / Soundcloud / Bandcamp

Subscribe to the Sounds and Colours Newsletter for regular updates, news and competitions bringing the best of Latin American culture direct to your Inbox.
Share: