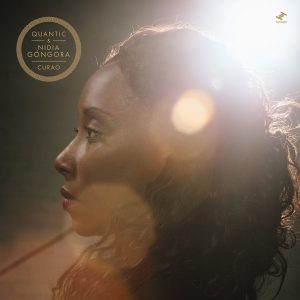 Achingly prolific and ever consistent; both would constitute a fair means of describing either Will 'Quantic' Holland or Nidia Góngora's respective works. No surprise then that such plaudits might apply themselves to the joint works of both of these talented artists, who for a while now, have been stretching the boundaries where traditional Colombian music is concerned. In collaborating on the most extensive of their genre-warping endeavours to date, Quantic and Nidia Góngora produce in Curao a record that brings out the best in both artists' individual and collaborative talents.
We've long been drip fed the potential of an extended collaboration between these two. Over the course of a number of projects, including Quantic's Towering Inferno and two movement-inducing Ondatropica albums, the two have been meshing their sounds seamlessly for quite some time now.  And despite 2016 being such a busy year for both – Quantic put out the second Ondatropica album, whilst Góngora featured on what had to be one of the best tracks out of Colombia last year, Nelda Piña Y La Boa's electrifying single, "Guimbelé" – the two managed to link up to record Curao.
Following a short drum rhythm which sets the tone on the intro track, the album breaks into full swing via a tropical sound which immediately captures the essence of both Quantic and Góngora. "Que Me Duele" plays out like a medley of electronic crossovers behind a hypnotic call and response vocal track, whilst "Dub del Pacifico" is an incredible horn led fusion in which Góngora's vocal slots effortlessly over the top.
The album grows into itself; from "Muévelo Negro"'s marimba lined beats, through the flick switch rhythms that present themselves in "Amor en Francia" to the authoritatively delivered and upbeat "Ojos Vicheros", before arriving at the album's stand out, "Ñanguita".
The opening sequence of the track introduces all of the right elements, brick by brick – the infectious opening rhythm, the security of the marimba beset against the moaning of the strings, the chants and Góngora's opening exchanges – before ploughing through them at high velocity and methodically reconstructing the song's boundaries over and over again. With the musical tensions in all of the right places, it's a mesmerising medium to showcase the unique talents of both artists.
Marimba music – along with the traditional dances and chants that accompany its heritage – was inscribed upon UNESCO's 'Representative List of the Intangible Cultural Heritage of Humanity' in 2015. Introduced to Colombia's pacific coast by Afro-Colombian slave communities, and taking its name from the wooden xylophone-like instrument that punctuates its rhythms, it encompasses a number of musical forms that exist on Colombia's pacific coast, of which currulao is the most prominent. In performing these forms, in addition to her role in teaching younger generations throughout the region, Góngora is playing a huge role in the cultural preservation of Colombia's Pacific region.
Throughout the album, we are afforded the opportunity to hear Nidia Góngora sing a capella on a number of occasions, where her commanding voice and expansive vocal range are given free reign to pick at the hairs on your neck at will. Though pensive and occasionally mournful in approach to her subject matter, Góngora's delivery leaves no room for vulnerability. Packing emotion and power in equal measure, her compelling solos captivate.
Góngora has talked of the balance between traditional and contemporary sounds on the album, and the ultimate aim of connecting more people to her music. "By performing songs from the indigenous and ancestral style, and recreating them through modern and dynamic sounds, I feel I can expose this musical proposition to a global space."
Among her a capella moments on the album, "Interlude II" and the track which proceeds it "María No Me Llevo", lay out in the starkest form the proposition between indigenous style with the modern and dynamic sounds Góngora refers to. It works excellently. Góngora's aching lament is expertly coloured by Quantic's production to create an evolved sound, that through its composition, preserves the creaking instability of the original.
If there were one question to be raised around the album, it might be why it was thought necessary to revisit "Un Canto a Mi Tierra", and more pertinently "No Soy Del Valle". Presumably, by putting '(version)' after the songs' titles, attempts were being made to nuance this against an artistic licence. Yet in the case of "No Soy Del Valle", the chaos of an over zealous drum track somewhat undermines the song's original message, at times completely drowning it out. "Tuve que partir del campo, por falta de oportunidad, a construir nueva historia", (I had to leave the country, due to lack of opportunity, to construct a new story) somewhat loses its congruity, when the beats per minute are jumping off of the walls like a kid who has had one glass of agua panela too many over breakfast.
Nevertheless, the album closes out on a high, with "Interlude IV" featuring a traditional ode to Timbiqui ("Rio Timbiqui, dejame subir"), Góngora's birthplace. The closing ensemble of "Maldito Muchacho" is simply sublime; a commanding verse and rousing chorus.
Through a steady rain of marimba notes, Góngora's exquisite sound has been delicately balanced against Quantic's contemporary musicianship and production in creating a musical timepiece. On a musical level Curao is able to spotlight the individual attributes of both artists, while their respective versatilities allow them to excel collaboratively on what is their most complete endeavour to date.
There's a long list of things that are better when they are together in this world and you would do well to add Quantic and Nidia Góngora to that list. Yet furthermore, this is an excellent album that brings the music from one of the most geographically isolated regions on the planet to a global audience, whilst preserving the artistic and cultural integrity that is at its core. Curao's importance in that regard should not be understated.
Curao is available from iTunes, Amazon UK and Amazon US.

Follow Sounds and Colours: Facebook / Twitter / Instagram / Mixcloud / Soundcloud / Bandcamp

Subscribe to the Sounds and Colours Newsletter for regular updates, news and competitions bringing the best of Latin American culture direct to your Inbox.
Share: