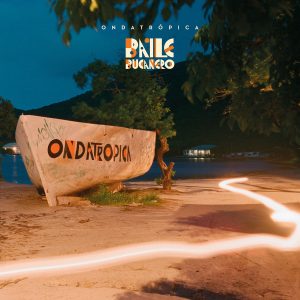 Back in 2012, Ondatropica exceeded all expectations. If there was ever any question about the ability of the band's leaders (Mario Galeano & Will 'Quantic' Holland), the outcome proved they had it in abundance, with genuine eclecticism, originality and unadulterated appeal.
So how on earth could the Ondatrópica project shape an even better, more consistent album than its debut?
To be honest, we don't have a definite answer. When you're the first to be surprised by the quality of a record, all you can do is listen and re-listen to it to fully enjoy its brilliance, as was the case with Baile Bucanero. However, to clear up part of the 'mystery', there are some features that evidently make this latest album an equally unique work.
The second chapter of the Ondatrópica story is once again quintessentially Colombian. Not just because Mario Galeano is an important figurehead in Colombia's contemporary music scene and Will Holland has helped its development, but also because of the premise of the album.
Recorded between Bogotá and Isla de Providencia (two places that are worlds apart yet combine brilliantly, to express the Colombian soul), Baile Bucanero still exudes and champions the roots of South American music. These two locations allow the album to marry the exuberance of Bogotá's underground culture with the Afro-Caribbean and uptempo influences washed ashore on the San Andrés archipelago in the Caribbean Sea.
At the same time and more than ever, Ondatrópica's sound has turned global. It is tropical, African, Caribbean and all intersections in-between. As a matter of fact, when you collaborate with 35 musicians, you take on board their backgrounds too and so it's inevitable to end up with an overflowing palette of styles.
Arguably, what Baile Bucanero lacks most, is a proper single or memorable song. As it is, it is qualitatively unfailing and rhythmically consistent and, differently from Ondatrópica's debut work, it can also be listened in continuum. In fact, despite sparkling moments such as "Bogotá" (an unreleased tune written in the 1970s by Michi Sarmiento and rearranged by Michi himself here) and "Lazalypso", the album is a cadenced and mellow sequence of tunes, recalling Colombian melodies with an electronic twist ("Cumbia Bucanero" and "Boga Canoero"), next to heart-warming Jamaican and Trinidadian repertoire ("Trustin" and "Come Back Again") and Afro-American pseudo-soul tunes with jazzy and funky traits ("Hummingbird" and "Just a Moment").
For the first time also, the language employed has a specific function, highlighting differences in the influences. English is used for the Caribbean-influenced and Afro-American scented tracks and, it goes without saying, Spanish for the Latin ones.
When listening to Baile Bucanero, you can easily tell that it is the result of a 4-year process. If, on the one hand, you can perceive the passion and artistic intensity that it nurtures, on the other hand you can also point out that the album is a finely chiselled work with precise arrangements and an exquisite balance between its ingredients. Its authors are far from being novices and they instinctively know how to write and produce a record embodying a country like Colombia and its many souls.
Baile Bucanero is released by Soundway Records and available from Amazon UK, Amazon US, iTunes and Bandcamp.

Follow Sounds and Colours: Facebook / Twitter / Instagram / Mixcloud / Soundcloud / Bandcamp

Subscribe to the Sounds and Colours Newsletter for regular updates, news and competitions bringing the best of Latin American culture direct to your Inbox.
Share: