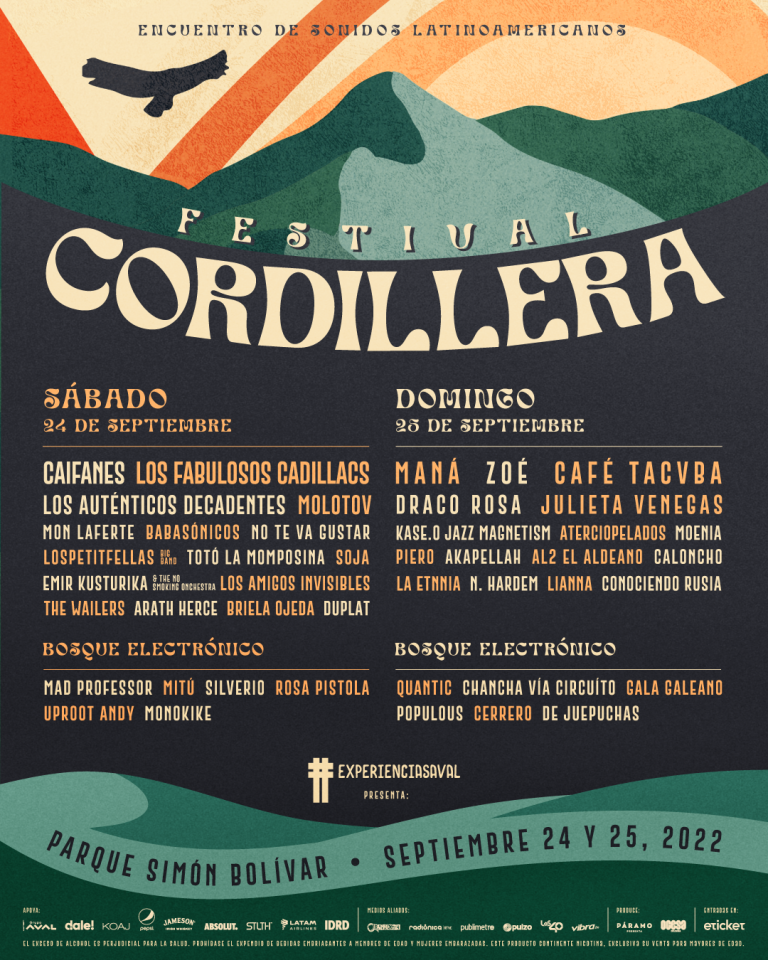 In Hindsight: An Honest Review of Festival Cordillera (Part II)
14 December, 2022
Festival Cordillera 2022 was a massive event in Bogotá which reunited some of the region's biggest acts in rock, pop, electronic, and multiple other styles of music. Today we take a look at the memories from the second journey of this jumbo happening, Festival Cordillera's first-ever edition, which promises to remain strong on the city's cultural agenda for the short and medium term.
The day started off with a nostalgic set of canción latinoamericana, courtesy of Piero. The mythical Argentine-Colombian singer brought along his band, plus a decent dose of good humor, and a setlist that included famous songs of yore like "Llegando Llegaste", "Mi Viejo" and "Para el Pueblo lo que Es del Pueblo"
An unusually sunny Sunday afternoon progressed with an energetic set by Bogotá-based duo De Juepuchas. This is one that we had been meaning to watch for a long while, given the buzz that has emerged about the project in the local scene for more than a decade now. The outfit commanded by Sebastián Maldonado, captured the ears and eyeballs of the crowd, with their unique blend of electronic music and audiovisual samples, which delve into references of popular Colombian culture, like recently deceased football legend Freddy Rincon's epic last minute goal against Germany in the 1990 World Cup, famed local muscle sore ointment Dolorán, and others. Without a doubt, an excellent pick from the festival's organizers, to kickstart the second day at the Electronic Forest.
Around the same time, Lianna was playing at the Cocuy tent. The rapper from Medellín presented a brand new format at the show, with a band that included talented musicians like bassist Nicolas Gamez (Los Niños Telepaticos), and also regular members of the band like DJ Lolita and Lalo Cortés.
The schedule moved forward as previewed, with a solid and minimalistic live set by Diego Gomez, a.k.a. Cerrero. This time around, the stage seemed a bit more populated than the previous day at Rosa Pistola. The crowd's permanenece was definitely paid off in full by Diego, who delivered a full hour of mesmerizing ancestral beats, and vocal samples played in the best old-school dub style.
The gap after Cerrero's set was commanded by Draco Rosa at the Aconcagua stage, and Akkapellah in the tent. However we took this time off to grab a couple of beers from the local brewery spot (a marvellous discovery after the bitter beer experience the previous day), as well as preparing a short interview with Lianna. After the interview, we sailed through electronic forest territory once again, and ran into a frenetic set by Mario "Gala" Galeano. Besides the usual dose of vintage cumbia and a couple of Frente Cumbiero tunes, Mario took the chance to spin an extended version of "Metalero", from Chupame el Dedo. This song was mentioned on our thorough No te Metas con Satan review back in 2019, and from the reactions at the fest, it's a fact that it has aged pretty well as a fevered cumbia metal hymn.
The night got spicy, as two Mexican legends took over the bigger stages. At first it was Julieta Venegas at the Cotopaxi. The singer-songwriter brought along her accordion, and her signature stack of romantic pop ballads, including "Andar Contigo", "El Presente" and "Me Voy".
Meanwhile, the legendary rock band Maná, conquered the hearts of young and old folks alike at the main stage. Though we were only able to catch a couple of the closing hits ("Muelle de San Blas", "Clavado en un Bar"), it was evident that these guys were the headliner of the entire event. This was made even clearer by the multiple salespeople outside the venue, who's merch stock was 90% Maná, and 10% other artists from the line-up. In fact, the event was discussed by surrounding taxi drivers and other non-attendees alike, as "the Maná concert".
Right before Maná, we'd also watched a good chunk of the show from Bogotá hip-hop legends La Etnnia. Definitely one of the highlights from this day, and also a huge moment for the collective formed in Calle 2 #5-27, Barrio Las Cruces. Besides the expected hits from their seminal Ataque del Metano record, the show gave leeway to more mainstream hits in their catalogue, such as "Real" and the epic "De La Cuna al Ataud".
The hip hop atmosphere progressed through the night, with a phenomenal show by Kase.O's Jazz Magnetism. Besides the electrifying live set, amidst his recent announcement about leaving the stages indefinitely, the Spanish rapper gave his crowd a well deserved encore and farewell, at the rhythm of signature old school dance Venezuelan banger "El Baile del Muñeco" by Argenis Carruyo.
The beefy section of the evening was commanded by two completely different outfits. Firstly it was tropical renaissance mastermind Will Holland, a.k.a. Quantic. Though not accompanied by his Combo Bárbaro, Flowering Inferno, or anyone else for that regard, Mr. Holland put on a pretty classy set, featuring the habitual dose of Caribbean gems, but also a few explorations into genres like house and trip-hop.
Meanwhile, the medium-sized platform featured Mexican synthpop darlings Moenia. Fortunately for this one, we were able to catch several hits such as "No Dices Más", and of course the most expected number from these guys, "Ni Tú Ni Nadie", a cover song that still ranks way higher on the charts than the original one by Spanish 80s synth group Alaska y Dinarama.
The night was closed out in the best possible fashion. On the one hand, Mexican rock juggernaut Cafe Tacvba took over the Cotopaxi stage. Almost two hours filled with classics from their catalogue, including the ska-infused hit from their most-acclaimed record Re, "Las Flores".
Likewise, Pedro Canale (a.k.a. Chancha Via Circuito), conquered the electronic forest with his unique blend of downtempo, ancestral South American chants and digital cumbia. Though attendees seemed a bit exhaused at this point (not to mention the fact that it was technically Monday already), this was definitely one of the most solid live sets of the batch. Besides "Ilaló", "Sueño en Paraguay", and other delicacies from Chancha's cookbook, there was also space for a live collab/release for the new song "Ese Peso", alongside twin sister duo Las Añez.
Honorable and Unhonorable Mentions
Honorable (Not watched by us, but positive reviews from other attendees): Los Auténticos Decadentes, Draco Rosa
Unhonorable (Watched by us, but awful show): Zoé
Conclusion
Overall Cordillera was quite a musical ride. Special kudos to the organizers, who not only allowed us to do this special coverage, but also made a decent effort to put together an elite selection of artists from the region. Given how stacked it was, it's pretty hard to think of a new version of this festival that doesn't feature at least a few of the same names. In any case, we can certify that all in all, even with its inflated prices and logistical mishaps, it was a solid debut from this new franchise, which will hopefully remain a part of Bogotá's massive concert schedule.
Festival Cordillera took place 24th and 25th of September at Parque Simón Bolívar. Check out more exclusive content and impressions of the festival, at their official Instagram Page.

Follow Sounds and Colours: Facebook / Twitter / Instagram / Mixcloud / Soundcloud / Bandcamp

Subscribe to the Sounds and Colours Newsletter for regular updates, news and competitions bringing the best of Latin American culture direct to your Inbox.
Share: