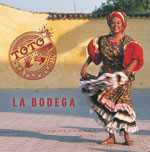 Totó La Momposina Puts Colombia's Soul on the World Stage
18 April, 2010
Dancing in dusty backyards to quill-tipped gaita flutes and resonant drums, the people of Colombia's Caribbean coast villages cultivate songs and sounds that sprung from the traditions of indigenous peoples, the Spanish conquistadores who came to their lands five centuries ago, and the African slaves they soon brought with them. On the island of Mompos where the Magdelena River meets the sea, Latinized European brass and guitar flow seamlessly into Indian gaita melodies and bold vocals, all to a powerful African pulse—in an amalgam that varies from village to village.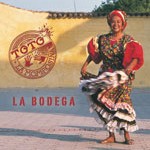 This is the legendary Totó La Momposina's home turf, the land and people who inspired her to carry the musical torch of five generations of ancestors, and develop their traditions, pursuing her passionate love for Colombia's long neglected and disdained Afro-indigenous music with dogged determination in her native land, in Europe, and now worldwide. Totó's travels will bring her to Queens, NY, San Francisco, Los Angeles, Orange County, CA and Miami this August to celebrate her latest album, La Bodega (Astar Artes; digital release August 3, 2009).
Totó has become a cosmopolitan sensation, but she first fell in love with her art thanks to musical parents and an amazing group of mentors, from village wise women singers to Afro-Colombian drum makers. Her parents, musicians from a long line of musical forbearers, left their home on the island of Mompos in search of economic opportunity in the city, but found they had profound prejudice to contend with—so they founded a music and dance ensemble. Colombia's turbulent politics and brutal civil war eventually took the family to Bogotá.
But Totó's musical soul was forged in the backyards and village squares of Mompos, where she learned songs from cantadoras like Ramona Ruiz, her mother's elderly cousin in the family's native village of Talaigua. "This is really where I got started," Totó reflects, "at the cantadoras' parties." Ruiz and her fellow villagers drew in part on the legacy of coastal Indians, who make gaita flutes from cactus wood and duck quills ("Margarita") and keep many ceremonies and traditions alive, despite intermingling with other populations and ideas that arrived on the coast.
The village cantadora does everything from healing with herbs and giving marital advice to running celebrations and leading songs. "Imagine the backyard of a thatched poor homestead. Chickens have been moved out of the way," explains John Hollis, Totó's manager and son-in-law. "There's lots of dust and it's really hot, and in the middle is a group of drummers. And around them are the cantadoras, leading the songs, and around them people stand clapping and singing the chorus."
Another close friend and mentor was the drummer and instrument maker Batata, who was working in construction when Totó first met him. Batata and his relatives make up "the royal family of African drummers, as Totó puts it," and he introduced Totó to the unique rhythms and the bass thumb piano-like marímbula kept alive in the northern Colombian region around Palenque de San Basilio, a town founded by escaped slaves who spoke their own language, home to songs like "Dueño de los Jardines." From a more Indian-inspired village herself, Totó reveled in the full palette of Colombia's African sounds Batata showed her while traveling through the region, absorbing the beats and drums ("Tembandumba").
These two streams of tradition along the Magdelena River—the indigenous and the African—meet in what has become an imminently familiar pop sound across Latin America, the cumbia "when Indians and Africans dance together," Totó smiles.
In urban Colombia, where the cumbia was once looked down upon, the mid-century denigration of coastal music and culture in general gradually shifted thanks in part to big dance bands that took up cumbia and other party-friendly rhythms and to singers like Totó. From there, the cumbia spread into the heart of Mexico and deep into South America. "Manita Uribe," dedicated to Totó's sister, is a rollicking, brass-inflected classic cumbia rich with coastal flavor.
Backyard choruses and village rhythms pushed Totó to turn away from a more well-trodden path for a coastal musician and take a gamble. She headed to Paris in hopes of launching an international career. Life in Colombia was a struggle, and Totó hoped to find a more receptive audience and new approaches in Europe, where she studied the history of dance for a year at the Sorbonne and made her first recording.
Several years passed, with Totó returning to Colombia, but eventually her big break came: a groundbreaking tour with WOMAD festivals across three continents and a popular major label album, thanks to her energetic grace, musical inventiveness, and deep commitment to her beloved traditions. Much as Susana Baca did for Afro-Peruvian music, Totó has put Afro-Colombian music on the map for global audiences and increasingly, for her compatriots back home. Young Colombians from urban backgrounds have taken a new interest in Afro-Colombian and coastal sounds, researching and playing once frowned-upon traditional songs from Bogotá to New York.
This is exactly what Totó had hoped for during the long years walking the streets of Paris or keeping the party going in Talaigua. "I make music to show to the world the expression of my soul, my heritage," Totó muses, "the expression of what I feel without thinking in duality, without class conflict and politics. Without selfishness. True love—that is what I want to express."
Link to Toto La Momposina's La Bodega at Amazon

Follow Sounds and Colours: Facebook / Twitter / Instagram / Mixcloud / Soundcloud / Bandcamp

Subscribe to the Sounds and Colours Newsletter for regular updates, news and competitions bringing the best of Latin American culture direct to your Inbox.
Share: