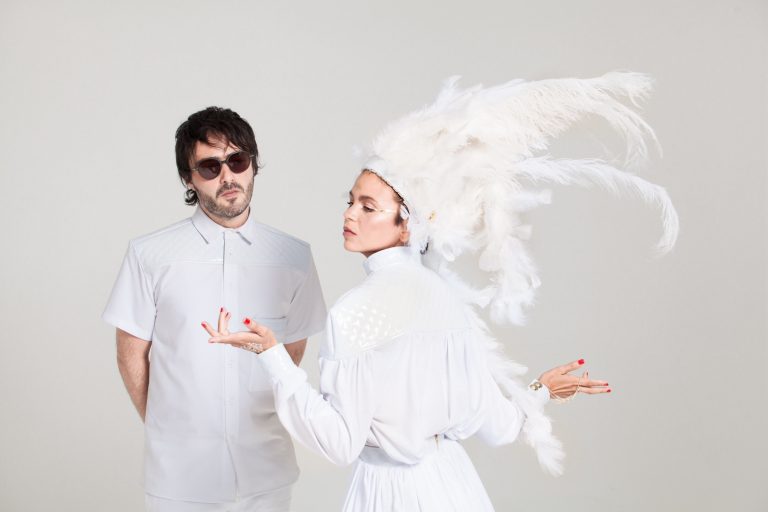 INTERVIEW: Simón Mejía on Bomba Estereo's upcoming tour and peace in Colombia
02 September, 2016
Colombian group Bomba Estéreo have spread across the globe with their alternative tropical sound originating from both the coast and the mountainous regions of their country. They are continuing to evolve as one of Colombia's most successful bands, using international collaborations and their diverse backgrounds to innovate and to refresh their sound. I caught up with Simón Mejía in Bogotá to chat about the group's upcoming tour with their most recent album Amanecer, and also to reflect on the current musical and political situation in Colombia.
Simón, tell me a little about your upcoming USA tour.
The tour will be the second phase of promoting Amanecer. Last year we did a tour in the USA and Europe and we've already returned to Europe this year. This tour will finish this album's cycle, it seems like albums last less and less time, I'm not sure why, but we're really happy to go back to the West Coast. It's really cool playing there.
Do you prefer playing in the USA and Europe, or in Colombia?
We really like playing abroad, and every country has something to give. Obviously our biggest audience is here in Colombia, and here people really understand the songs because of the language, but it's always a surprise to see how welcomed we are and to see how our music is appreciated in faraway places where people don't speak Spanish. People connect with the music because of ancestral elements; it's not so much about the language but more about the music and its origins.
Where are you all from in Colombia?
We're from all over the country. Liliana, the singer, is from Santa Marta on the Caribbean coast. I'm from Bogotá and Julian who plays guitar is from Pereira and so is Andrés. So we're from all of the climates. This means that we all grew up with completely different backgrounds. Liliana grew up with Caribbean music and it runs through her veins.
This has had a huge influence on your music, no?
It has had an enormous influence, because she contributes all of the Caribbean element, the folkloric, afro-indigenous element. Cumbia from Barranquilla, the carnival, she's been going to the comparsas since she was little. I contribute the colder element, from the mountains; the more conceptual part, the electronic and alternative element and the studio work.
Bogotá, where I grew up, is a melting pot for various reasons. Colombia has always been a fairly centralist country and Bogotá is the center of work for everyone. This is really interesting culturally, but it would be great if this could become more diverse. There are so many other interesting cities in the country, but they don't have the spotlight that Bogotá has.
Your music has changed a lot over the years, and seems to evolve with each new album. What direction are you heading in after Amanecer?
We're still gathering together some very vague ideas, nothing concrete. More or less what I would like to do is to make an album that takes us back to our roots a bit. The last track of Amanecer was 'Raíz'. It's a fairly 'pop' album, but it finished on that note of going back to our roots. I think our next album will have that idea in mind. Of course the idea is also to change, to make an album that is different from the other ones, that doesn't have anything to do with the last one or the hits from the last one. We want to keep evolving.
Are there any plans for a tour in Latin America, or to collaborate with anyone in the region?
Yes, in fact our US tour includes some of Central America and Mexico. In South America we're going to go to Argentina, Chile, Ecuador, and at the end of the year we're going to tour Colombia. At the moment we don't have any upcoming collaborations, but of course there was the Fiesta remixes album. That was really interesting as we worked with Anglophone producers and Latin Americans.
What was it like working with Will Smith?
Great! So much fun, and quite surreal. It was like being inside a film the whole time, not knowing what's real and what isn't. He gave us a lot of visibility and helped us gain fans. Of course we also lost fans. There are always going to be critics and in this case we had a lot of criticism for working with 'gringos', Hollywood, etcetera. People said that we sold out, but we don't really care. We're going to continue doing what we want to do like we always have.
What do you think is happening to Colombian music at the moment?
Colombia has become a musical 'power' in the Latin America. Before other countries were more of a focus like Mexico and Argentina, but the context has changed a lot. Tropical and alternative music, and urban music has had a big part to play.
It's important to mention reggaeton because reggaeton is a worldwide phenomenon and it comes from Colombia, and the Caribbean too. It's not a genre that I love, but you have to recognise that what they are doing is important musically. The cool thing about Colombia is that band like Bomba Estereo exists alongside artists like Carlos Vives and others like J Balvin. These are like totally different universes, but they exist side by side in Colombia.
What do you think about the Peace Process?
It's complicated. As always, politicians and the media discuss matters amongst themselves and so the conversations are not really about what they should be. It has become totally political. It feels like if you support the peace process you are labelled left-wing and if you don't you're labelled right-wing. The discussion is too black and white. Peace is not made by signing an agreement in Havana, it is a much more complicated and long-term process.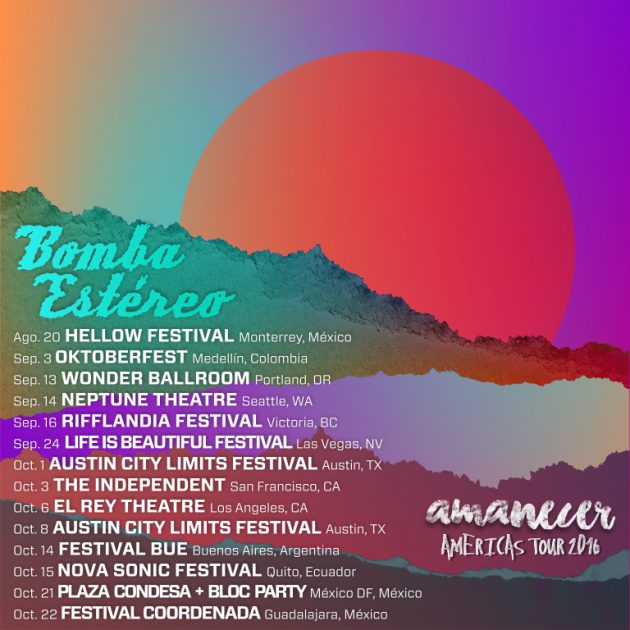 Follow Sounds and Colours: Facebook / Twitter / Instagram / Mixcloud / Soundcloud / Bandcamp

Subscribe to the Sounds and Colours Newsletter for regular updates, news and competitions bringing the best of Latin American culture direct to your Inbox.
Share: