Joyful Afronauts of the Caribbean — Systema Solar Raps, Scratches, and Funkifies Colombia's Technicolor Coast
20 August, 2010
A new craft is winging its way through the sonic solar system, built from creaky amps and sleek laptops, powered by dayglo Caribbean sun and the brilliant pulse of street parties, and steered by hip-hop Afronauts from one of the globe's new music hotspots.
Welcome aboard Colombia's Systema Solar, the funkiest Technocolor hip-hop and DJ crew/Latin sound system ever to be pulled by donkey or graced with slammin' beats. Uniting Afro-Colombian roots with rap, scratching with Afro-Latin percussion, and unstoppable dance grooves with a live video mix, Systema Solar has landed on the world stage with Systema Solar (ONErpm.com; October 14, 2010), the perfect intro to Latin America's coolest musical-visual collective.

Systema Solar bursts with the colors and sounds of Colombia's Caribbean coast, right down to the band's glittering suits. This florescent exuberance is inspired by a favorite local institution, the pikos, or mobile sound systems akin to Jamaica's pick-ups, movable parties that can be set up anywhere.
"On the coast, everyone has a huge stereo, as big as possible," explains Systema Solar's producer and sonic architect Juan Carlos Pellegrino. "When the pikos began, people started buying more and more amps and got into creating really big sound systems and these parties. They close a place on the edge of town, or a street in some village or city, and start blasting music. The louder, the better."
The piko evolved into its own quirky, vibrant format, with passionate competition between crews, insisting they'll blow away anyone else's pathetic speakers. Announcers imitate the undulating r's and over-the-top diction of radio personalities (Systema Solar do their own version on "Plakas"). And musically, they're platforms for reshaping Afro-Latin styles on the spot.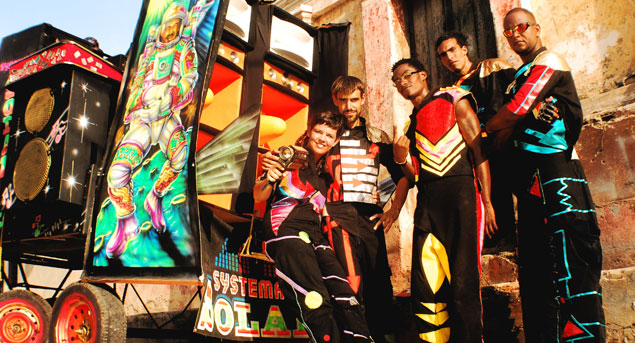 "Champeta is African music reinterpreted by the Colombian people on the coast," Dani Broderick, DJ and producer with the group, recounts. "You have African sounds, mixed with Colombian rhythms and lyrics, with their lives and feelings, and with live remixing, putting on beats. Lots of pikos DJ love that famous Casio machine with the dog sound. That's a classic: You start doing the beat and the barking and making up lyrics as you go along."
All the spontaneity and quirky aesthetics are the perfect launch pad for the group's vision of a Colombian music that brings together the best of the country's hip hop and techno scenes with the best of its roots. Made up of some of Colombia's hottest rappers, techno DJs, percussionists, and video artists, the collective transforms the essence of the pikos into bangin', infectious, vivid tracks that use everything from sampled 1940s vinyl to scratching to blazing drums.
Powering all this creativity is another aspect of the Colombian Caribbean, verbena, the good-time celebratory spirit guiding parties from tiny hamlets to big cities. This positive focus on lifting spirits and getting down stands out in stark contrast to other hip-hop movements in Colombia, like the gangsta-inflected hardcore rap of Bogotá.
"Verbena is the traditional party of the people. That's what we do also. We make that moment of joyful gathering possible," says vocalist Walter Hernandez, trying to convey the word's complexity. "The verbena lets everyone express and liberate themselves, to be free, to change their ways. That's why we call our style 'berbenautics;' we're navigating the verbenosphere!"
This spirit of verbena slyly turns Colombia's often harsh realities—corruption, violence, poverty—into moments for reflection. Systema Solar aims to do more than tear the roof of the sucker; they want to call out injustice in the service of social change. And with a cheeky grin.
"Our goal as artists is to project positivity and joy, as a constructive attitude to confront the hard times our world is facing," Pellegrino muses. "A lot of artists in Colombia, who live in a rough political climate, feel the militant revolutionary chanting songs or actions 'against' the system are no longer a functional form of bringing about change. What drives us is creating music, videos and a performances that make people conscious about the the troubles of the world, but in a way that is not fatalist, by showing the positive in what seems negative at first glance."
The hip-hop jam of "El Amarillo" decries the passivity of the populace, turned into sheep and kept ignorant to serve others' political aims. "Quien es el patron?" lambastes Colombia's drug-lord culture, in an ironic celebration of drug culture and its ultimate supporters in wealthy countries. "Mi Kolombia" criticizes the imbalance of power between North and South, by telling of the woes of Colombians seeking visas to visit the U.S.
The unusual yet engaging mix of medium and message has put Systema Solar in the unexpected position of uniting old folks and young hipsters, metal heads and Latin music lovers, on the same dance floors, something unheard of in Colombia and rare elsewhere.
"At this moment in Colombia, Systema Solar's importance lies in the way we're gathering different people from all different musical scenes, audiences from different movements and generations and social classes," reflects Hernandez. "It's our contribution to a real world music. Not just a marketing niche, a music that can unite the world."
You can buy the Systema Solar album at Amazon
Buy the album at iTunes.

Follow Sounds and Colours: Facebook / Twitter / Instagram / Mixcloud / Soundcloud / Bandcamp

Subscribe to the Sounds and Colours Newsletter for regular updates, news and competitions bringing the best of Latin American culture direct to your Inbox.
Share: