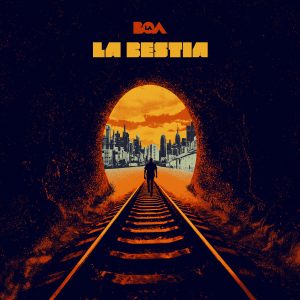 Juan Pablo Varela
Review
La Boa – La Bestia
It's been 10 years since La BOA burst onto the scene with their take on caribe afrobeat from the Colombian capital.
It's probably unfair to try and compare La Bestia to previous outings in that time given the standalone qualities of each respective release, although conversely, it feels completely reasonable to suggest it may be one of their most diverse-reaching works to date. Not to mention, it displays all the hallmarks of a group dedicated to their craft of exploring and pushing new frontiers.
On this six-track, 25-minute EP that simply refuses to succumb to typecast, you'll find cumbia, son, merengue, dub, even off-kilter hip-hop, and all of which kicked off with a Haitian, konpa-inspired Antillean soiree to boot. Bold, yet remarkably seamless.
Opening with the aforementioned ode to the Antilles, "Vuelo Antillano" snakes through its bars, led as is often the case, by the group's horn section but equally bolstered in its depth in the form of organ whines and intricate guitar riffs.
As it courses through the skanking rhythms and peacocking bassline of "La Bestia", the group's first foray into the realms of cumbia is otherworldly. It stands out as some of the best La BOA material thus far. 
From there the album continues through a catchy collaboration on "Dejalo Llover" with N.Hardem, there's richly-layered percussion that props up the son rhythm of "Se Va", a none-too-subtle tip of the hat to dub legend Lee Scratch Perry in the guise of "Rest In Dub", The Upsetter's' voice appearing via sporadic choruses of "these are my people". 
The closing track, "Gota Gota", is perhaps the culmination of all things La BOA as we have come to love and know them. Once again driven by its horn section, this time fusing West African-inspired soukous  into a merengue it stands to epitomise the group's unfazed ability for afro-caribe fusion. 
And yet, beyond the more obvious audial aesthetics, La Bestia once again serves up some of their most pertinent lyrical matter too.
Confronting the theme of child soldier recruitment in Colombia with no holds barred, "Se Va" opens with a punch. "Es una cifra más, otro niño murió, nadie lo va a llorar, la guerra lo atrapó" ("It is one more figure, another child died, nobody is going to mourn them, trapped by the war"). This explicitness in its opening exchanges is expertly offset in the way its chorus goes on to capture the euphemisms often surrounding the language of war. "Otro más pa'l monte se va" ("another one goes to the mountain"); in Colombia, just as in much of the world, the propagators of conflict rarely use the direct language of war, instead opting for far more conceit figures, such as in this case, "going to the mountain". 
Another heavy lyrical theme comes in the matter of the album's title track "La Bestia", which refers to the large freight train running from Chiapas, Mexico, through the country and to the border of the United States. The journey is one of the most perilous in the world, in which towaways are often at the mercy of human traffickers, cartels and other sinister forces along the way. For those who do make it across the border it's often the last some of them see of their families, highlighted in retorts such as "allá van los que no volverán" ("there go those who will not return") and the equally weighty "si acaso no regreso, pide y llévame en tus rezos, para ver si te vuelvo a encontrar" ("If I don't come back, ask and take me in your prayers, to see if I find you again"). 
It's not just six uplifting tracks then, although there is plenty of that to be savoured. La Bestia marks La BOA's entry into new musical realms and sees them once again tackling heavy issues head-on. Once more this BOA has shed a new skin as has become the norm for a group who simply refuse to rest on their laurels; this grand exploration in the sounds of the greater Caribbean appears the group's most evolved work to date. Until the next release, most likely.

Follow Sounds and Colours: Facebook / Twitter / Instagram / Mixcloud / Soundcloud / Bandcamp

Subscribe to the Sounds and Colours Newsletter for regular updates, news and competitions bringing the best of Latin American culture direct to your Inbox.
Share: