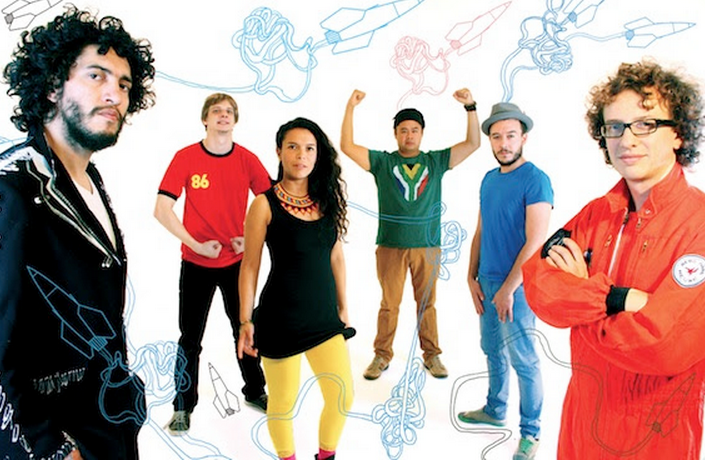 La Chiva Gantiva: New Album Celebrates Life
04 March, 2014
There are many things one can associate with Colombian music and the city of Brussels is one of them. We can credit this in a large part to a band called La Chiva Gantiva.
The band was formed 10 years ago in Belgium's capital city when three young Colombian students started to play percussion together. Driven by a desire to assert their roots and feel closer to their homeland, they started blending Afro-Colombian rhythms, such as such as champeta, chirimia and mapale, with other styles of music they loved: rock, afrobeat and funk. They were then joined by four other musicians (two Belgians, a Frenchman and a Vietnamese), and hit the road, performing around the world.
Signed to Crammed Discs, the group just released its second album, "Vivo," in February. We talked to Rafael Espinel, the band's lead singer and percussionist, to get the scoop on the new record and insight on what it's like to play Colombian music in the de facto capital of the European Union (EU).
Sounds and Colours: For those of us who haven't been to Brussels, what is the 'Latin music' scene there like? Is there a Latin music scene?
Rafael Espinel: When we arrived in Belgium, a purely Colombian folkloric band called "Cumbe" already existed, but they disbanded around the time that La Chiva Gantiva started to take off.  However, we mix folkloric sounds with different influences, so it was not really the same style of music.
There have always been Cubans in Brussels who organise parties and play in various concert-bars around town. There are Latinos worldwide, and in Belgium we have bands like, "Los Callejeros" (Latin influences), but also Maguaré (Colombian folklore) who are good friends, who mainly play around Belgium.
SC: What are some of the comments you are hearing from folks in Brussels who are hearing this Colombian music for the first time?
RE: Colombian music is full of life, joy and sincerity and I think that in Brussels, as in Europe, it attracts the attention of the public. We are very much into sending good vibes and making the people feel alive, the public seems to appreciate that which gives us even more motivation to keep doing what we love.
SC: I see you have tour dates coming up throughout Europe (see dates below.) Any plans for Latin America? The States?
RE: We are thinking about traveling to Colombia and Mexico this year. It's always been a great pleasure for us to be able to travel to the Americas to play. Our first time was in 2012, when we had the opportunity to play with "Locos Por Juana" in Canada during our performance at "Sunfest" festival in London, Ontario, which is filled with Latinos!
SC: Tell us about the first single off the album, the title track, "Vivo."
RE: Before leaving Colombia, I studied in downtown Bogota, where I met this guy on the streets, who always wandered in roller skates and made metal figurines to make money. He was called Poñoñoño.
He was very funny and made us laugh a lot when he told us his stories and anecdotes about his life. He had pride and was not a beggar. Then, years later, I went back to Colombia and one day I ran into him, but this time it was different.
A bomb had blown up in his neighbourhood at the time when the government of (former president) Álvaro Uribe Vélez was positioning itself. He lost his right arm and all the fingers of his left hand, I was shocked when I recognised him. Obviously, he couldn't make figurines anymore, looked dirty and had become a beggar. We quickly recognised each other and embraced, and when I started to feel sorry for him, he had a great big smile on his face.
He told me, 'Rafa, I can not spend my life in tears and complaining, I still have my two legs and I can still skate and, above all, I'm alive.'
We are ALIVE ! This really resonated with me, and his smile is burnt into my memory. The song Vivo does not talk about him specifically, but the album is inspired by him, as he reminds me how lucky we are to be alive and doing what we love most!
…
La Chiva Gantiva is playing in Oxford and London in April. They'll also play several festivals this spring and summer, including WOMAD in New Zealand in mid-March, and the Rhythm Tree Festival on the Isle of Wight in July.
Follow news about La Chiva Gantiva on their website and Facebook page. Listen to the single, "Vivo," below, and also watch a television performance from the 2013 "Premios Shock."
…
[soundcloud url="https://api.soundcloud.com/tracks/128155772″ params="color=ff5500&auto_play=false&hide_related=false&show_artwork=true" width="100%" height="166″ iframe="true" /]
…

Follow Sounds and Colours: Facebook / Twitter / Instagram / Mixcloud / Soundcloud / Bandcamp

Subscribe to the Sounds and Colours Newsletter for regular updates, news and competitions bringing the best of Latin American culture direct to your Inbox.
Share: