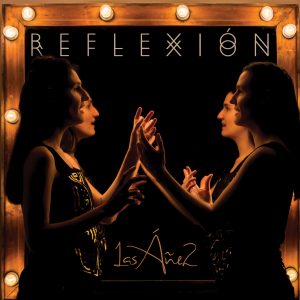 Review
Las Áñez – Reflexión
Minimalism is still the holy grail for Colombian duo Las Áñez, whose intricate vocal arrangements have soundtracked award-winning films and seen them collaborate with stars such as Marta Gómez, Edson Velandia and Andrea Echeverri. Following their 2017 album Al Aire, which tenderly experimented with vocal effects and minimalist arrangements, the duo continue their subtle electronic exploration of rustic, a capella sounds on Reflexión. Illustrious collaborators on this new record include the Argentine "Guacamole" singer, Kevin Johansen and Venezuelan folklore virtuosos, El Tuyero Ilustrado, who elevate and broaden the soundscape of what Las Áñez settle on defining as "Nueva Canción Latinoamericana".
In their songwriting, Las Áñez are deeply reflexive, playfully poetic and meticulously tight. The songs on Reflexión reflect on different facets of life with a satisfying, almost mythical, wholeness, directly addressing time, religion, emotions and music itself through clever, witty fables delivered primarily through the simplicity of two female voices. Their careful arrangements and characteristically minimal production and instrumentation draws listeners into a crafty world of storytelling, tricks and games. I spoke with twins Juanita and Valentina Áñez over WhatsApp to find out more about the album.
Seemingly simple yet often revelatory concepts populate Reflexión. Opening track "En La Lucha" is a respectful ode to everyone's daily grind, the name originating in a common reply to the Colombian greeting, "¿Cómo estás?": "Bien, en la lucha" – meaning you're on track, doing your thing, continuing in your struggle. "Un Secreto" – about keeping a secret – is full of mystery. "A La Música" is a heartfelt, honest, humorous second-person dedication to music itself. "Forgive me if I lack inspiration / or if I take a while to record / if I leave my music at home / or if I straight up lose my mind for you," they sing. The song serves as a manifesto for their work, sung like a mantra. "Una Fábula" speaks of the lives of emotions, taking inspiration from a fable in an Osvaldo Calle Quiñonez storybook, which recounts the lives of various virtues. "Sadness will always be sadness and beauty will always be beauty," Juanita explains, "we have to accept these virtues as they are – we all have a bit of each of these in us".
Given their duality, twins Juanita and Valentina Áñez often see the world in symmetry. They present themselves visually as the mirror image of one another on the record sleeve, and vocally in songs like "Reflejo Mío" and "Una Fábula". Many of the tracks on Reflexion speak of completeness; of the contradictory and the complementary. "Reflejo Mío" is inspired by the "infinite, interminable" geometric symmetry that the duo found inside ornamental Mudejar churches and temples in Toledo, Spain. They found this reflected in so many parts of reality, and in the chorus it relates to their own reflection of one another – "and sometimes opposition", laughs Valentina.
The tracks have been separately composed by Juanita and Valentina respectively, and then arranged together – the most time-consuming part, they tell me. For this reason their compositions feel like explorations of whole, complete worlds, dreamed and brought to life by different writers with different ways of composing and thinking. Their writing process often takes the form of a yin and yang: Valentina mostly envisions lyrics before composing their soundtrack, while Juanita usually begins with a melody.
Valentina's compositions have a more acoustic sound and focus on vocals. The lyricless "Cathedral 1" and "Catedral 2" are harmonic explorations of the voice, inspired by the echoes and reverberations of cathedral singing. As in cathedral music, the two tracks serve as introductions to the songs they precede, but can be enjoyed separately to the rest of the album, as a pair. These tracks are a footprint of their early years singing in European classical-style choirs and a prime example of Las Áñez's musical premise: to return to the essence and simplicity of a pair of female voices. Their minimalist soundtrack to Ruben Mendoza's sororal coming-of-age film Niña Errante won them an award for Best Music at Talinn Black Nights Film Festival in 2018, with the jury praising their score for its "inspiring musical whispering of magical femininity" and Reflexión takes them deeper on this journey.
"Pueblito Grande" is an atmospheric love letter to Bogotá and its ever-changing weather, which elaborates on the duo's experiments with vocal effects on 2017 album Al Aire. Their two voices and a loop pedal transport you to the rainy city, with their rhythmic breathing resembling the irregular patter of rain on a tin roof, and electronic vocal effects echoing the new currents in fashion, art and music that sweep through the capital. "It has a very organic, natural feel with the 'mmm' at the beginning", Valentina explained to me, demonstrating the deep, nasal, zinging hums over the phone, "and at the end it becomes much more electric, relating to the chaos and modernity of Bogotá."
To capture the natural reverberations and details of the female voice, the album was recorded between a studio and the Luis Ángel Arango concert hall, whose acoustics are especially designed for classical concerts. "To be honest, we would have loved to record a capella in a cathedral, but Bogotá's churches are too noisy", Juanita laughs. "Canción Migratoria", the album's closing – and perhaps defining – track, which looks at the essence of life and its most simple parts, was recorded as the duo walked around the hall. The universality of migration they sing about is captured in the natural sense of movement in the recording, contrasting with the '90s pop fade in/fade outs we're used to.
"Canción Migratoria" – "Migration Song" was aptly recorded by Frenchman-cum-bogotano Benjamin Calais, manager of Matik-Matik – the vanguard music venue in Bogotá's Chapinero district whose shelves are stacked with Sounds and Colours Colombia editions and whose doors welcome wandering musicians from all over the globe. "A La Música" follows similar themes in its composition, with its melody and chords composed by the Colombian twins and its colourful eastern Venezuelan rhythm and instrumentation conjured by folklore geniuses Rafa Pino and Edward Ramírez. The duo, who reside in Colombia where they make music together as El Tuyero Ilustrado, describe the song, a jorota carupanera, as "a beautiful marriage between Colombian and Venezuelan music".
The playful and poetic "Al Tiempo" is a collaboration with Kevin Johansen, whom the twins have listened to since they first came to love music, singing along to their dad's music in the back of the car. Like Juanita and Valentina, their father had broad tastes: Latin American music always, tropical Colombian and Venezuelan music for the holidays, classical music from Europe, and of course the big English-language pop hits of the time. Consequently, Las Áñez's folkloric, classical Spanish-language sound is hard to define. And like most great musicians, they don't think in genres. They're drawn to rhythmic, lyrical Latin American sounds by way of identification, and tend to be drawn to a song for just one of its elements – usually something daring – before listening to the song as a whole.
This unique way of listening to music is also the way Las Áñez compose. "Villancico", in fact an anti-Christmas carol in its lack of religious distinction, began simply with the sound of the leona, a small, low-pitched guitar-shaped instrument. The leona is played on this acoustic composition of Junaita's by Daniel de Mendoza, a bassist while Carlos Estéban Gómez plays the traditional cuatro. But contrary to the flash and pomp of a Colombian Christmas, "Villancico" features no modern or electronic sounds. The stringed instruments were Juanita's main focus for this album, where she explored the mini-harp, double bass and violoncello whilst Valenita spotlighted vocals. fake texas id
It's easy to forget that many of the tracks on Reflexión use little more than a loop pedal, some keyboard accompaniment, light percussion, a few strings, or minimal electronic effects. The intricate Polly Pocket environments created by the duo's voices and their captivating, original storytelling, distracts you with endless playgrounds of sound. The album is a doll's house and the song titles doors behind which lie engrossing worlds, stories painstakingly arranged by the narrators. On Reflexión, Las Áñez remind us of the intricate yet simple beauty of our lives and the world around us.
The self-released Reflexión is out on May 22. You can stream on all major platforms, or purchase the digital album, CD, or Vinyl – handmade in Medellín by Ruido de Fondo Records – from the Las Áñez website. Other merch includes a handmade wind instrument and original sheet music.

Follow Sounds and Colours: Facebook / Twitter / Instagram / Mixcloud / Soundcloud / Bandcamp

Subscribe to the Sounds and Colours Newsletter for regular updates, news and competitions bringing the best of Latin American culture direct to your Inbox.
Share: