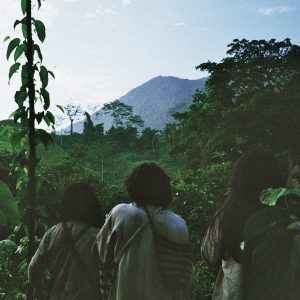 Review
Lion's Drums – Kagabas
You may not be familiar with French artist Lion's Drums, an alias of Harold Boué, however, his latest work is something incredibly beautiful and unique. During 2019 the artist spent a week recording with a community of Colombia's Kagabas (also known as Kogis) indigenous peoples, nestled away in the Sierra Nevada mountain range, not far from the town of Santa Marta on the country's Caribbean coast. Inspired by a podcast he listened to at home in France, Harold made contact with Colombia-based charity Nativa, in a bid to explore Kagabas culture in a deeper, yet cooperative exchange.
Believe it or not, Colombia is one of the only country's left on earth that is still home to large groups of indigenous tribes. With some 87 ethnic groups and 65 different languages, Colombia is the second most ethnically diverse country in the Americas, after Brazil. The country's indigenous population currently stands at around 1.45 million, or about 3.5% of the total population. Amongst the indigenous peoples are the Kagabas, who retreated into the mountains several centuries ago, to escape the damaging effects of modern lifestyles, pollution and the sheer greed of modern man. From their settlements in the lofty peaks the Kagabas consider themselves to be the guardians of the Earth and lead a lifestyle that is completely organic and in harmony with the nature that surrounds them. Indeed, you may have already come across the Kogi if you are something of a cinephile and watched the 2012 documentary Aluna.
Getting in touch with nature and the organic is having something of a renaissance in Colombia (just take Bomba Estereo side project Monte from last year); and Lion's Drums continues this trend. Mixing singing, an honoured part of the Kagabas culture (and a way through which to connect with the environment), along with the sounds that Harold recorded during his week-long stay, the album is a mix of the electronic with songs that are passed down through generation to generation, oral histories used to spread awareness, knowledge and share stories, reflected in the song's titles, "Snake" and "Deer".
"Alouatta (hembra)" or 'woman' is a stunning introduction to an album that transports you thousands of miles up into the Sierra and invites you to embark on a sensory journey. A particular favourite is "Water", in which you can almost feel the cool mountain waters wash over you. There is no doubt that Harold's own experiences during the 2019 recording process can be felt amidst these songs and that a lasting connection with the Kagabas was made; upon finishing the album a copy was delivered, by hand it should be noted, back to the Kagabas where the village elders were invited to listen and, thankfully, give their approval.
We could all learn a great deal from Kagabas culture, from their community spirit to their deep connection with nature. Lion's Drums does its best to deliver their essence while also sticking to its own musical formulas.
Kagabas is available on Bandcamp

Follow Sounds and Colours: Facebook / Twitter / Instagram / Mixcloud / Soundcloud / Bandcamp

Subscribe to the Sounds and Colours Newsletter for regular updates, news and competitions bringing the best of Latin American culture direct to your Inbox.
Share: