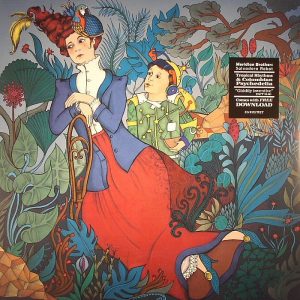 Listening to Salvadora Robot, the new album from Colombia's Meridian Brothers, you get the feeling that Eblis Álvarez was one of those kids at school who willfully avoided fitting in with the crowd, who maintained an aloof detachment from the latest fads, playing Pavement on his walkman when classmates were all moshing to Nirvana. Álvarez is the heart and soul of Meridian Brothers, a musician of rare talent and invention, but one whose style appears tailored towards the unconventional and the downright weird, like a tropical Captain Beefheart, for whom the urge to make people gawp far outweighs the trivial matter of widespread appeal.
That's not to say Álvarez is not an excellent composer. The songs on Salvadora Robot exhibit a cross-genre depth that flies in the face of stylistic category. What sets much of Meridan Brothers' output apart is Álvarez's habit of taking the music where the audience least expects. This might be a bizarre-sounding key change or an offbeat guitar riff that floats on the musical surface like a particularly obstinate oil slick, a separate entity but indivisible from its surroundings.
'Somos los Residentes' is a case in point. As an album opener, it stubbornly rejects the populist approach, taking an almost perverse pleasure in its quirky rhythms and incessant twitchiness. This exemplifies Meridian Brothers' experimentation and space-age playfulness, never shy of flamboyant embellishments or echo-drenched effects. The ongoing japery might test your tolerance at times but, with Álvarez, that's surely the point.
As with 2012's Desesperanza, psychedelic re-workings of tropical styles dominate Salvadora Robot, such as with the somewhat demented 'De Mi Caballo, Como Su Carne', which slaps video game-style bleeps on top of a salsa groove. Cumbia is also prominent, in 'Doctor Trompeta', funny and eerie at the same time, and in Álvarez's stoned ringmaster shtick on 'Jefe Indio Vengará'. In spite of the title, 'La Tristeza' is not sad at all, maybe it carries a certain impulsive moodiness, but it's hard to feel too melancholy with something that gleefully nibbles at your mind like those little pedicure-giving fish.
Throughout, Salvadora Robot resembles a personal labour of love, in which audience reception comes a distant second to individual creativity. Meridian Brothers have made the record Álvarez wanted to make (as if we could ever imagine he wouldn't), which from an artistic point of view is highly admirable. How that equates to listener enjoyment depends very much on your willingness to embrace Salvadora's chipper surrealism.
But there can be no doubt that the Meridian Brothers sound offers a stirringly original take on the tropical scene. Álvarez takes well-known structures and styles, only to uproot any trace of convention and reassemble that familiarity in his distinctive way. Aligned to a vocal presence that hustles and prods its audience, this is a record that demands a reaction. What exactly that reaction is, however, is open to interpretation.
Salvadora Robot is available from Amazon UK, Amazon USA and iTunes
[soundcloud url="https://api.soundcloud.com/tracks/145902894″ params="color=ff5500&auto_play=false&hide_related=false&show_comments=true&show_user=true&show_reposts=false" width="100%" height="166″ iframe="true" /]

Follow Sounds and Colours: Facebook / Twitter / Instagram / Mixcloud / Soundcloud / Bandcamp

Subscribe to the Sounds and Colours Newsletter for regular updates, news and competitions bringing the best of Latin American culture direct to your Inbox.
Share: