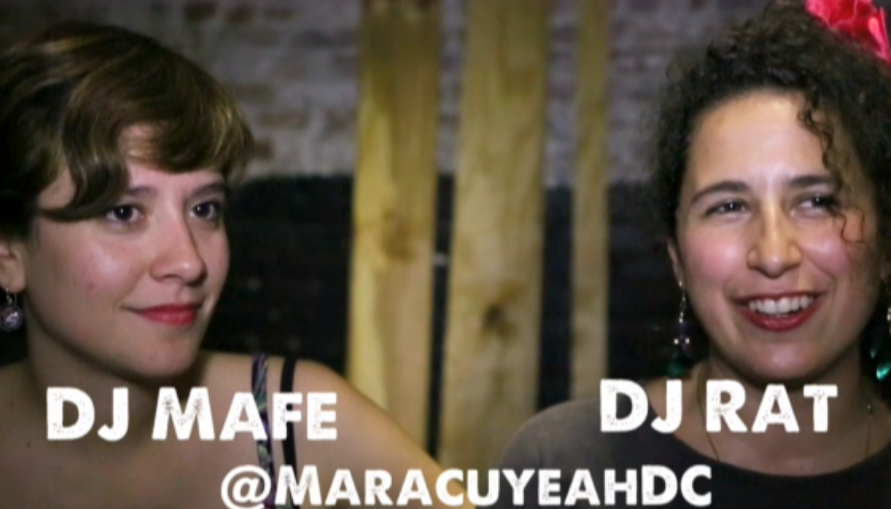 Mix: 'Maraculeando Con Amor' by Maracuyeah
07 January, 2014
For the new year, the North Pole has decided to gift the United States a big, fat, awful round of frigid air via an atrocity called the 'polar vortex.' (Readers from the United Kingdom will know what I'm talking about, since that super-cold March in the U.K. last year, its coldest in 50 years, was the result of a 'polar vortex,' according to CNN.)
In any event, it's so cold, even Florida and Hawaii are freezing. Brrr! This 'polar vortex' calls for hot cocoa, thermal underwear, several blankets, and HOT music, of course! Enter "Maraculeando Con Amor," a new mix by the DJ duo from Washington, D.C.– Maracuyeah.
The pair have shared the stage with many friends of Sounds and Colours, such as Bomba Estereo, Pernett, Zuzuka Poderosa, Lido Pimienta, Toy Selectah, Alika, the boys from Que Bajo?, and more.
DJ rAt, who has roots in Peru, and DJ Mafe, who is of Colombian descent, tell me their collective is "… known for rocking mixtape-style Pan-Latin-to-the-Future sounds that shake crowds, and mix in traditional & popular tropica rhythms that DJs Mafe and rAt grew up with. Their sets feature everything from vintage chicha recordings, cumbias rebajadas, tribal gems from 2015, dancehall, 80s rock en español, quinceañera bass, electro-cumbia sensations and tropical booty bangers."
Basically, they represent the hybrid young Latino of today — with a foot in both worlds, one who loves music their parents played while growing up, but also hip hop, dancehall, rock, as well as futuristic genres that keep popping up.
"Our style hails from our love for mixing old and new," says Mafe. "We do this for our love to share the dance floor with whoever we like, our love for the queens of cumbia and the underground reggaeton stars, and our love for sonic drops that inspire revolutions in our hearts."
Maracuyeah have a playful vibe and it comes across in everything they do, including this mixtape (you'll hear them whooping it up throughout).
Regarding its title and theme, dj rAT says they "were playing with the word 'culear,' which shows up in a lot of reggaeton — a genre we love. In mainstream use, its more like a command, or a virgin/whore pitfall. But we thought, what if it could also embody a women's enjoyment of in 'gettin' down?' And by extension of dancing however she wants with her homies or whoever she wants? Our parties (and a lot of underground scenes we know) are mixed spaces, full of dancing friend posses, people freeing up, and respectful sexiness- it happens all the time. And typical power dynamics go down the drain in favor of, well, dancefloor love."
Sounds like a life motto to me!
"Maraculeando Con Amor" includes  several tracks by women and queer artists Maracuyeah are fans of.  It includes rhythms from all over Latin America, with a heavy emphasis on "Dominican electro-dembow, experimental 3ball, champeta-inspired electronic music, tropical vintage gems that are often left off the DJ decks, and Moombahton remixes, with that genre's DC and Latin roots.
"Anyone who knows us will tell you we breathe cumbia, and have a soft spot for irreverent covers or themes. Finally, many of the songs talk about freedom, or celebrate/ play with cultural or gender rules and dynamics to go back to our original Maraculeando point," rAT says.
Listen to and download the mix below, and keep up with Maracuyeah on their website. And check out this VIDEO piece via our friends at the new Univision and ABC venture, Fusion, in which Maracuyeah and other artists describe the diverse mezcla of genres and its scene, dubbed #futureroots by series creator, Natalia Linares/Conrazon.
[soundcloud url="https://api.soundcloud.com/tracks/122479407″ params="color=ff6600&auto_play=false&show_artwork=true" width="100%" height="166″ iframe="true" /]

Follow Sounds and Colours: Facebook / Twitter / Instagram / Mixcloud / Soundcloud / Bandcamp

Subscribe to the Sounds and Colours Newsletter for regular updates, news and competitions bringing the best of Latin American culture direct to your Inbox.
Share: