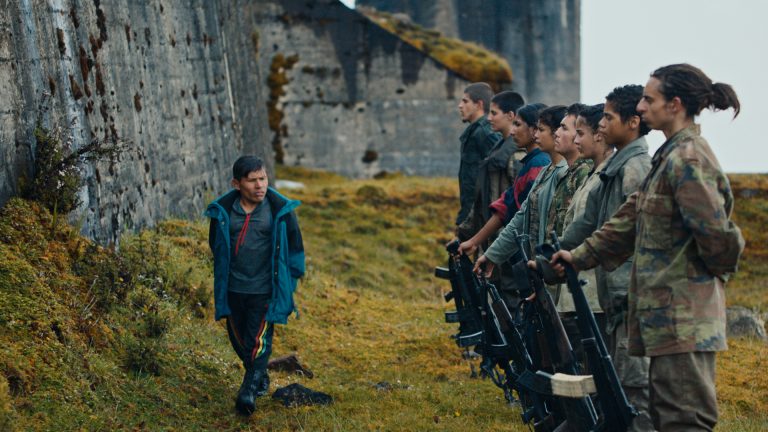 Monos
23 October, 2019
Monos follows a band of eight teenage rebels, a faction of the faceless 'Organisation', on a mission to watch over their gringa prisoner, 'Doctora', a conscripted milk cow, 'Shakira', and each other. Things rapidly fall apart as the group fractures and they each explore adolescence and survival in the unpredictable wild, the perfect volatile environment for war.
The film begins 13,000 ft in the clouds, as the Monos play football alone in the earthy dark, blindfolded, next to what appears to be an abandoned bunker in a monumental, unforgiving Andean páramo. This punishing environment is also spectacular. The sodden, vibrant earth and silver rocks gradually fade into cloud. Water cascades through dark red lichen and deep green mosses, the only place where the Monos can wash the mud – and blood – off their bodies.
Disaster ensues after the death of Shakira, and a few passionate kisses, some choked back tears, crazed laughter, gunshots and an ambush later, the Monos find themselves deep in the jungle. Leaders change and relationships shift between the group who are at once a band of unidentifiable, almost genderless siblings and a collection of terrified individuals, surviving alone [Monos comes from the prefix mono – one, alone].
Their characterisation is fascinating. Director Alejandro Landes presents both the transient personality of an adolescent and the character traits and skills that swiftly construct status within a group – all amid extreme and precarious conditions.
Monos is a pertinent microcosm, expertly framed by Jasper Wolf and scored by Mica Levi, who accompanies a mushroom trip with hyper-real, curious sounds and soundtracks the chilling calls of war. The accompaniment is more than music, it is sensorial, startling, all-consuming – and somehow remains minimal.
Stylised shots create an epic lense through which to absorb the tension. You are in the action, sensitive to each move, glance and crack in the forest canopy. Violence is ever-present, corporeal, unrelenting, but it is not glamorised. You fear for and with the Monos, you do not want to be one of them. Their freedom is riddled with anxiety, their minds are thin and bodies on the brink. Landes directs absolute chaos.
The film's politics seem twisted, shrouded, clouded in forest instinct. How will this affect perceptions of Colombia's ex-guerrillas? Is this close to a truthful representation? Stick with the film (you won't be leaving the screen, trust me) and a fragmented, open-ended and shrewd narrative about conflict will surface.
On one level, Landes presents the conflicts of adolescence – the power struggles, urges and experiments of youth. In this way, Monos is a modern, steaming Lord of the Flies. On another level, it presents recent conflict in Colombia and other parts of Latin America and the world, with rebel factions losing face, morals and leaders. The Monos have next-to-no-authoritative figure to follow, no-one to care for them or teach them. This is survival.
Monos is set in a timeless, placeless present, and you become so involved in the Monos' present reality that you barely have time to consider their past or future. Fresh earth cakes hair and envelops fingernails, slick mud slides down strong legs in fishnet tights, a dripping mountain cave hides secret besos in the dark, the gushing Amazon rapids provide an escape and an end.
There are only a few flashes of a past or a future. A scene glimpsing the life of a family in the jungle and children abandoned by the snatches of violence hints at the Monos' past. An anxious, hair-rising glance at the future brings the film's abrupt close – and stays with you. These scenes redeem the film's barbaric portrayal of the protagonists and offer a deeper reading into the politics of the film and its comment on internal conflict.
"The situation is volatile and there's a lot of anger in Colombia and in the world today. This anger seems to be bubbling to the surface everywhere. Monos, at the ending, comes home in a very physical way, and confronts us with a question," Alejandro Landes comments. Landes studied Political Economy at Brown University and began his career in journalism, writing for The Miami Herald and producing a weekly political talk show.
Landes' cast includes a mixture of professional and amateur actors, with ex-guerrilla and child soldier Wilson Salazar playing Mensajero, the only adult authority in the film. Extreme characterisation techniques included an immense actor training programme, on set in punishing climates with unpredictable weather. Julianne Nicholson (Doctora) was kept from the rest of the crew to immerse herself in her role as captive. Candidates to play the Monos camped in the jungle, waking at 4am to military training exercises followed by acting classes. 'It was kind of a Big Brother situation', Landes commented, as the final eight Monos were chosen from this group. Might we return to question the ethics of Landes' method?
Instagram posts from Julianne Nicholson (I, Tonya, Boardwalk Empire) who plays Doctora, showing the reality of Landes' methods:
The crew immersed themselves in this production, just as the viewer is sucked into the riverscape at the hands of the Monos: Wolf, Bigfoot, Swede, Rambo, Boom Boom, Smurf, Lady and Perro. Through clever videography, a stunning soundtrack and artistic dedication, Monos marks its indelible place in the history of Colombian cinema. It's a thriller to be reckoned with.
Monos is in UK cinemas from 25 October

Follow Sounds and Colours: Facebook / Twitter / Instagram / Mixcloud / Soundcloud / Bandcamp

Subscribe to the Sounds and Colours Newsletter for regular updates, news and competitions bringing the best of Latin American culture direct to your Inbox.
Share: