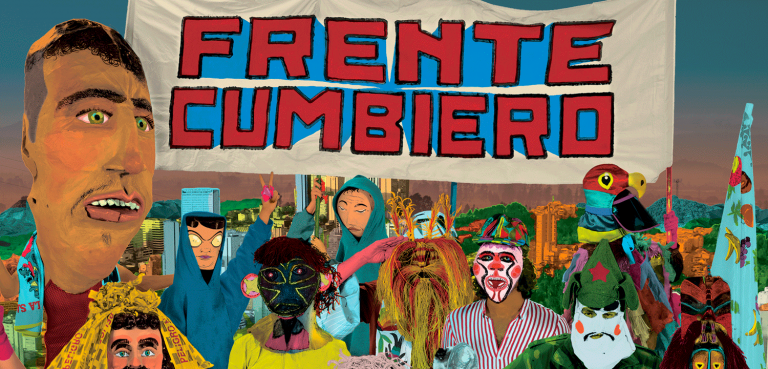 New Colombian Music Vault #3
23 November, 2020
As we approach the end of a significantly convoluted year, music releases seem to be pouring out of Colombia in droves. This time around, we present a selection of releases which denote a healthy and resilient music scene, where collective efforts in search of quality art production are as great as they've ever been, even in times like these. Here's the list with our most recent picks:
Various Artists – Colombian Music Powerhouses Vol III
The third edition of the Colombian Music Powerhouses series, presents a beefy compendium with select releases from Bogotá's most renowned independent labels. This time around, an ever more solid alliance between Tambora Records, Mambo Negro Records, Llorona Records, Polen Records, Sonidos Enraizados, Galletas Calientes Records, and In-Correcto, released 24 tracks that range between electronic futurism, traditional Caribbean flavour, and the energetic vibe that the rosters of these labels are always expected to bring to the table. Artists on the album include Bandejas Espaciales, La Sonora Mazurén, Cerrero and Perlas del Pacifico, among others.
Rizomagic – Voltaje Raizal
This brand new LP from Edgar Marún (Dorado Kandua) and Nicolás Manrique (Niño Pueblo) presents a pretty interesting and unconventional pallet of sounds. The project is influenced by IDM, as well as indigenous embera chants from Colombia, sounds of Mali, and Ghanaian palm wine guitar reinterpreted on a traditional Caribbean millo flute. Mixed and mastered by none other than Eblis Alvarez (Meridian Brothers), the album brings a futuristic, glitchy and fresh touch to the local cumbia scene, in a record that is equally experimental and fun.
Bosq – Bosq y su Descarga Internacional
Based in Medellín for the last three years, after moving out of Boston, Bosq has become one of the key DJ/producers of Colombia's underground. Released under his very own record label Discos Bacalao, this project presents a glowing mix of tracks that borrow elements of cumbia, afrobeat, salsa and calypso, while still bringing a crisp disco/funk vibe to the table. The record is packed with notable contributions from Beninese musician Leon Ligan-Majek ("Kaleta"), as well as Nidia Gongora, Justo Valdez, Victor Hugo Rodriguez, Dorkas, and the tremendous talent of superstar orchestras La 33 and La BOA.
Indus – Indus
A much awaited debut from the duo of Oscar Alford and Dr. Keyta, this record develops a solid reinterpretation of champeta, currulao and afropop, based around an hypnotic sequence of techno and downtempo beats. The self-released project includes contributions from El Leon Pardo, Montañera and Chongo de Colombia, and it follows up a double-sided single of remixes put out on Palenque Records a few months ago.
Various Artists – El Sudaca Contraataca Vol. IV
After three succesful releases of the Sudaca compilation series, this particular release brings about what seems like an estranged and somehow dystopian atmosphere, in the midst of the COVID-19 pandemic. As usual, Bogotá-based Sello In-Correcto put together an eclectic dream-team of upcoming musicians and producers from Perú, Mexico, Ecuador and Colombia. As it is to be expected from an In-Correcto release, the album includes a fair dosage of experimental sonic landscapes, and poignant singer-songwriter pieces from some of the continent's most visionary creators.
Frente Cumbiero – Cera Perdida
This has been without a doubt, one of the most anticipated and heavily rotated albums of the year as far as Colombian folk revival in 2020 goes. After a few single releases, and following up on the seminal 2010 release Frente Cumbiero Meets Mad Professor, the quartet led by Mario Galeano is back with a potent full length release, teased during the entirety of 2020, and which also follows-up the successful EP that the band put out back in July with Japanese traditional music reinventors Minyo Crusaders.
READ: They Don't Give A Shit About Culture: An Interview With Frente Cumbiero's Mario Galeano
Various Artists – La Bomba, Vol. 1
Just like in Bogotá, Medellín has become a melting pot for new and exciting music projects and collectives. The curation of La Bomba Vol. 1 was carried out by Musica Corriente, and sponsored by Centro Cultural Claustro Comfama. The album presents a charming set of intergenerational contributions and renditions of classic cumbia tunes such as "La Pava Congona" by Yeison Landero, Canalón de Timbiquí and Banda 14 de Abril de San Pascasio, and "Reina de Cumbias" by Frente Cumbiero and Sexteto Miramar.
Lechedetigre – "Hierbamala"
"Hierbamala" is the latest release from Bogotá-based band Lechedetigre. This project has been roaming in the darkness since its formation in 2018, and this lush, yet somehow melancolic song, is the second single off of what promises to be an interesting full length production in 2021, with Iván Medellín and Nicolás Eckhardt as head producers in Teusaquillo's iconic Mambo Negro Records studios.
Dot Drama – Empty Superficial
Besides the enormous explosion of vibrant neo-tropical projects across the board, the urban underground of cities like Bogotá have also become fertile soil for darker projects in the vein of post-punk, new wave and industrial. Dot Drama is the duo of Ela Vann and Halb Machine, and on their debut album Empty Superficial, the they make a bold statement, ensuring them the status as ambassadors of the city's darkwave scene. Besides the version put out on streaming platforms, the Bandcamp version of the record includes two extra tracks.

Follow Sounds and Colours: Facebook / Twitter / Instagram / Mixcloud / Soundcloud / Bandcamp

Subscribe to the Sounds and Colours Newsletter for regular updates, news and competitions bringing the best of Latin American culture direct to your Inbox.
Share: