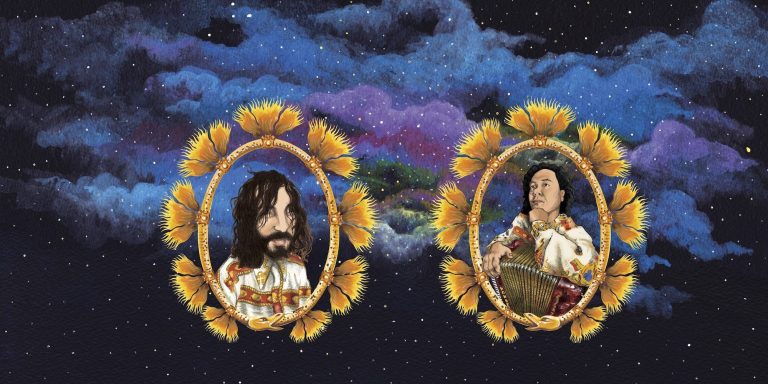 New Colombian Music Vault #7
22 September, 2021
Our seventh installment of the Colombian Music Vault features a perfect blend of old favourites and newer discoveries. From the Pacific Coast, through Medellín, to the Andes, this new list of 'must listen to' sounds are taken from the vast and complex geographical landscape of the country. Here are some of the most recent releases from Colombia that we love:
---
Cerrero x Bejuco "Chureito En La Mañana"
Following the success of previous releases including Voy Pa' Alla by Semblanzas del Rio Guapi and Batea by Bejuco, "Chureito En La Mañana" has been released by two of the most successful labels showcasing Colombian music right now; Discos Pacifico and Llorona Records. Teaming up with musicians from Bejuco, Cerrero has produced another experimental release fusing elements of Pacific music with the classic electronic Cerrero sound. Chureito or Chureo refers to a particular style of singing in Tumaco in the Pacific coast region, where the Bejuco members are from. This sound aims to resemble the short, percussive singing of the birds or the cicadas in the jungle. It is this chureito within the song that helps guide us through this reverie provided by Cerrero's atmospheric arrangement. 
---
Indus feat. Archie TK "Que Vas A Invetá"
"Que Vas A Invetá" is the latest release from Afro-futuristic duo, Indus. As part of the self-titled album released by the group in 2020, this songs uses a mixture of influences from Afro-Colombian rhythms alongside acid beats and dream-like synth elements to create an atmospheric and multi-layered piece. The accompanying music video only adds an extra layer of surrealness to this already 'parallel-world' tune. For the full audio-visual experience of "Que Vas A Invetá", the music video is highly recommended. 
---
Meridian Brothers & Conjunto Media Luna – Paz En La Tierra
Paz En La Tierra is a new collaboration from the mighty Meridian Brothers and Ivan Medellin, the most reputable cumbia accordionist in the Bogotá scene right now. This joint venture unites the roots and influences that are tenderly nourished within both parties' separate musical ventures, while at the same time, creating a new shape of its own. With the Caribbean coastal vibes of cumbia, vallenato, and more, Paz En La Tierra is a new edition to the experimental interpretations of these folkloric Colombian rhythms. Medellin's virtuosic and instantly recognizable accordion style takes centre stage. This, coupled with a futurist and almost playful dystopian style, gives Paz En La Tierra its distinct place within the folkloric-fusion scene. 
---
Auspex – Augurio
Auspex, the musical alter ego of Diego Guzmán, has spent the past few years experimenting with Andean influences and developing his own sound within the vast musical landscape of folk-inspired electronic music. Augurio is his latest release, a 4-track EP. Produced by Julian Salazar (Mitú, Bomba Estereo), Augurio exhibits highly melodic lines against a backdrop of multi-layered and complex electronic sounds, definitely worth checking out.
---
Las Mijas "Se Va, Se Va"
An exciting, but not entirely unpredictable match, La Muchacha and Briela Ojeda have joined forces to create Las Mijas, a new venture which I can imagine many are hoping is the first of many to come. "Se Va, Se Va" sees two of the most prominent alternative, female artists on the Colombian scene right now share their particular musical styles in perfect rapport. With the fiery, advocatory voice of La Muchacha mixed with the dreamy, ethereal writing of Briela Ojeda, there is a delicate interaction between the two voices. From the iconic, acoustic guitar style of La Muchacha, and the intricate harmonies similar to that of Briela's work, it is clear that Las Mijas takes just the right amount of influence from each of the artists' own music. Dealing with themes surrounding the simple pleasures; chocolate, cheese empanadas and morning kisses; the complex simplicity of "Se Va, Se Va" is the song's most attractive trait.
---
Animaleja "Enraizada"
Animaleja (Alejandra Cárdenas Jaramillo) is an up and coming female artist from Medellín. "Enraizada" (Rooted) is her new audiovisual project that approaches the 'sound of the dystopian present.' The theme of feeling rooted yet lost within the city is consistent throughout the track and the accompanying music video flawlessly supports this. 
---
Quantic & Nidia Gongora "Vuelve"
"Vuelve" is the latest addition to a long list of collaborations between the Pacific music favourite, Nidia Góngora and British producer, Quantic. "Vuelve" is a nod to what's to come from their new album, Almas Conectadas which is due to be released on October 22nd. A step in a very different direction from the usual Quantic/Góngora style, which saw them use subtle Pacific music elements partnered with Quantic's characteristic electronic sound, "Vuelve"'s most prominent aspect is the use of an orchestral arrangement. This classically driven musical accompaniment is a sharp departure from the once laid-back beats of the Quantic/Góngora duo. "Vuelve" could be the beginning of a new sound for the pair. 

Follow Sounds and Colours: Facebook / Twitter / Instagram / Mixcloud / Soundcloud / Bandcamp

Subscribe to the Sounds and Colours Newsletter for regular updates, news and competitions bringing the best of Latin American culture direct to your Inbox.
Share: