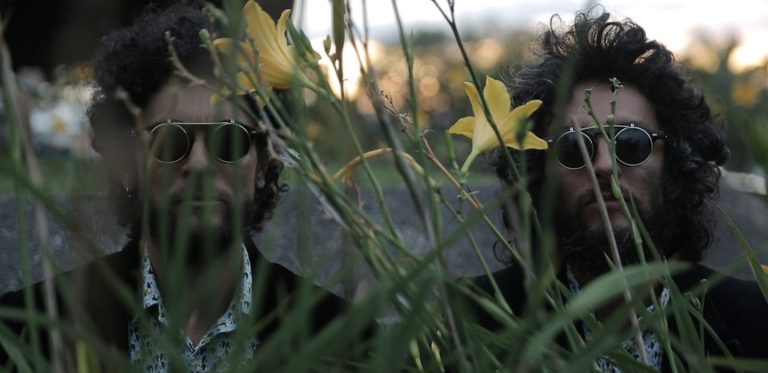 New Colombian Music Vault #8
08 February, 2022
We're kicking off the new year in style with a great mix of new music from Colombia. A blend of releases from the tail end of 2021 and the start of 2022, we have some fantastic sounds from new and old names alike. 
---
Aterciopelados feat. La Muchacha "No Se Viola"
Released on the International Day for the Elimination of Violence against Women (25 November 2021), "No Se Viola" is the musical accompaniment to the Ovarios Calvarios exhibition in Bogotá. Dealing with the issue of sexual violence in Colombia and with an anti-rape theme overall, "No Se Viola" is a musical call to action to tackle the long-standing issues with violence against women within the country. A collaboration between La Muchacha, Andrea Echeverri, and Echeverri's band, Aterciopelados, "No Se Viola" is another track to add to the infinite list of La Muchacha's and Echeverri's musical activism.
---
Sonoras Mil – Agüeros
Agüeros is the second album released from the Bogotá based band, Sonoras Mil. Made up of keys, percussion, bass and vocals, Sonoras Mil work within the realms of reggae, salsa, indie, electronic music and more. Although these global-focused musicians take inspiration from wide and far, their sound is still very much rooted in Colombia. With cumbia and other folkloric styles as a rhythmic backbone to the majority of their work, Sonoras Mil ensure they do not depart too far from their musical homeland. "Antigua Inocencia", a single released at the end of 2021, is a particularly prevalent song in the album, showcasing the band's ability to fuse Colombian rhythms, experimental keys, tropical guitar and indie-pop vocals in less than four short minutes.
---
Abelardo Carbono y su Tribu Champetua "Burundanga"
Although recorded way back in 2016, "Burundanga" has just been released by Abelardo Carbono y Su Tribu Champetua. Known as one of the originators of champeta in Colombia, Abelardo Carbono's main influence is the soukous guitar style from Africa. Africa can not only be heard in the guitar but the classic call and response style of the vocals and rhythmically complex percussion accompaniment. Released by the legendary Afro-Colombian music label, Palenque Records, "Burundanga" is the perfect reminder of the African influence that has taken root within modern-day Colombian music, and another fitting tribute to Carbono who passed away in November last year.
---
Semblanzas del Rio Guapi "Abran La Puerta a La Paz"
Released as part of their debut album, Voy Pa Allá, "Abran La Puerta a La Paz" and its cinematic music video were released at the very end of 2021. Title translated as "Open The Door to Peace", the entire song deals with the difficult issue of violence and war that is still occurring along the Pacific Coast. With lines such as "let there be no more blood", "Abran La Puerta a La Paz" is a moving and necessary call to end what is happening in this part of Colombia. Released by one of the most established traditional bands on the Pacific Coast, "Abran La Puerta a La Paz" beautifully showcases the musicians' abilities to combine both musical excellence and political commentary.
---
Acid Coco "Soñando"
"Soñando", the final single from Acid Coco's upcoming second album Camino Al Mar, is a mix of traditional cumbia rhythms and psychedelic electronic music. With a clear influence taken from Systema Solar's past work, Acid Coco have developed a laid-back fusion that still carries the syncopated rhythms sure to fill any Latin dance floor. The guitar part is particularly effective in showcasing the bands' Colombian Caribbean influence.
---
Afro Legends "Berembembem"
Formed in Cali but with members from across the Pacific Coast, Afro Legends are a new group on the scene of Pacific fusion music. Released by Discos Pacifico, "Berembembem" is the latest single from the band. Taking influence from dancehall, reggaeton, hip hop, and other Latin urban styles, Afro Legends position themselves globally while also showcasing their strong Pacific musical roots. Through the inclusion of the marimba de chonta and chirimía-style horns, "Berembembem" invites us to engage with the modern and diverse musical landscape of the Pacific coast of Colombia.
---
Tubará feat. Spittin Fijah "Sin Roots No Hay Reggae"
Released through Tambora Records in Bogotá, "Sin Roots No Hay Reggae" is the new single from Tubará, paying homage to Colombian reggae music. With a long history within the dancehall and reggae music scenes, Taburá is also the perfect band to listen to should you wish to known more about picó sound system culture on the Caribbean coast.

Follow Sounds and Colours: Facebook / Twitter / Instagram / Mixcloud / Soundcloud / Bandcamp

Subscribe to the Sounds and Colours Newsletter for regular updates, news and competitions bringing the best of Latin American culture direct to your Inbox.
Share: