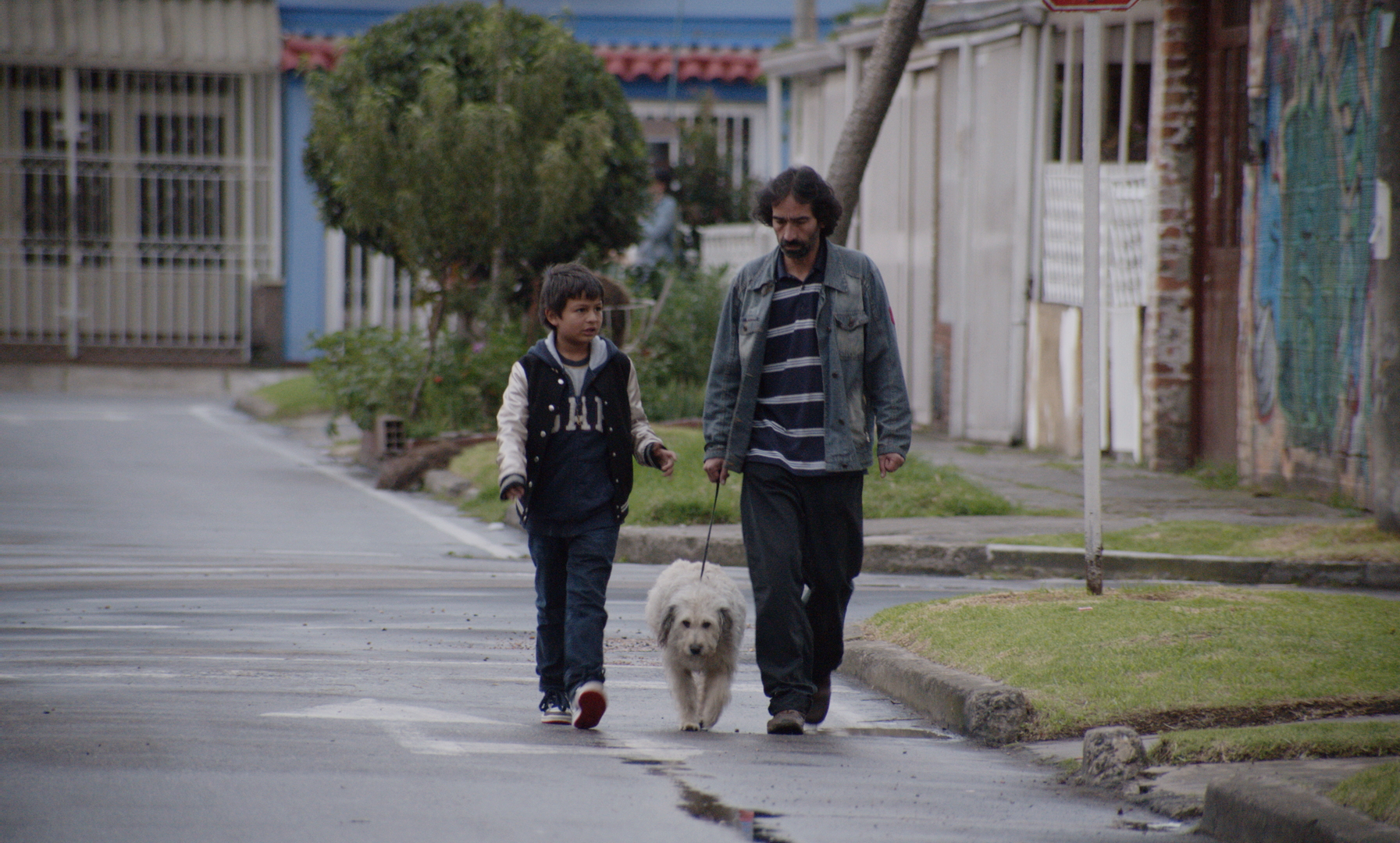 New Colombian Social Drama 'Gente de Bien': An Interview with Director Franco Lolli
13 April, 2015
Strangely enough, it's not every day I get invited for breakfast with the Colombian ambassador. But a few months ago, while the London Film Festival was in full swing, I sat down with Mr Ambassador, a handful of Colombian journalists and a couple of UK film bods as part of the promotion of Gente de Bien, Franco Lolli's Bogota-set social drama. Lolli was also present, and the main reason we were here. Over cheese doughballs, small cakes and orange juice, various minds came together to produce the kind of conversation you only usually find in somewhat stifled situations, when your lack of experience in diplomatic dining etiquette comes to the fore. Or maybe that was just me.
Gente de Bien centres on Eric (Brayan Santamaría), a ten-year-old boy with a rebellious streak whose father, Gabriel (Carlos Fernando Pérez), struggles to make ends meet. Their predicament is noticed by Maria Isabel (Alejandra Borrero), a wealthy woman who employs Gabriel as a carpenter. Evidently concerned for Eric's welfare and aware of Gabriel's financial strife, she offers to look after the boy until his father is in a position to do so himself. For Eric, the shift into an upper-class lifestyle of swimming pools and country houses comes as a culture shock, and a situation to which his behavioural issues are not entirely suited. The film features a superb central performance from Santamaría as Eric, who flickers between angelic cherub and odious gremlin all too regularly.
Following breakfast, I sat down with Franco Lolli to discuss the film. Gente de Bien was one of several films in 2014 (Brazil's Casa Grande and The Way He Looks, and Mexico's superb Güeros showing at London) to dissect the social experience of many Latin Americans by exploring it through a young person's eyes and emphasising the autobiographical context that many filmmakers today bring to their work.
Unrelatedly, although interestingly – to me at least – the Colombian Embassy shares a building with its Ecuadorean counterpart, meaning that Julian Assange was also somewhere within these same walls. Having been granted asylum by Ecuador, Assange remains locked in a legal struggle that has seen him confined to the building for almost three years.
Gente de Bien, meanwhile, is released in the UK on 17th April.
Hi, Franco. Where are you from?
Bogota. I lived there until I was 18, then I moved to France to study, and for the last three or four years I've been travelling between Bogota and Paris. I've lived in Paris for about thirteen years, although the past four have been spent between the two places.
Tell us why you made Gente de Bien.
You always make films about who you are. You don't choose the idea, it comes to you. I was trying to write many different stories at the time and all of them had this father-son relationship. It was an unconscious thing.
The class situation comes from impressions of my childhood. I come from a kind of rich family, but I was always the poorest one among the rich. My mother didn't have a job for two or three years, and we didn't have the money to pay for school. So these things were on my mind, and I met a carpenter and his son, who had kind of the same relationship. Also, my mother once wanted to adopt a child who was in a difficult financial situation. So I took all this, mixed it up, and there was the film.
Did you feel like Eric in the film when, for example, he is bullied by the other children for being an outsider?
I was both the bullied boy and the bully. If somebody does something to you, you do it to somebody else. Things like going to a rich house, not knowing the codes, and being treated not very well. It's happened to me, but I also did it to the son of the carpenter I told you about. It's so universal, so I just put it on paper and then into the film.
Tell us about Brayan Santamaría. He's a star.
Of course. He's crazy and amazing.
He has a very expressive face.
He's very, very nice, but you know he's more intelligent than you are. He was ten when we made the film, and he was directing it by the end. He did whatever he wanted to do, not what I wanted to do. We saw about 2,000 kids in the casting and not one of them pleased me. One night we were having a beer, and I saw this kid in the street, selling books with his stepfather. I knew it was him, like love at first sight.
But how did you know he could act?
I didn't! But all the people in the film are not natural actors, apart from the rich woman (Borrero), who is well-known in Colombia. But although the actors had never acted before, I think almost anybody can act. You can tell by looking at people.
Are there any improvised moments in the film?
There are many direct improvisations. Actually, I normally don't give the script to the actors, I just tell them the situation and they improvise around it. But we can do the same take 20 or 50 times, so it's not really improvising. But I give a lot of liberties to the actors.
So who are your directorial influences?
I have many. I love Kubrick. There's a French film director called Maurice Pialat, who won the Palme d'Or in 1987 for Sous le Soleil de Satan (Under the Sun of Satan). He's amazing. For this film, I think I had many influences, such as The Bicycle Thief, by De Sica, and Italian neo-realism. Even some British directors, like the early films of Ken Loach… there's something about family and struggle. You have influences from all over. David Lynch is always there, even though it doesn't show in the film.
The issue of class is quite prominent in Latin American filmmaking. Is that part of your philosophy as a filmmaker, to address social issues?
It's so much a part of life in Colombia that it's difficult to not talk about it, even if you don't want to talk. You have maids or you are a maid. It's a very contrasting society and very dislocated. This has always interested me. Like I said, I thought I was between two classes, but actually I was completely in one of them. Now I see the world and I see class issues, the power issue. I think my films will always talk about it, even in a love story. But for me, the centre of the film is the family issue. And the family is linked with the social issue.
What Colombian directors or films would you recommend?
Without doubt there is one director who is amazing. He's called Victor Gaviria and he made a couple of films that were at Cannes in the nineties: Rodrigo D: No Futuro and La Vendedora de Rosas (The Rose Seller), and then he made Sumas y Restas. He only makes films every ten years. In documentary, you have Luis Ospina, and he made a very beautiful film called Un Tigre de Papel (A Paper Tiger). These two are from the old generation.
In the new generation, you have a guy called Ruben Mendoza and another called Oscar Ruiz Navia. Mendoza made Tierra en la Lengua (Dust on the Tongue) and the other guy made Los Hongos, and before that he made Crabtrap. They're trying something new, you know, and sometimes it works, sometimes it doesn't, but at least they are trying. That's why I like these guys.

Follow Sounds and Colours: Facebook / Twitter / Instagram / Mixcloud / Soundcloud / Bandcamp

Subscribe to the Sounds and Colours Newsletter for regular updates, news and competitions bringing the best of Latin American culture direct to your Inbox.
Share: