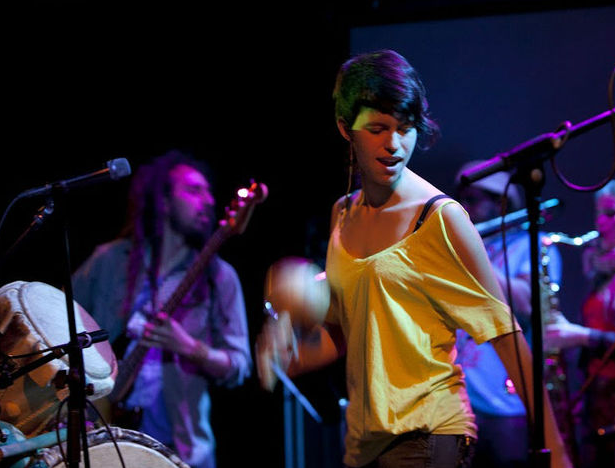 New video: 'El Jugo' by M.A.K.U. Soundsystem
05 August, 2013
The good folks behind New York City's M.A.K.U. Soundsystem like to describe themselves as providers of immigrant beats. That comes straight across in their new video for "Jugo," off their album M.N.D. Music Never Dies.
The song is a working-class immigrant anthem, for sure. It features members of M.A.K.U. getting up and hustling to get to a hard day's work in New York City. The track even boasts Spanglish lyrics that are reminiscent of how some of the Big Apple's hardest workers communicate at work–with a foot in two worlds, speaking to Spanish to co-workers and English as best as they can to bosses, who will often speak Spanglish right back to them. Here is an English translation:
"El Jugo"
Walking in a rush
looking for the time, forward
medicine for a cough
clothing, half-elegant
why are we working so very hard?
with our brains washed (brainwashed)
while the dream you have
always remains elusive
and tired, I raise my voice
I tell everyone who listens
where would you like to go today?
put your fight towards a direction 
Put water in your juice
So it can yield more servings
Vocalist Liliana "Lana Baja" Conde explains:
"'El Jugo' talks about the experience of working hard and trying to reconcile the struggle for survival and the fight for our dreams, whatever those may be, in a social structure that doesn't make it easy for everyone to achieve them," Conde says.
"There is a saying in Colombia that refers to when someone shows up at your house uninvited during lunch time, people simply say, 'Le echamos agua a la sopa,' meaning, 'We'll just add water to the soup, and this way there's enough lunch for everyone!' We adapted that saying to 'El Jugo,' which means the juice, and refers not just to orange juice in the morning, but also to the figurative 'juice' that is needed to continue working creatively sometimes after a long day of working a day-job to pay the bills," she adds.
When performing this song at their album release party last fall, lead singer Juan Ospina explained the song's chorus–water is added to juice to make more of it for a large family. My drink server, a Latina woman in her early 50s, happened to be walking by as Ospina explained this and said, "that's right. That's how it was done." She promptly sauntered away while inevitably shaking her hips. (Read that show review at Dos Mundos Radio.)
Check out the video for "Jugo" below and catch M.A.K.U. Soundsystem in a city near you. This Thursday, August 8, they're in Seattle for a show at Nectar Lounge along with Colorado's Paa Kow's By All Means Band and DJ Chilly, the host of KEXP's El Sonido. Details here.

Follow Sounds and Colours: Facebook / Twitter / Instagram / Mixcloud / Soundcloud / Bandcamp

Subscribe to the Sounds and Colours Newsletter for regular updates, news and competitions bringing the best of Latin American culture direct to your Inbox.
Share: