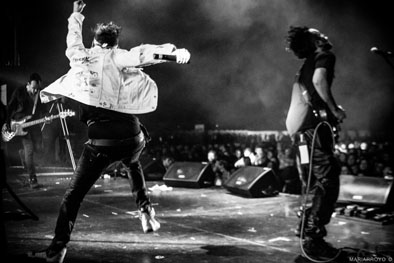 Maria Arroyo
NYC's Outernational on Touring South America & Europe
30 January, 2015
The first time Sounds and Colours caught up with New York City's Outernational, they were in the midst of a tour across the United States-Mexico border, on a mission to revolutionize, or at least draw attention to, the debate on immigration.
That 'Todos Somos Ilegales' tour, named after the debut album produced by Tom Morello, took them from the sovereign O'odham lands in Arizona, to places like the border cities of Juarez and Tijuana, Mexico, and Brownsville, Laredo, and El Paso, Texas.
A little over two years later, the band is still spreading their brand of 'revolution rock,' but they've picked up fans by touring through Mexico (where they played the big Vive Latino festival) Colombia (where they played Rock al Parque) and Argentina, as well as France and Germany. In fact, they'll be returning to France and Germany in a couple of weeks.
Ahead of their last New York City show for a while, this Saturday, Jan. 31 in Manhattan (featuring Chico Trujillo-like cumbia/gypsy/tropical/ska band, Escarioka, horn-heavy chicha punk outfit, Consumata Sonidera, and Pdrito Criollo of Gogol Bordello fame), we had a chat with guitarist, Leo Mintek, about how spending time in South America and Europe informed their current trajectory and future plans.
Sounds and Colours: So the first time we introduced your band to our readers (June 2012), immigration was being heavily debated, making your somewhat bilingual album, 'Todos Somos Ilegales,' and its tour, through the United States, ridiculously timely. In 2015, a little progress has been made, but there is obviously much more to go. What did that album, and touring the states in support of it (obviously talking to fans and pro-immigration/open border supporters), teach you as a band, or as individuals?
Leo Mintek: The impact of that tour and album brought us … to South America and Europe. Every country has the same issue.  In Argentina, the illegals are from Paraguay. In Colombia, the indigenous farmers are treated as illegal occupants. In Mexico, there are illegal Hondurans and Guatemalans.  We saw the conditions that force people to leave everything and seek survival, chasing the dollar, or the euro, or the peso…
We're going to France and Germany next month, and those countries have their own version of this same imperialist dilemma. In Germany, despite some of the amazing progress their society has made reconciling their Nazi and occupied past, they have a hidden illegal population, from Africa, Asia, Eastern Europe. Last year in France we visited Calais, on the north coast port to the United Kingdom. We met people from Darfur (Sudan), Afghanistan, Kurdistan and Algeria, trying to get to the UK, where they can speak the English they learned in school and hope they will find asylum. Some of the guys of the ride the undercarriage of semi-trucks which load on the ferry boats going to the UK. Some die along the way, others are deported, or just brought back to shore where they try again.
The "immigration problem" is a fundamental contradiction of the modern capitalist neo-colonial imperialist system and we need systemic change. Reform does not address the root causes. The complete acceptance of all human beings as full human beings is lacking in every country run by this vampire business model.
S&C: Music! I hear you've been playing a couple of new songs while playing here in New York. Would you say spending time in Colombia, Argentina, France, etc., influenced musically? How?
LM: We heard so much great music.  And we put everything we like into our songs.  I love cumbia villera, Colombian cumbias and salsas, champeta and music from Colombia's Pacific Coast. In Europe, we heard amazing Turkish and Arabic music. France has a great punk tradition ranging from Mano Negra to O.T.H.  And, Berlin is the home of minimal techno! Germany also has a lot of Wu-Tang style rap music, and what they call "schlager" which is like working class folk/country/rock music.
S&C: Your time in Colombia resulted in DJ collaborations, which netted us remixes by Colombian DJs and producers of your single, "Future Rock." What is in the works for Outernational, as far as collaborations with other artists or DJs?
LM: We're working with Mexico City's Panteon Rococo on a song.  We also started recording a project in Bogotá, in which we tracked an epic session with Colombian bands, Monsieur Periné, Skampida, Consulado Popular, Chirriband, and La Severa Matecera.
Sr. Flavio of [Argentina's] Los Fabulosos Cadillacs wants to do something with us, too.
We'd say Outernational has a lot in store for their fans. Check out their very cool and border fence/immigration inspired video for "Canta El Rio" (from the Todos Somos Ilegales album that opened so many doors for them), featuring Mexican (and Latin Grammy nominated) singer-songwriter, Ceci Bastida, and wonderful animated-like artwork by Pennsylvania native, Yenna, below.
No strangers to social justice and protests, Outernational have also penned a song inspired by the police killings of Michael Brown and Eric Brown. Listen to "I Can't Breathe" below.

Follow Sounds and Colours: Facebook / Twitter / Instagram / Mixcloud / Soundcloud / Bandcamp

Subscribe to the Sounds and Colours Newsletter for regular updates, news and competitions bringing the best of Latin American culture direct to your Inbox.
Share: