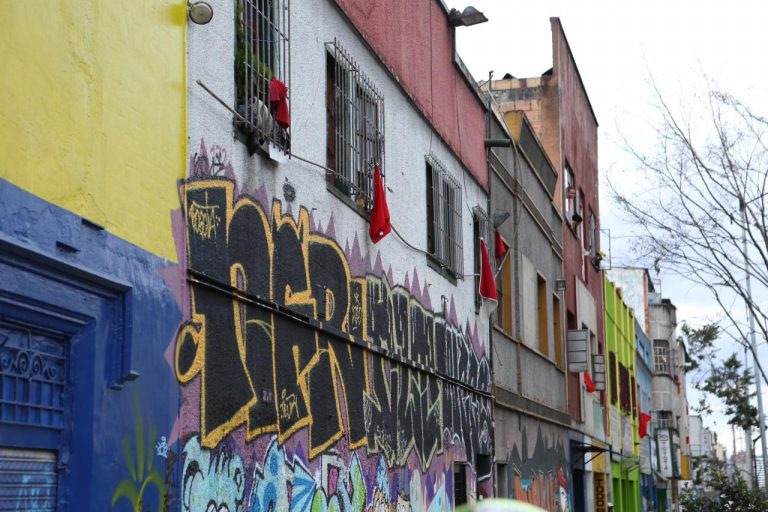 Red Flags Over an Orange Economy: How Colombia's Creative Sector Has Been Left Exposed by COVID-19
26 June, 2020
Across Colombia, homemade red flags can be seen hanging from facades, each one representing a household in economic crisis, without the means to buy themselves even a basic food shop.
The flags may also be taken as a protest against poverty which has long troubled the world's seventh most unequal country (according to World Bank) or indeed a metaphor for broader feelings throughout the South American nation.
As the virus steamrollered into 2020 and global economies tumbled, few industries have been damaged quite to the extent of Colombia's cultural sector, down 11% and still falling.
"We had a summer tour of Spain, France, Germany and the Netherlands. It is a huge part of our income that we stopped receiving. On the other hand, each of the musicians develops their own career, and all of them had guaranteed work. Everything was cancelled, absolutely everything," reflects Nidia Góngora of Canalón de Timbiquí. "The vast majority of income we stopped receiving."
Head of Mambo Negro records and creative director of La BOA, Daniel Michel, who also plays with Bandejas Espaciales and El Leopardo, describes the chain-like effect that has taken place amidst the crisis. "It begins from minute one. We've closed rehearsal rooms. Therefore, no new material is generated, nothing goes to the recording studio, and so promoters cannot sell events. If there aren't events, then the sound technicians and tour managers do not work, so the creative scene is frustrated and many people [are] negatively affected."
Innovation Amidst Desolation
In response to the lockdown, many artists have had to find other ways to operate during the crisis. Many of them have taken to live streaming events, which on the one hand has opened the doors to a broader audience, but on the other, has lacked the magic [and economic benefit] of the live experience.
Nidia Góngora explains: "live music will never die or disappear. An online concert or event will never replace the live experience. It's the excitement, the vertigo, the warmth that you feel when you have your favourite artists in front of you. When you attend a live event, you have contact with other humans and collectively share an experience that reaches our senses; the smells, the touch. We forget how important this is in our day-to-day. You can innovate as much as you want, technology is available to everyone, but it will never be the same."
Nevertheless, Canalón de Timbiquí took to a studio live in an international concert on June 25th [watch below], in a bid to raise funds for a number of people surrounding the group whose income relies directly on music and also provide the connection through music that many thrive on. "We want to take advantage of this situation to bring that warmth and joy of music to peoples homes," she told fans in an online video this week.
"Just like Bruce Lee said, 'you have to be like water; you have to to try and adapt to the situation'" says prominent Barranquillero artist Pernett. The multi-instrumentalist and producer is an artist within his own right, who needs little introduction for many readers.
"I've been working with a group of people forming a collective called Búho Parlante specifically to do events online. We're going to see how it goes because logically you don't see the gains you do in live shows, or feel the same excitement," he adds.
"I've turned to other creative outlets that I enjoy besides performing live", offers one of the newer artists to the scene and hottest prospects on S&C's radar, La Muchacha. "I've been drawing, for example, which has helped me design the artwork for the last single I released and a line of merchandise that helped support in some ways. It's less about innovating, rather accessing what's already there."
Yet, though adapting may be necessary, musicians rely on music. Pedro Ojeda, whose band Romperayo featured on our 10th-anniversary compilation, and drums with Frente Cumbiero, Los Pirañas and Chupame El Dedo, is concerned at the impact both for music and beyond. "The truth is that I don't see much future for online shows", he muses. "It's a great concern, the fact that after the pandemic the entire cultural movement wants to move to virtual. I think it's a great danger that humanity continues believing you can continue life virtually, without leaving your home. That, in my opinion, is not healthy. Especially with the cultural movement and education, there is a great risk to the entire population. Especially children and young people. We'll begin to lose the vital connection that we have with our environment, our communities and our territory, and this has severe effects on the will and the healthy development of the personality."
With quarantine restrictions a long way from lifting, there is still a silver lining, according to Nidia Góngora, "It gives us hope to see how in Europe and Asia they are already reopening the cultural sector and that is a good indication for us."
Broken Promises and a Lack of Support
While COVID arrived unexpectedly, the crisis faced by many musicians and artists was supposed to have some level of safety net. In the early part of the 2010s, Colombia set up its economía naranja, an initiative supposed to bolster the artistic and creative sector. It proposed to generate sustainability, dignity in employment, strengthen [creative] programmes, improve incomes, and make creative industries more successful on a business level.
Nevertheless, as crowdfunding pages have begun to appear, artists as pertinent to the Colombian cultural scene as Totó la Momposina have had to seek help from far and wide to support the network of artists around her.
Nidia Góngora admits, "some members of the group did receive some weekly shops and payments from Cali's Ministry of Culture. Equally, some cultural collectives in Cali recieved some food."
Yet for many throughout the creative chain, they have been left wanting. Despite the government promising COP 160,000 (approx $40) monthly to around 70,000 artists, the majority have been forgotten.
Pedro Ojeda, who had four international tours and 20 Colombian shows cancelled as a result of the crisis, decries the lack of conversion between words and actions." I personally made the registration and filled out the form when the call came out, but I never received such help. The truth is that this money has not reached the bulk of the sector. With a group of colleagues, we created the National Table of Artists and what we've seen is that the government promised aid for the artistic industry has not arrived."
As a young artist it's been those around her who have helped La Muchacha sustain herself. "The help I have received has been more from the people who are attentive to my process. My family, the people in my networks, the people I live with. Thanks to them, I have not needed state aid," she says.
"We've received nothing," chimes Pernett in a far more blunt fashion, "the only thing the government want to do is rob us. It serves some economic interests; three or four fat cats that act like plantation owners, basically."
While Daniel Michel also confirms that no support has made its way to himself or those musicians around him, "we've not received anything. It seems to me that it is a bit pretentious to carry an orange flag [referring to the economía naranja initiative] that will save the cultural industries when the real situation of its actors is not even contemplated."
A False Economy
One thing which is certain is that the proposed benefits of the economia naranja are not clear on the part of the artists, with many left confused and frustrated at the scheme, either in or out of such testing times.
"The economia naranja has been confusing," says Nidia Góngora. "It has not yet become tangible. The president of the country once thanked musicians in one of his addresses, for brightening the quarantine of the Colombians. That's about as far is it went."
Colombia is now in one of the world's longest lockdowns (Bogotá, having entered quarantine on March 20th before the rest of the country, has endured the world's second longest quarantine, eclipsed by Peru with a difference of only four days) and the creative economy has all but been forgotten. Millions of Colombians have also been baffled by last Friday's VAT free day – dubbed in many parts of the international press as "COVID Friday". While the creative and cultural sector faced a cold shoulder, big-name brands and supermarkets were thrust to the fore as shoppers flocked in their droves in search of a bargain, despite quarantine measures.
"We just saw a day without VAT, without any kind of control. The government pushed people to buy from mass-market chains, and there was no retaliation of any kind. The rest of the economic chain does not have the same opportunity, and if they try to do something, the police come," Nidia Góngora reflects of the event.
Pernett adds: "what we experienced (that day) is very scary, because of the brutality of people. There are some taking care of ourselves, protecting each other. Others are just irresponsible. It's very challenging,"
How Culture Is Undervalued
There is a prevailing theory that culture is considered a luxury in Colombia, and Latin American society. This feeling of cultural neglect is vital to understanding the context of how things arrived at this point.
"With this pandemic, several things became clear, and one of them is that art is not considered a fundamental part of our society. We are taken as something decorative and not as an entity that generates employment and sociological well-being for society," adds Nidia Góngora.
Daniel Michel echoes a similar sentiment. "For most of the countries here in Latin America, culture is not fundamental to society. In some cases, it becomes a luxury. In my opinion, governments have fought all the battles except those that concern the well-being of their citizens, but that is another story."
Pedro Ojeda builds on these ideas: "I believe the fundamental problem of the economía naranja is it understands art and culture only in terms of its ability to create material wealth. In this sense, the government's cultural policies, such as the economía naranja, purposely ignore what is truly important: creating a social fabric and strengthening the construction of social cohesion, the construction of identity and the quality of life of all citizens of the country."
There are opinions that go further in suggesting that the high level of corruption throughout the country is something that has perpetuated the dismantling of cultural values and is the real root undermining the creative economies.
Direct as ever, Pernett explains, "politicians have kept us mired in poverty and war. Art and culture are not taken as a fundamental part of anything, quite the contrary. In other words, it's used to fatten mafias and monopolies and to strengthen stupidity. Television and media are all bought, and just go like sheep to what they are told to. If you do something that opens minds a little bit, then you are frowned upon, they criticise you and treat you like a hippie; as though you're crazy".
"Here there is support for reggaeton, for what sells, the rumba and those kinds of things that are tied to large monopolies. If your music is not tied to a big monopoly, then you have no way of rising."
"This how we are crushed, with an imported culture, with models that do not work for us. I always talk about how a Colombian from the countryside dressed as a reggaetonero would look ridiculous. How culturally different we are from the reggaetonero, to the imported model they want to sell us."
"It's a struggle of consciousness, so to speak. The unconsciousness that supports a culture; narco-culture to give just one example against the conscience that supports the ancestral, supports traditions, supports the culture of who we actually are."
"Here, people are super beautiful. People don't talk about gangsters or anything like that. It's just imposed on us a culture that's not ours. That hurts us. We have a beautiful culture, and there are those of us in Colombia, who are fighting to maintain it and those who are fighting, well, to end it. It's sad for us because we're generating culture, so the country evolves."
"The country simply doesn't want to evolve. Visibility is given to other people who are the ones supporting drug traffickers, and support all those institutions standing over us, suffocating us with their feet on our chests."
Pedro Ojeda also feels that the corruption the country faces, and the monopolisation of industry has fundamentally undermined cultural values. "We have big problems regarding the economy. One of them is corruption. There are also very serious problems such as the monopolisation of all spheres of society in the hands of a few. Here in Colombia, there is a person named Luis Carlos Sarmiento Angulo who owns the banks, a large part of the media and the entire construction sector. He, with a handful of people, own the entire country. If we add to this the fact that they act hand in hand with the government in power to monopolise the entire economy in their favour, this leaves us an impoverished country with no capacity for any action."
"Cultural policy must be seen as a tool that helps develop the social fabric, coexistence and generation of collective identities for the rootedness with its territory and the confrontation of social problems, things that the economía naranja completely ignores. If these conditions are not present, it is more difficult for artistic expressions to develop and cultural processes to be strengthened in the future.
"Despite the fact that UNESCO recognised art and culture as a fundamental right, it is clear that the state has had it as its lowest priority for many decades. The current government, due to its warlike and neoliberal character, have continued to take away the budget for art and culture. This, adding to the lack of social fabric in the territories, makes it increasingly difficult for artistic and cultural expressions to survive."
Collective Resistance as a Path for Progress
So as Colombia's artists fight for voices to be heard and the industry to be taken seriously, it's certainly a trying time for many. "In this country, issues of culture have never been prioritised, it doesn't make for such a good panorama, but we have learned to live from it, for it and to be more involved in processes that help to build it. I feel like culture changes fast as time goes on," observes La Muchacha.
And so, there is a way forward. "Those of us who carry out cultural processes know that without art there is no bearable society, that is what working for culture has taught us, to have various reasons for considering it essential," adds the young Colombian.
"I am still not very clear about the concept of the economía naranja, so it is difficult for me to identify in my process if I am inside or outside of it. What I am clear about is I've learned to work collectively, to generate that income and have some stability," she concludes.
"Colombia is a paradise", reflects Pernett. "If you take away all that corruption from the front and centre you have a divine paradise, perfect, full of beautiful people, delicious food, culture, music, a lot of spectacular things. So we carry the burden of politicians and those tycoons who make us a third world country. It's the time for Colombia to wake up and move on, grow our culture, see our true music taken to the world".
In Colombia, when restrictions do eventually start to lift culture can prevail, though according to Pernett, that collective resistance must be at the heart of that. "What we must do really in return, is to work as a team and get ahead together (as artists) because the state does not exist for us."

Follow Sounds and Colours: Facebook / Twitter / Instagram / Mixcloud / Soundcloud / Bandcamp

Subscribe to the Sounds and Colours Newsletter for regular updates, news and competitions bringing the best of Latin American culture direct to your Inbox.
Share: