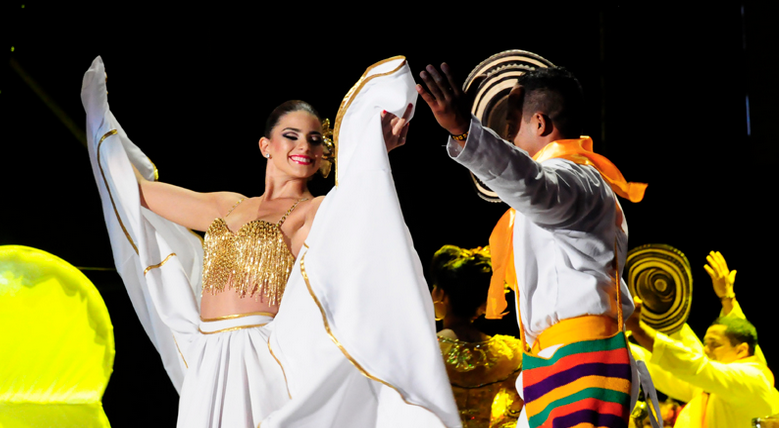 Giovanny Escudero
!Sacúdete Carnavalero! Barranquilla's Carnival Sure to Delight
13 February, 2015
Let's face it: as far as pop culture is concerned, Colombia has been on a roll. Its national football team (salsa choke, anyone?) had an exciting run in the 2014 World Cup, Barranquillera beauties Sofia Vergara and Shakira continue to get entertainment media mentions (and loads of beauty/fashion endorsement deals), and most recently, fellow costeña, Paulina Vega, was crowned Miss Universe.
Now, it surely doesn't take external forces to rile up Colombians for los Carnavales (look no further than this carnival party ON A PLANE en route to Barranquilla), but there's no doubt it will add to the excitement. Here are some things to look out for should you be fortunate enough to attend the second most popular carnival in South America, which this year, takes place from 14 to 17 February. (By the way, congrats on catching up on that fact, Forbes!)
The 'it' song for this year's carnival
Each year, Colombia's classic carnival songs (such as, "El Garabato,") are played on the regular. But there are always contemporary songs that become "bien pegao" (loose translation: stuck everywhere). I'm told this year's ear worm, "La Espeluca," comes to us by champeta urbano (a genre I see getting more and more global traction) artist, Twister El Rey.
!Sacúdete carnavalero! the official theme of this year's Carnival
The phrase pays homage to artist Samuel Tcherassi, a photographer best known for his photographs of Barranquilla's Carnival. Tcherassi, who died in May 2014 after a long battle with cancer, is remembered for often greeting others with a jovial, "Sacúdete zapato viejo!" The 2015 theme is a play on the phrase and an invitation for visitors and tourists to partake in all the spontaneity and joy that characterizes the Colombian festival.
The official Barranquilla Carnival song (and an unofficial one, too!)
The forces behind Barranquilla's Carnival commission an official song (and video), and the 2015 edition is quite the mini-movie production, as it begins with women mourning the death of Joselito (Don't worry, like always, he resurrects and the party starts!), and covers many aspects of traditional carnival characters and costumes. The video features Cristina Felfle Fernández de Castro, the 2015 carnival queen, undoubtedly the event's most adored figure. She's joined by singer and actor, Alejandro Palacio, who is affiliated with the Caracol network.
Miss Universe Paulina Vega
Since being crowned Miss Universe, Paulina Vega has been raising her profile, being asked to solve the narco wars, and giving witty interviews on the likes of shows such as Live with Kelly and Michael. Now, this has nothing to do with carnival, but again, she is a point of pride for Barranquilleros. She taught Michael Strahan how to correctly pronounce Barranquilla, and was asked "what happens if an ugly person is born in Colombia?" I can't imagine she'll be able to attend los carnavales on the busy Miss Universe publicity schedule Donald Trump has in line for her (she's in frigid New York City for Fashion Week as of Feb. 13), but how can she miss her home city's biggest party? Then again, her dropping in may steal the carnival queen's thunder, and that might not be cool among the sisterhood of the pageantry.
http://youtu.be/6DGe7O_4TvU?t=1m53s
Progress: Carmen Carrera at La Batalla de Flores
In recent years, Barranquilla has hosted a LGBT parade during pre-carnival. But this year, reality star and model, Carmen Carrera (of RuPaul's Drag Race fame), will grace a parade float during Carnival's biggest event: La Batalla de Flores.
Beer.
The official carnival beer is Aguila, which isn't a surprise since it's made at the Barranquilla-based Bavaria S.A. brewery. But we see that the folks from the Todomono design collective (and store) have come out with a line of craft beers featuring Barranquilla carnival's most traditional character. If you try it, drop us a line and let us know how you like it!
Keep your eyes and ears peeled for Freaky Colectivo, M.A.K.U. Soundsystem, and Riobamba
Ok, it's tough to predict their exact whereabouts, but be on the lookout for artists and DJs who have graced the electronic pages of Sounds and Colours in the past: El Freaky Friday Group will likely show up on a float for La Batalla de Flores. Whenever you see or hear tambores, look around for Lana Baja and Moris Cañate Reyes of M.A.K.U. Soundsystem, since both will be roving throughout the various events and parties. Cañate Reyes has already been spotted playing his tambor alegre at various pre-Carnaval events. Follow his adventures on Instagram.
Riobamba will DJ at El Candelario in Bogotá on Saturday, but she'll join the festivities in Quilla on Sunday.
Enjoy every minute of Barranquilla carnival knowing the costs and benefit
Digest these numbers: According to La Republica, during the 96 hours of el Carnival de Barranquilla, 1.5 million people in attendance will help increase all kinds of sales figures, especially liquor purchases and hotel occupancy. This means a total of $44,300 million going through and to the city in just four days. But don't worry, for every peso spent, the country's gross domestic product goes up by two, says El Heraldo. We say that means you should party twice as hard.
La Nomina del Pin's tribute to Palenque
La Nomina del Pin is a full band from Barranquilla that, much like legend Joe Arroyo, specializes in cumbión, salsa, and tropical, so they're a natural fit for carnival. They're newest song, "La Palenquera," pays tribute to the culture of San Basilio del Palenque, and its afro-Colombian people. We had to share.

Follow Sounds and Colours: Facebook / Twitter / Instagram / Mixcloud / Soundcloud / Bandcamp

Subscribe to the Sounds and Colours Newsletter for regular updates, news and competitions bringing the best of Latin American culture direct to your Inbox.
Share: