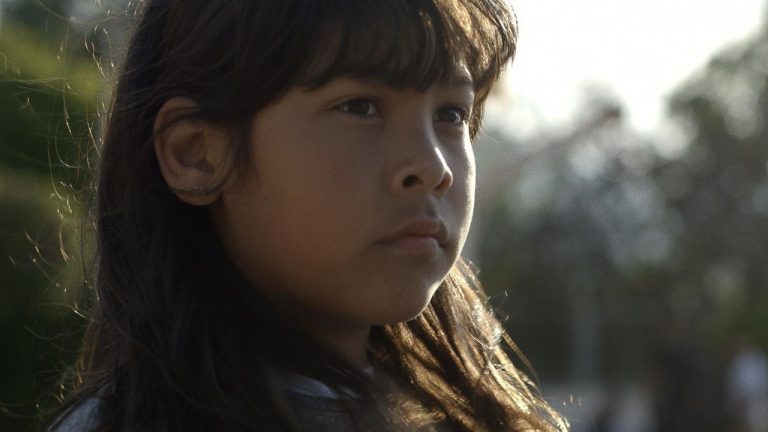 Sheffield DocFest
Sheffield DocFest Youth Jury Winner Follows Young Colombian Girl's Transition Journey
28 June, 2021
Angélica Cervera's documentary If God Were A Woman (Si Dios Fuera Mujer, 2021) follows the story of Laura, a young girl living with her family in Valencia, Colombia, who is three years into her transition journey and is now entering adolescence.
The film builds towards her First Communion, which Laura is clearly excited for. As she is adorned with gifts of jewellery and hair accessories from her wider family, in ways the communion represents Laura's family's acceptance of her transition, and her step towards womanhood.
The multi-generational support network that she has in her family, and the intimacy of these connections, feels specific to Colombia and perhaps Latin America as a whole, and I expect Laura's experience would have been different had she grown up elsewhere.
The film, whilst most closely following Laura's perspective on her experience, also shows her parents' journey and at times the tensions within their relationship. In most instances throughout the documentary, Laura is as happy a girl as any, playing dress-up with her cousins and asking inquisitive questions to the adults around her. Other moments show fragility and anger – she tells her mother that she doesn't like being around children that are older than her, as she is afraid they will make fun of her. A particularly difficult scene is a conversation between Laura's parents where they reflect on life before the transition. When Laura's father reflects on how much he misses his son Oscar, her mother challenges him, asking whether he'd prefer that Oscar was still here despite knowing that she was unhappy.
The camera leaves a lot of space for this processing for Laura and her parents. Both Laura's mother and father reflect on how little they knew of her anguish as Oscar at that time, and how they simply couldn't put themselves in her shoes – Laura's mum leading to the conclusion that the only thing to do is accept Laura's decision, her experience and her future.
The documentary feels very intimate, and whilst the director has likely prompted certain reflections and conversations, neither Laura nor her parents address the camera, creating a very 'fly-on-the-wall' viewer experience.
Laura's transition journey isn't an easy one by any means, but she is now happy and Laura's relationship with her parents is touching, showing a very loving and strong bond between them. From her parents, there is a deep admiration for Laura's sense of empowerment during her transition, and it would be interesting to know how Laura will reflect on the film in years to come.
If God Were A Woman was the winner of the Youth Jury Award at the 2021 Sheffield DocFest
Read our article on all the Latin American films screening at Sheffield DocFest here

Follow Sounds and Colours: Facebook / Twitter / Instagram / Mixcloud / Soundcloud / Bandcamp

Subscribe to the Sounds and Colours Newsletter for regular updates, news and competitions bringing the best of Latin American culture direct to your Inbox.
Share: