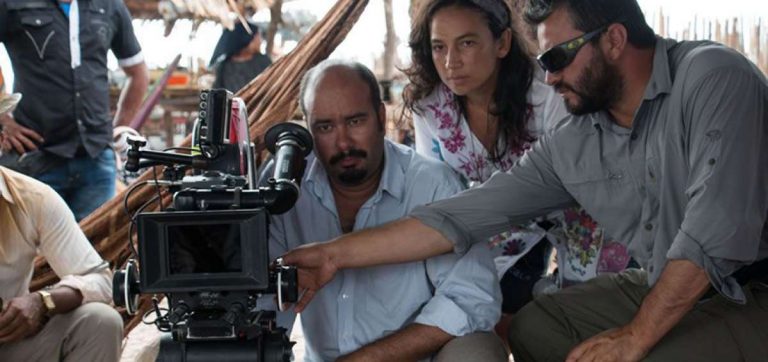 Solidarity and Community in a Divided World: An Interview with Ciro Guerra and Cristina Gallego
24 May, 2019
Following on from the success of their 2015 masterpiece Embrace of the Serpent, Colombian duo Cristina Gallego and Ciro Guerra are back with Birds of Passage, a powerful and unique vision of the Colombian drug trade, seen through the eyes of an indigenous Wayúu community in the Northern tip of Colombia.
Danny Concha spoke to the Colombian directors on a recent promotional push for the film. Here are some of the highlights from their conversation.
From start to finish, Birds of Passage is a tour-de-force which explores issues ranging from greed and corruption to cultural loss and the power of dreams. Was there a specific impact that you wished to have, when making this film?
Guerra: To tell you the truth, we do not believe that films like this can be summarised in any one single message. These are experiences and stories which we hope will impact each viewer in a different way… Birds of Passage is a film without any preconceived conclusions. In fact, the film itself is the message.
Gallego: In many ways, the film functions like a reverse-shot… it's about inverting the discourses that affect everyday lives. For example, the story of the Colombian drug trade has pretty much always been told from the outside-in. With Birds of Passage, we wanted to talk about what these activities mean for the people [who] have lived alongside it… their end of the story. For me, this was one of the main motivations.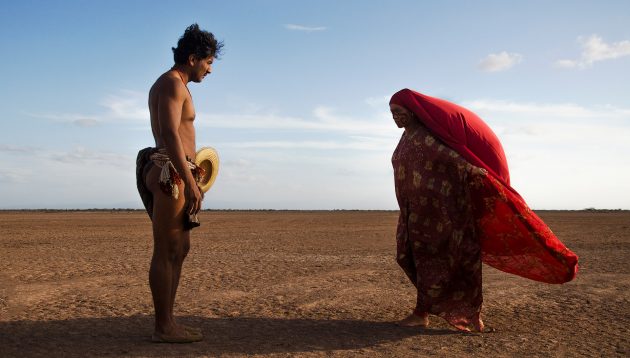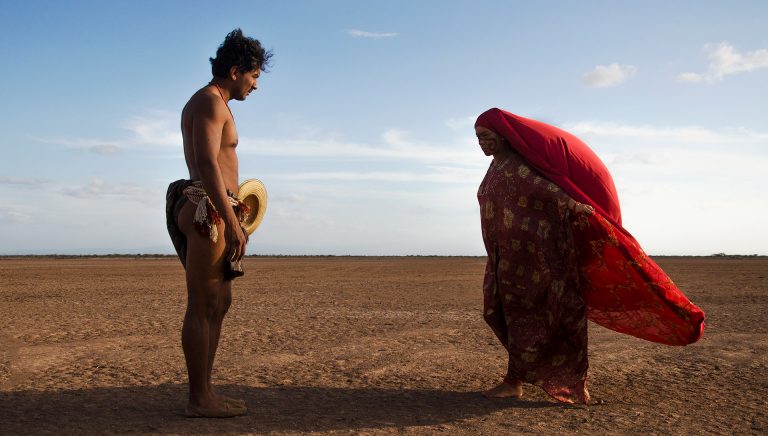 The film focuses specifically on the history of the Wayúu community. As your previous work suggests, you have a real interest in working with the indigenous groups of Colombia. Can you talk a bit more about this?
Gallego: As filmmakers, we are always looking for those oral histories and testimonies that are left untold… realities that even the majority of Colombians overlook. In fact, [it] is a real 'debt' in our national discourse, especially when it comes to voicing the lives of our indigenous population who, after all, are the guardians of both our culture and our past. As a predominantly Spanish-speaking country, it is easy to forget the other 67 native languages that make up our lived reality… each one with its own unique culture, territory and history.
With Birds of Passage, the idea was to approach one of these groups… to learn about their experiences. By dialoguing with the Wayúu, we were able to discover and articulate a great conflict between tradition and modernity, initiated in this case by the infiltration of the international drug trade.
In this process, we began to see the Wayúu as a metaphor for Colombia… a society which has in many ways betrayed itself and lost its way. Like the protagonists of the film, our country has begun to destroy itself morally with the arrival of rampant capitalism.
Despite all this corruption and conflict, do you see the possibility for a constructive outcome? Can indigenous groups benefit from such changes?
Guerra: It's hard to say because throughout history, the indigenous communities of Colombia have suffered immensely. They have been targeted by successive governments who over the course of recent years have turned them into public enemies.
However, let's not forget that we are talking about very powerful and resistant communities… especially the Wayúu. These are very defiant people, who have managed to build a life for themselves despite extreme conditions. This gives much hope for these communities, and their capacity to preserve themselves against the challenges they face.
As filmmakers, I also believe that we can assist them in this process by building narratives of mutual understanding… I see Birds of Passage as a continuation of the long struggle and resistance of such communities. It's a form of supporting these groups and inserting their story into both national and international conversations… It's about restoring voices that have been silenced. In order to understand who the Wayúu people are, we must learn to appreciate their existence in all its complexity.
As your vision continues to evolve, have you considered where it is heading?
Guerra: For me, film is not really about a trajectory. It's about narrating stories which motivate and inspire people to share with one another. Our experience comes from the need to create a sense of solidarity and community in a world which is becoming ever more divided. To achieve this, we must continue to approach isolated spaces of society and communicate them to the world. It has been a privilege to make this sort of connection with Birds of Passage, by bringing together a diverse team of both professional and non-professional actors. All this has helped produce a film that is enriched with different languages and ideas, philosophies and visions… a fitting result for a country that is as rich as it is misunderstood.
Birds of Passage is currently being screened in cinemas across the UK and is available on demand. Click here to find details of cinemas and on demand.

Follow Sounds and Colours: Facebook / Twitter / Instagram / Mixcloud / Soundcloud / Bandcamp

Subscribe to the Sounds and Colours Newsletter for regular updates, news and competitions bringing the best of Latin American culture direct to your Inbox.
Share: