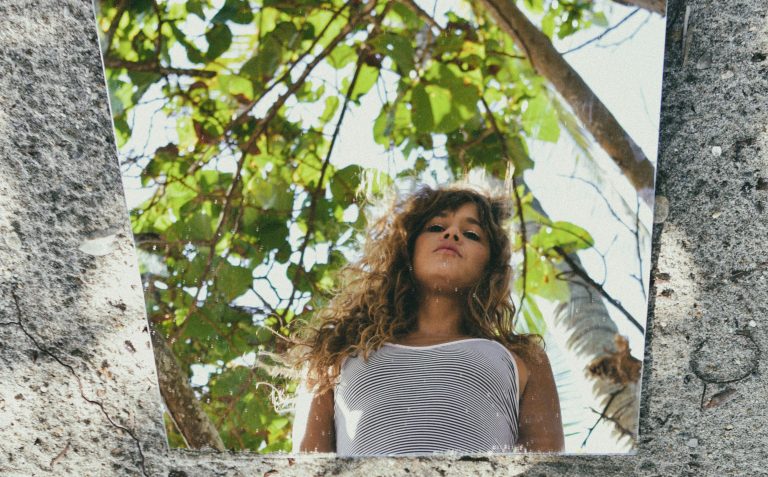 SPOTLIGHT: Jimena Angel
15 October, 2020
Jimena Angel's 25-year career in Colombian pop-rock has turned an intriguing corner having enlisted the American saxophonist, Ben Abarbanel-Wolff to bring energetic brass to her latest project. The Latin-Grammy-nominated Colombian is the latest in an illustrious list of collaborators for Abarbanel-Wolff, having previously worked with artists such as Pat Thomas, Ebo Taylor and Guts. It was working with that revered French producer that led him to meet, producer and artistic director iZem who is standing at the helm of Angel's latest project. Following her single "Llamameya", the Bogotá singer – who recently relocated to Colombia's mountain-lined Caribbean coast – has announced a new EP Aire, which promises to be inspired by her luxuriant natural surroundings.
More than two decades after making her debut, Jimena Angel is determined to "further deepen the aesthetic exploration of an already rich and melodic musical palette" with an EP rooted in West African highlife, afro-house and Colombian folklore.
ORIGINS
Where do you call home?
Hahaha, that's a good question right now, as I am living quite "nomada style" since I made the decision to move to the Caribbean coast, one year ago. This year I've stayed in 7 houses and I am moving again next month, so… I guess I would call home the place where my home studio is at.
How did this musical project begin?
One year ago, just as I was about to move for the beach-life I have now, Bertrand Niquel [Le Mellotron] was visiting Colombia and sent me an email saying that he was interested in listening to my music. So, I invited him to my flat in Bogotá and we shared a very nice afternoon listening to my music and music by iZem and other artists he showed me. And he asked me if I was interested in collaborating with them, which I instantly knew I was. We started with a song and then the next and kept talking and getting creative through the internet until we got this result!
MUSIC
How would you describe your music to someone who hasn't listened to it?
It's a mixture of  Caribbean and African rhythms expressed through electronic beats, with some funky jazzy melodies and honest lyrics.
What's the last song you released?
My last single was "Maní", my interpretation of African highlife, which is a rhythm I adore. And it was possible to record professionally after making a crowdfunding campaign that let me go to Minca for the first time, where i met Christian Castagno, a really well known New York  producer that has the most amazing studio there in the middle of the jungle. I really enjoyed learning a lot from him through this process, and it was a whole new experience recording music in this environment.
INFLUENCES
What have been the biggest influences on your sound?
I had been listening to a lot of eclectic but rhythmic music. To name some of the artists, I would say Staff Benda Bilili, Ebo Taylor, Mitú, Chico Mann, Kondi Band, lots of afro-house and Colombian folklore music.
What's your current favourite musical tool?
I love playing around with Ableton Live, but to be honest I wish I had a real machine set to play with… I am a fan of the Roland whole live set.
What song are you most proud of writing and why?
It constantly changes for me… Right now I am very happy with the lyrics of "Tengo lo que Tengo", which is our next single, because in this song I manage to express, through the lyrics, what a successful life and being wealthy means to me… It's a reminder to be grateful with what we've got -which is always a lot,  just having the gift of life and the possibility to enjoy it. I always wanted to make a grateful song!
Which song (by someone else) do you wish you had written?
I love a song of a very close friend called Ivan Benavides, the composer of many well known songs such as "La Tierra del Olvido". I wish i had written a song he wrote back in the 90's with his band  "Bloque" called  "No Lloro".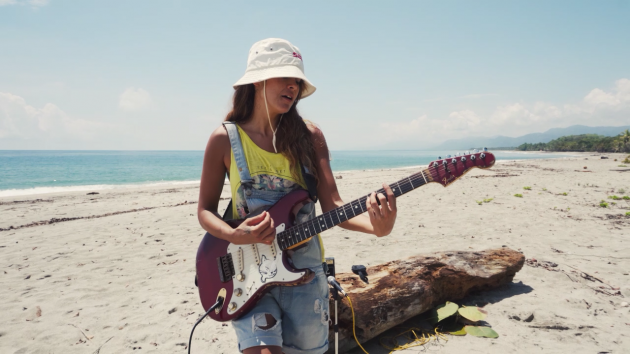 ON LOOP
Who are you currently listening to?
I am listening a mix of rhythms and moods from the likes of Papulous, Biga Ranx, Poirier and Canalon de Timbiquí.
What are you currently enjoying reading or watching?
I enjoy all kind of spiritual conscious-awakening and astrology, Kabbalah and tarot books and documentaries.
Jimena Angel's latest single "Tengo Lo Que Tengo"  is out now.
Her EP, Aire, is out on 16th October, via Elis Records.

Follow Sounds and Colours: Facebook / Twitter / Instagram / Mixcloud / Soundcloud / Bandcamp

Subscribe to the Sounds and Colours Newsletter for regular updates, news and competitions bringing the best of Latin American culture direct to your Inbox.
Share: