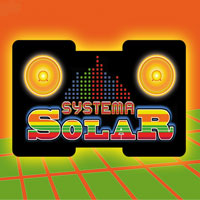 This is a disc of two halves. Predominate throughout is the kind of Latin/reggae/hip-hop groove that Manu Chao is famous for, even perhaps sounding more like the rougher yet more dynamic offerings of his early band Mano Negra, but its the first half of the album which truly goes for that hip-hop groove, scatting on the laid-back camaraderie that The Fugees perfected in the 90s, not too far from their Colombian counterparts Choc Quib Town. This is especially the case on opening tracks "Bienvenidos" and "Mi Kolombia," two catchy as hell pacific belters with Jhon Primera and Indigo sharing vocal duties, the latter of which with his own joyfully addictive delivery.
From "El Majagual" onwards the album takes on a more electronic, dance-orientated sound, showcasing the possibilities if Systema Solar were to come to a town near you. "El Majagual" itself is a powerful argument for this slight change in sound, as well as "Sin Oficio," a horn-drenched, big-beat arrangement perfectly suited to the club. As the album progresses this dance influence grows, and for me results in less riveting songs on the whole. Favouring repetition and dub-style effects over the verse-and-chorus pattern that permeates the hip-hop driven sound. Some of the successes are "Oye" and "Amenaza," both great cosmic trance tunes, and "Aye Veras," the best of the bunch, is a psychedelic cumbia like we've come to expect from Bomba Estéreo, Colombia's hottest export this year.
While there isn't a track on the album that I would deem all-conquering, there are too many to mention that will become staples at clubs the world over, as well as on the mp3 players of countless travellers. Amid all the floor-fillers there is variation, such as the r 'n' b of "En Los Huesos," where Jhon Primera's vocals carry an uncanny resemblance to Cee-Lo Green. I should also mention "Chico" a percussion-charged electro track with a delicious honeyed female vocal sample for a chorus; it's probably not too far from the great beats that the Propellorheads made back in the 90s.
The penultimate track "Quien es el" with its charging beat, off-beat guitars and Balkan horns is a delightful mix of pop and cumbia with modern production flourishes, all characteristics that mark the best songs Systema Solar have to offer. This is a very exciting release, though while perhaps not offering as complete a record as Bomba Estéreo's Blow Up due to the fact that it tries to do too many things, and never really finds its own rhythm, shows a band capable of creating both a great pop melody and filling the songs with enough ideas to keep them interesting. Yet in some ways any criticism of this record is slightly misplaced as this is music for the dance-floor, not for listening to through headphones, hips really need to be shaking!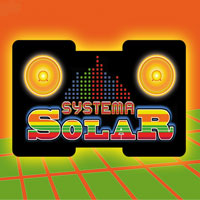 Artist: Systema Solar
Album: Systema Solar
Record Label: OneRPM
Release Date: October 14th, 2010
Buy the album at Amazon
Buy the album at iTunes

Follow Sounds and Colours: Facebook / Twitter / Instagram / Mixcloud / Soundcloud / Bandcamp

Subscribe to the Sounds and Colours Newsletter for regular updates, news and competitions bringing the best of Latin American culture direct to your Inbox.
Share: