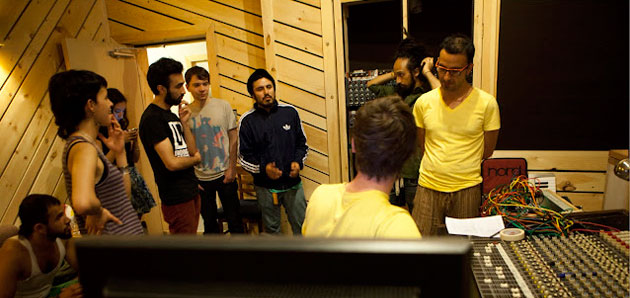 M.A.K.U. Soundsystem
The Familial Vibe of NYC's M.A.K.U. Soundsystem
19 August, 2012
They say that the family that plays together, stays together.
All right, maybe no one ever really said that. But the family-like crew that makes up M.A.K.U. Soundsystem makes the saying seem gospel to me.
The Queens, N.Y.-based collective, whose music blends African-based styles like champeta and porro with soul, funk and jazz, are known to throw the occasional party reminiscent of a family affair, as I experienced this past July.
It was like being in Colombia in December with extended family. Band members took turns spinning classic Colombian vinyl records, the drinks were flowing, arepas and empanadas were being eaten, everyone was dancing, and the band assembled for an impromptu performance in the middle of the night—just like a block party in Colombia.
M.A.K.U. is comprised mostly of Colombian natives. There is vocalist Liliana Conde, better known as Lana Baja, who hails from Barranquilla, who also plays tambor, maracon, guacharaca and cinserro; Camilo Rodriguez, of Bogotá, who plays electric guitar; Andres Jimenez, also a Bogotano, drummer; Pipe Quiroz, also known as "Prince of Queens," of Bogota, who plays the synthesizer; and Juan Ospina, of Bogota, vocalist, who plays the electric bass.
There are also a pair of Americans: Robert Stringer, who hails from the southern state of Georgia, plays the trombone, and Isaiah Richardson Jr., of the Bronx, who plays clarinet and saxophone. Different guest musicians fill in to play el tambor alegre.
The band got its origins in 2009 when Rodriguez began experimenting with a drummer by the name of Juan Pablo Calvo. The pair began working with different musicians, including Lana Baja and Jimenez, who stuck around. Ospina and Quiroz later joined, Calvo ended up departing, and the rest is history. M.A.K.U. released their debut album, Makumbala, in December 2011.
Band members tell me they are influenced by everything. Music from Colombia's Pacific and Atlantic coasts are a constant, as is Afro-Beat, reggae, soul, house music, funk, salsa, jazz, Motown and soul.
As far as musicians, they cite a bunch of great artists, including: Sixto Silgado "Paito", Andres Landero, Los Gaiteros de San Jacinto, Grupo Gualajo, Toto la Momposina, Wganda Kenya, Joe Arroyo, Alejo Duran, la Niña Emilia, Etelvina Maldonado, Son Palenque, Jesus Maria Sayas.
Since this is a band with eight members, I asked them to tell us how songs are put together.
"The band collectively compose the exception of the horns. It's important for us to write arrangements of the wind instruments together because we want to maintain a coherent language which strongly highlights elements of Colombian music, but also that soul and Afro-Beat are permeated within this language," they wrote in an email. "Lyrics are written by all of us. It's a collective process and very participatory. The music is formed when a member has an idea or we start to build grooves often inspired by traditional rhythms we know."
Summer 2012 was action-packed for M.A.K.U., as they toured in various parts of the United States, including Los Angeles, Detroit, Chicago, and Washington, D.C.
Next up for M.A.K.U. is the great north, as they'll perform in Toronto and Montreal in September. They are currently in the process of mastering a four song EP called M.N.D (Music Never Dies). For now, stream Makukambala or download it by naming your own price.
M.A.K.U. Soundsystem on Facebook
M.A.K.U SoundSystem on Bandcamp

Follow Sounds and Colours: Facebook / Twitter / Instagram / Mixcloud / Soundcloud / Bandcamp

Subscribe to the Sounds and Colours Newsletter for regular updates, news and competitions bringing the best of Latin American culture direct to your Inbox.
Share: