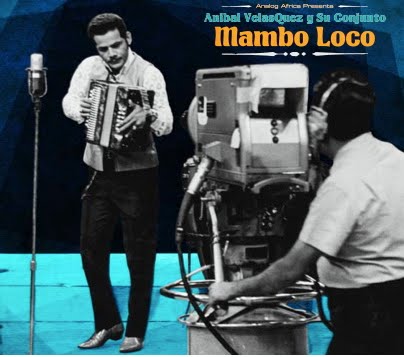 The Guaracha de Anibal Velasquez – one of Colombia's most original artists continues to shine
19 June, 2010
Nestled between the Caribbean Sea and the Rio Magdalena, lies the city of Barranquilla. Hailed by its locals as Colombia's "Puerto de Oro" or Golden Gate Barranquilla has served as a gateway for "Caribbean Tropical Sounds" for almost a century. Home to the countries biggest cultural celebration, El Carnaval, and the birthplace of the radio and recording industry in Colombia, Barranquilla has always been a city deeply rooted in musical traditions. Its port-city status, has allowed its citizens to remain up-to-date with the latest grooves coming out of the Caribbean basin; with scores of LPs arriving from Cuba, the Dominican Republic, Mexico, Puerto Rico, and the United States; the city soon became a bastion for musicians and vinyl enthusiasts from all over the world.

Nobody embodies more Barranquilla's rich musical heritage than the master accordionist Anibal Velasquez. Known affectionately by his fans as "El Mago" (the Magician), Anibal has been one of the most prolific musicians of Colombia's Musica Tropical movement.
Anibal Velasquez Hurtado was born on June 3rd 1936 in Barranquilla into a musical family. His father was an accomplished musician but Anibal´s biggest influence was his older brother Juan who first introduced him to the secrets of the accordion:
"I knew already how to handle the clarinet, the Guacharaca and other instruments, thats a talent I must have received from my father. Barranquilla has always been a musical city, but when I started to play the accordion, the instrument was not very popular, It had not become part of Costeno culture as it was considered a second-class instrument. A bit foreign and awkward, used primarily by campesinos in rural towns off the banks of the Rio Magdalena – but we´ve changed that. One of the turning points was an encounter with Robertico Roman a musician from Cartagena who I´ve met in a record store on a rainy day. We both had a deep love for Cuban Music and he often came to my place where we jammed. Its with Robertico Roman that I founded my first band called "Vallenatos de Magdalena". I made my first recording with that band in 1952. Four songs were recorded including a track called La Gallina, which became a huge hit. It really spread the costal sound toward the center of the country".
With the death of band-mate Robertico in 1955, los Vallenatos de Magdalena had to disband. Without a band, Anibal was forced to take a job as a session musician for disco Eva working for a group called "El Conjunto Colomboy." He remain with disco Eva through out the end of 1950s working closely with the great Costeno Master Lucho Campilo. By 1960, together with his elder brother Juan and younger brother Jose, Anibal decides to form a new group. This new formation would prove to be his best decision. His brother Jose –a gifted musician in his own right- would soon become his right hand, enabling Anibal to add a new dimension to his playing style. Jose began experimenting, incorporating new instruments, and re-inventing old rhythms. He would break the rules; replace traditional bongos used Cuban Guaracha and Rumba, with a traditional Colombian drum called "La Caja." This uncanny drum –made from x-ray film (radiografias medicas) – combined with Anibal's powerful accordion was to become a sensation, generating a much harder and dryer sound than the traditional leather skin drums.
"It was a new style… we could not play traditional Cuban rhythms because some combinations simply did not work with the accordion…it was then then my trademark stlye emerge…the Guaracha de Anibal Velazquez."
Anibal's new guaracha style was infectious; it was fast and furious, often leading his crowd into a state of frenzy.. The interest for Anibal´s new innovative sound started growing, and recording offers started to pour in. Anibal would enter his most product period.
"that is when I met with Antonio Fuentes, who had just started his broadcasting company called Emisora Fuentes in Cartagena. I really enjoyed working with Fuentes because he understood the mind of the musician and gave us lot of creative freedom. Encouraged by his attitude I began by playing different styles adapting regional elements to the accordion. I would play cumbia, merecumbe, Mapalé, Pompo, and corrido and later also began to incorporate Cuban and Puerto Rican elements into my music." Anibal was on fire. His time at Fuentes studios would be short lived, and he soon began recording on every label that existed in the coast. As he himself would go on to say "I started recording for various record labels, I didn't like to stick to one only, so they dubbed me "Anibal Todo Sello" (Anibal all labels)"
The music industry in the coast was experiencing a "boom" and recording studios were popping throughout the coast. It was in many ways the golden decade of the Musica Tropical movement. Lucho Bermudez and Estersita Forrero had taken the genre into new heights spreading the warm tropical sound of the coast to Bogota and reaching as far Cuba and the United States.
"I recall playing in a small venue called "Mi Kioskito" here in Barranquilla. I was playing there every week and all the great musicians of this country would appear one after the other; Pacho Galan, Rufo Garrido, Pedro Laza , Michi Sarmiento…Costeno music was taking over the country and we were pioneering a new movement, a new identity for Colombia – Those were amazing times. "
Anibal began to have an impressive amount of follower, drawing huge crowds wherever he went. Anibals guaracha sound was spreading like wild fire. Alarmed by Anibals great success and ability to sell records, Antonio Fuentes, began to devise a new super group called Los Corraleros de Majagual. This new group would be made up by many of his devoted followers such as Alfredo Gutierrez, Lisandro Meza, Ernesto Estrada (aka Fruko) and Calixo Ochoa to name a few.
The rivalry between the two bands came to an abrupt end with the arrival of the drug-cartels. By the mid-1960s, music in La Costa began to change drastically. With the onset of the hippie movement in the United States and America's new found craving for marijuana, Colombia's Caribbean Coast had become a main trafficking hub. A new economy of drugs had emerged in the coast and with it a style called Vallenato rose to prominence. It's distinct accordion sound and bleusy appeal made it a favorite among drug lords and Mafiosos alike, eventually becoming the soundtrack for their feverish life-styles. According to Anibal:
"for a short period, people found happiness in the new economy of drugs and Vallenato had became the manifestation this new found happiness. This new brand of prosperity was soon followed by a dramatic upsurge in drug-related violence.Drug Cartels ruled the streets and people did not feel safe. Life changed and so did the music. The Drug-lords delighted in the accordion and the instrument soon become a trademark in local festivals and public gatherings. Vallenato was everywhere. I quickly began to redefine my playing style because I became bored with Vallenato mostly because its lyrical content had become decadent and too closely associated with violence. So while everybody became slower to impress the drug lords I began to play faster."
By the 1970s the level violence in the coast had grown to unprecedented heights, and Vallenato had become king. Fed up with the current state of affairs Anibal decided to pack his bag and move to Caracas, Venezuela where he remained for 18 years until finally returning back to his beloved Barranquilla in the late 80s.
"Caracas was extremely good for me. I was able to focus on music and forget the madness of the coast. I made a lot of music in Venezuela, recording over 150 LPs."
It is said that Anibal Velasquez recorded 300 LPs throughout his remarkable career.
Anibal's contribution to Colombia's Musica Tropical Movement cannot be forgotten. His ability to play music that was joyful and percussive, with lyrics right out of everyday life, while at the same time championing new sound, has made him into one of the few living legends of Colombia's glorious musical past.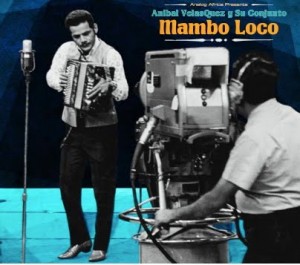 This legend continues with the release of Mambo Loco by Analog Africa Records, a collection credited as being by Anibal Velasquez y Su Conjunto.
Analog Africa Records specialise in African music releases, although this release by Anibal Velasquez proves that all they are interested in is original, quality music.
The album can be bought from Amazon
.

Follow Sounds and Colours: Facebook / Twitter / Instagram / Mixcloud / Soundcloud / Bandcamp

Subscribe to the Sounds and Colours Newsletter for regular updates, news and competitions bringing the best of Latin American culture direct to your Inbox.
Share: