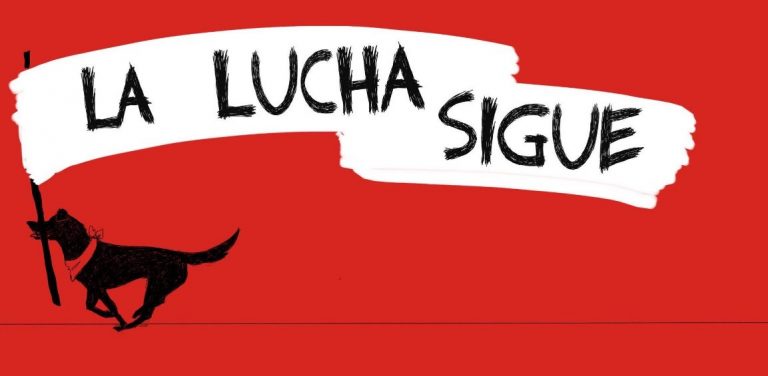 The Illustrators Fired Up by 2019's Protest Movements
07 January, 2020
2019 has seen right-wing governments (re)gain power all over the world. It's also been a year of protest and uprising against corrupt governments and capitalism. Social media has catalysed these movements – used by social organisers, individuals and the State.
In Colombia social media has continually encouraged peaceful protest, using hashtags of the musical movement #ElParoSuena (Sounds of the Strike) and #LaMusicaResiste (Music is Resistance). False videos have also been shared virally, spreading fear and misunderstanding. In Chile, human rights abuses, military brutality, police arson and looting has all been caught on camera and shared as evidence online. Las Tesis' powerful chant and accompanying dance of resistance, "Un Violador en Tu Camino" (A Rapist in Your Path) has been shared around the world, encouraging performances to be staged all over Chile and Latin America and around the world in other languages.
Many of the placards raised in these gatherings have been pertinent, clever, witty demands and we've seen political creativity in the many illustrations which have rallied citizens, explained events and spread news.
Here are some of those sharp illustrations that map the 2019 protests in Chile, Colombia, Ecuador, Puerto Rico and Bolivia.
Art and Protest
This young woman studying illustration describes her inner feelings in times of protest in Chile. Demonstrating inspires her work but the military curfew dulls her ability to see the point in her drawing degree. However she leaves her house to demonstrate again and again, giving herself the energy she needs to draw, "because my hands are all I've got." – they are her weapon.
El Negro Matapacos
El Negro Matapacos (The Black Cop-Killer) has become a legendary symbol of Chilean resistance. The canine hero gained fame during the student protests between 2011-2015 and has resurged as a symbol of protection and defiance for protesters. There's a website dedicated to illustrations, there are pins, t-shirts, mugs and prints on sale and a huge sculpture was made of recycled materials, in homage to the dog 'who only barks at cops'. He is known as the patron saint of protests and street dogs.
Biblical Piñera
This piece by Chilean paste-up artist Claudio Caiozzi shows Piñera holding a carton of fuel, surrounded by religious figures appealing to him with bandaged eyes and stones in their fists. "He likes the fuel", it reads. Sebastián Piñera has added fuel to the fiery protests, commanding violence from his police and military and giving them almost free rein in the madness. None have yet been held accountable for charges of murder, rape, blinding and grievous harm.
Language of Protest
It became plain during demonstrations just how entrenched in sexism and homophobia many of the chants and insults from protesters are. The expression 'Paco culiao', for example, has been used everywhere in Chilean protests on the streets and on social media – at once empowering citizens and reinforcing oppressive structures. This Colombian illustration suggests more constructive modifications to chants.
Puerto Rico Rebuilds
Nationwide protests successfully ousted Puerto Rican governor Ricardo Rosselló in August. His resignation came after pressure from Puerto Ricans and famous figureheads, outraged at the leaked messages shared between Rosselló and his inner circle. In these, politicians routinely made sexist and homophobic comments, joked about survivors of Hurricane Maria and arrogantly ignored the needs of the Puerto Rican public. Inspiring other Latin Americans with their determination, unity and creativity (protest anthems from reggaetón stars were a soundtrack to the movement) Puerto Rico has led the way and now turns to rebuilding the country, as illustrated here.
Brandon and Dilan in Heaven
Dilan Cruz and Brandon Cely have become symbols of resistance in Colombia. 18-year-old Dilan Cruz was demonstrating in the name of education – he wanted to go on to higher education but was relying on a loan – when he was fatally shot by riot police at the end of November. Brandon Cely, pictured by his side, was a 21-year-old soldier who broadcast his disillusionment with the Colombian military after he was stigmatised for supporting the strike and calling out the institution's hypocrisy. "For this reason I've decided to end my life," he stated in the video on social media. Brandon died on November 26.
Un Violador en Tu Camino Animation
Las Tesis took on the patriarchy worldwide with their chant and dance boldly protesting violations against women. The movement was adopted by women who bravely performed the dance against machismo all over the world – in numerous Latin American regions and further afield, in Egypt, South Africa, Turkey and India. Illustrations shared on social media not only rallied men and women in support of the performances but taught performers the moves.
Las Tesis Senior
#LasTesisSenior brought together women over 40 to perform "Un Violador en tu Camino". As mothers, survivors and individuals who have lived through dictatorships and gendered hardships, this was a powerful movement offshoot.
Puppet Lenín
Ecuadorian president Lenín Moreno cut petrol subsidies that had been in place for 40 years, more than doubling the price of diesel and increasing the price of petrol by 30%. Protests broke out on October 3rd against reforms which protected the interests of large businesses over Ecuadorian citizens. Moreno was purportedly counselled by bankers, media bosses, the Social Christian politician Jaime Nebot (pictured) and former president Abdalá Bucaram (whom parliament declared insane in 1997).
Indigenous Victory
Indigenous leaders were at the forefront of Ecuador's protests, which culminated in a deal whereby President Lenín Moreno cancelled the disputed austerity package. This outcome brought celebrations after two weeks of protests, blockades, a 24-hour curfew, seven deaths, 1,340 injured and over a thousand arrests.
Latin America's First Female Dictator
Last month, Bolivia's president Evo Morales resigned from power after 14 years of rule, following claims of electoral fraud and threats of extortion and murder against his family. After his resignation, Senator Jeanine Áñez stepped up into the power vacuum, declaring that the Bible had returned to the presidential palace. Many define Añez' move to power as a well-devised coup d'état, and suspect it was backed by Trump and other right-wing governments. This would make Añez South America's first female dictator.
Wiphala Power
The Chola woman pictured holds up a Wiphala like a flare, bursting with the colours of the pan-indigenous flag that symbolises Aymara resistance. Ex-President of Bolivia Evo Morales declared the Wiphala one of the country's two official flags in 2009. After Morales' resignation from presidency in November, videos emerged on Twitter of opposition supporters burning the rainbow-coloured flag. Police officers cut the Wiphala from the dual-flag patches of their uniforms, lacerating a racist divide between the population – one symbolised by the tricolor Bolivian flag and the other by the plurinational Wiphala.
Love and Support
This warm, simple piece reminds us that without love and support for each other, resistance is not possible. When we look after each other, we energise with love. The personal is deeply political and together we are stronger.

Follow Sounds and Colours: Facebook / Twitter / Instagram / Mixcloud / Soundcloud / Bandcamp

Subscribe to the Sounds and Colours Newsletter for regular updates, news and competitions bringing the best of Latin American culture direct to your Inbox.
Share: