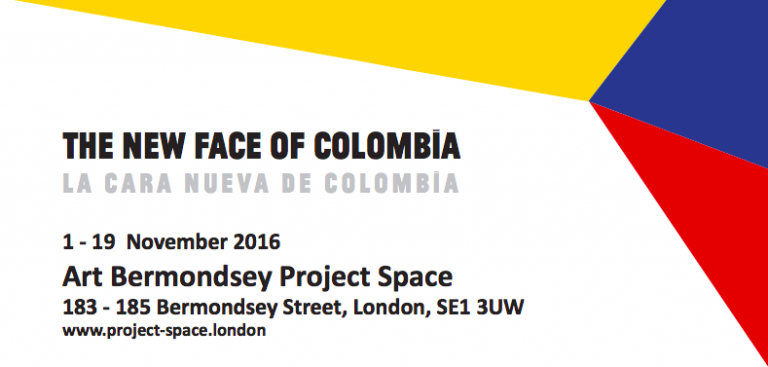 The New Face of Colombia – It's Time for Change
28 October, 2016
Independent Art Advisor and Curator, Sandra Higgins is back in London after living the last seven months in Colombia. She has organised an exhibition to highlight a variety of the contemporary art and culture of Colombia she discovered. With the support of Muzo Emerald Colombia, the 19-day exhibition at Art Bermondsey Project Space will bring to London The New Face of Colombia. The focus of the exhibition is 'change in Colombia', a country that is currently undergoing a period of social, political and cultural renewal.
Art Bermondsey Project Space is a new not-for-profit platform, which suits the varied art forms to be shown during the three weeks; a fusion of photography, art and films will make up the exhibition, hoping to create an interactive space to encourage international involvement with the rich Colombian cultural scene.
Unlike some art gallery exhibitions one may be accustomed to, there will be a variety of events throughout the 3 weeks, including but not limited to: talks, demonstrations and poetry readings, all with a positive message about Colombia as it moves into the future.
Amongst a list of established and upcoming artists, The New Face of Colombia will be including:
Omar Castañeda's Panela: The Golden Age that will celebrate the history of panela (sugar cane) in the shape of paintings, prints and objects all made from panela.
Piers Calvert will be showing selected photographs from his The Way We Are works, that portray how contemporary indigenous people maintain their customs by painting their bodies in traditional ways, as well as new photographs of emerald mine workers in the MUZO region of Colombia.
Gwen Burnyeat's Chocolate of Peace video will show the changes to the community of San José de Apartadó and their cultivation of chocolate, that became an integral part of creating peace in a community once struggling and displaced.
Sandra Higgins was kind enough to provide Sounds and Colours with an interview, shedding some light about the meaning of this exhibition and also what it means to her personally.
How did you come up with the concept for this exhibition?
While I was in Bogotá, I curated an exhibition for the artist Omar Castañeda titled Panela the New Gold of Colombia at Museo de Arte Contemporanea de Bogotá. During my stay, I had the opportunity to travel around all regions of Colombia and befriended many more Colombian artists. The exhibition is in many ways, a summary of my observations of Colombia artistically, socially and politically.
When looking for sponsors for the show, what were your criteria for finding the right ones?
It was important that sponsors like Muzo had an active interest in Colombia, and that they also had a relationship with Colombia one way or another, and also that they were willing to sponsor Colombia through its culture.
What changed for you during the seven months you spent in Colombia?
I got rather tired of only seeing the big artists being exported for London exhibitions and I thought that there are other artists I might have wanted to work with [in London] like Omar. More importantly, I was able to experience the people of Colombia, trying to understand what was going through their minds. As I travelled around the cities and the countryside, I realised that many of the sights I was able to visit and appreciate personally had never been visited by many Colombians because of the conflict for the past 50 years or more. Thus, when I saw the film Magia Salvaje with its beautiful and colourful cinematography, I became aware that this was a way in which film-makers told their people that no matter what had happened in the past they should be proud of their beautiful country. I hope the videos in this exhibition will bring some of that beauty to the London audience.
Would you say the focus of this exhibition has changed compared to those you've worked on before?
Yes, this is a themed show with a purpose not only to exhibit objects of beauty or portraits of individuals, rather it is also a look at the social and cultural issues within Colombia today. It isn't as comprehensive as I would like it to have been, and in a way I hope this will be a platform for a bigger show, where we can expand more on how artists are portraying the changes in society and politics in Colombia, the reconciliation and development of peace. The show is here to express the hopes of people like me, who want Colombia to thrive and change their image internationally, by showing how proud of their culture and country they are.
Do you see art coming from smaller communities or mainly from those educated in the arts?
I would say that the majority of artists I've come across the past two years are associated with Bogotá's important art galleries; in fact, Bogota has been voted the 12th most important art capital in the world, and with it comes a very sophisticated art scene that all artists in Colombia hope to get involved with.
When I went to the more regional areas, like Medellín and Cali, going directly to the artists' studios, the art being made stepped away from this international parameter and they became a lot more expressive. Artisans and locals are not professionally trained in the arts but they use it to tell stories and express their surroundings in the most naïve and real way possible.
In this exhibition, I wanted to show people outside Colombia – as well as Colombians themselves – thoughts and ideas of often forgotten smaller communities of Colombia. I wanted to show artwork that expressed these ideas and regions, what they'd seen and experienced, and what affected their practice. Those who visit the exhibition will have plenty of content on what Colombia is really like, and how as the old slogan says, the only risk in Colombia is that you will want to stay.
The New Face of Colombia will open on 1st November (6-9pm) and following that the general opening hours will be Tuesday – Saturday 11am-6pm, or by appointment, until 19th November.
Follow the exhibition's social media accounts for more info: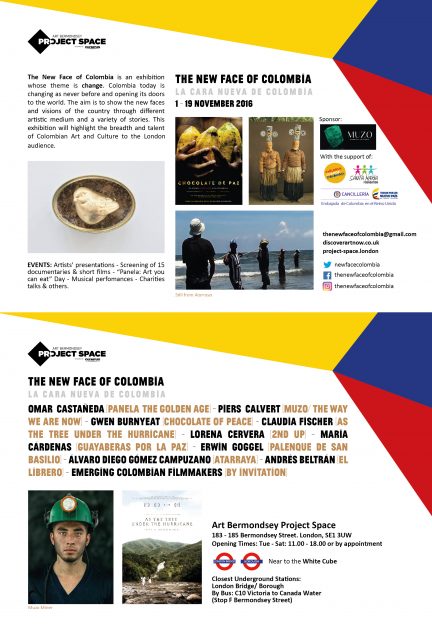 Follow Sounds and Colours: Facebook / Twitter / Instagram / Mixcloud / Soundcloud / Bandcamp

Subscribe to the Sounds and Colours Newsletter for regular updates, news and competitions bringing the best of Latin American culture direct to your Inbox.
Share: