Review
The Original Sound of Cumbia: The History of Colombian Cumbia & Porro As Told By The Phonograph 1948-79
Global music moguls Soundway Records have released another bag of Colombian treats with The Original Sound of Cumbia: The History of Colombian Cumbia & Porro As Told By The Phonograph 1948-79. This time round, we are introduced to the musical sensations of cumbia and porro – both styles richly embedded within Colombian heritage and its diverse soundscape.
Born at the source of the River Magdalena, overlooking the Caribbean coast, both costeňo styles, the cumbia and porro were mere seedlings compared to the national, as well as global, successes they would rapidly become. Disk one tells the story of its beginnings – presenting tracks from sonic greats including Alberto Pacheco y su Conjunto, Santander Flores and Toño Fernandez. The tracks are distinctly rooted in the mixed cultural values and rich history of the Colombian coast – where a diversity of people including West Africans, the indigenous zambos and the Spanish intertwined to create such rhythmic flamboyancy and melodic fervour.
Disc two presents the evolution of the cumbia and porro – that during the 40s began to move up the River Magdalena towards the cultural hot spots and hip-urbanites of Medellin and Bogotá. Through such devices as the phonograph – hence the ever-so-lengthy compilation title – the cumbia and porro, both musical expressions of the rhythms and rhymes of their ancestors, were disseminated throughout Colombia and beyond. Musicians and groups such as Anibal Velasquez y su Conjunto, Carlos Romaán and Andrés Landero travelled with their recordings to other Latin American countries as Panama, Cuba, Peru and Venezuela, releasing their tracks to the masses.
The Original Sound of Cumbia, with its fifty-five tracks of lost 78s, 45s and and LPs – were painstakingly handpicked by Will 'Quantic' Holland. Best known for his releases as simply Quantic on Tru Thoughts, Holland's love for Colombian music goes back five years, where he set sail towards Latin American shores and came back submerged in the country's music, as well as meeting many of the greats from Curro Fuentes to Fruko and Anibal Velasquez.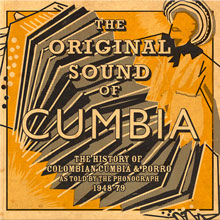 This compilation is a real reflection of Holland's passion for Colombian cumbia and porro. It also represents a true story of a once-upon-a-time folk music belonging to the Colombian coast, that through the advent of the phonograph, became the ultimate sound of a nation.
The Original Sound of Cumbia: The History of Colombian Cumbia & Porro As Told By The Phonograph 1948-79 (Soundways Records) is out on the 5th of December. You can buy the album from soundwayrecords.com/catalogue/the-original-sound-of-cumbia.html.

Follow Sounds and Colours: Facebook / Twitter / Instagram / Mixcloud / Soundcloud / Bandcamp

Subscribe to the Sounds and Colours Newsletter for regular updates, news and competitions bringing the best of Latin American culture direct to your Inbox.
Share: