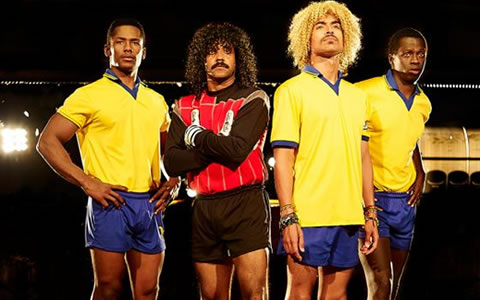 The Return of the Naturals
17 August, 2013
A recent piece by Arturo Wallace for BBC Mundo, focuses on Colombia's Caracol TV soap opera, La Selección, a 60-part dramatisation based on the lives and careers of four of the stars of Colombian football in the 90s: Carlos Valderrama (el pibe/the kid), Freddy Rincón, Faustino Asprilla and René Higuita. Wallace talks about "Valderrama fever" in reference to el pibe, the blonde afro-topped Carlos Valderrama, who was the master choreographer of this illustrious generation. Football doesn't get much better than this and nor, as Caracol TV are finding out, do viewer ratings (15.8m in a country with 46.93m people).
A tilt at glory
Those who insist that (World Cup) football is all about winning miss a trick when they bypass the myriad failures of this world like the Hungarians (1954), the Dutch (1974 & 1978), Peru (1978), Brazil (1982) and arguably Colombia (1990, 1994 & 1998). Instead, we are supposed to be sustained on the mediocrity offered by the successful but expedient.
Long and the short of it
All these teams fell short – but in so doing they elevated football beyond the pedestrian; something which couldn't be said for some of their more cynical and successful opponents. This sounds perverse. Losing is desirable? No. But the well-organised and percentage-orientated will invariably overturn the outrageously skilful. Why? It's simple. Real skill requires the intrepid, the brave and above all – the desire to transcend the ordinary. The prize equates to the risk. One asks for the moon and the stars, the other wants to win and doesn't much care how.
Of course, you can, as most do, reduce it to an inglorious reductio ad absurdum but it doesn't make it exciting, attractive or memorable. What's more, it will never, ever, get you off your seat.
Those with memories of Socrates' Brazil in the World Cup of 1982, will remember how Italy's Paolo Rossi did for them on the counter-attack. The memories of that time, though, are not of Rossi, Italy or Germany but of Brazil, once again, showing the world what football can be.
The grandeur of ambition
Soap operas are a poor substitute for reality but whether La Selección is interesting or not the memory it evokes to anyone who loves the beautiful game is undeniable.
Valderrama, in particular, had a sort of seeming nonchalance on the ball that is difficult to capture. It's no accident that he modelled himself on the Peruano maestro, César Cueto (el poeta de la zurda/the poet of the left foot), a man with such an exquisite sense of space, touch and timing, he could have dribbled his way through a china shop with el toro in hot pursuit. Valderrama was always a devoted apprentice to Cueto's sorcery.
No amount of huffing and puffing can compare with the sheer elation that comes from watching a player who eschews the mundane for a tilt at greatness. This is something not lost on the spectators or memory. For example, few who saw René Higuita's scorpion kick at Wembley in 1995 will ever forget it; few who saw Cueto discombobulate Scotland in 1978 and France in 1982 will ever forget it and few who saw the bewildering invention and complexity of La Selección Colombiana will ever forget it. Who beats Argentina 5-0 in Buenos Aires? Valderrama and co offered up the prospect of that elusive property in football: magic.
Magic realism
Whatever La Selección does for Colombian football, it should never be forgetton that its subjects, for a brief period at least, offered an exuberance that was spell-binding.
As for el pibe, Wallace sums it up beautifully: "He really, really loved the country and wanted to make his dream come true: to take Colombia to victory." Good for him. He didn't try to bore us all to death.
Viva el pibe! Oh, and thanks to Arturo Wallace and Caracol TV for the memory.

Follow Sounds and Colours: Facebook / Twitter / Instagram / Mixcloud / Soundcloud / Bandcamp

Subscribe to the Sounds and Colours Newsletter for regular updates, news and competitions bringing the best of Latin American culture direct to your Inbox.
Share: