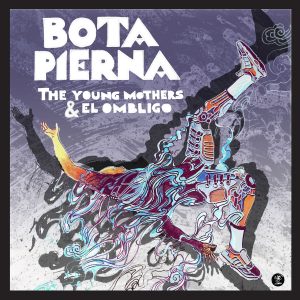 Review
The Young Mothers & El Ombligo – Botapierna
El Ombligo and other Bogotá-based musicians have teamed up with The Young Mothers from the US, to release Botapierna (Bootleg), a cumbia-influenced, free jazz experiment.
March 7th, 2020, saw 10 musicians come together within the walls of the legendary Bogotá venue, Matik-Matik, to create this performance. Recorded less than two weeks before the onset of the longest quarantine in the world, Botapierna is an emblem of that special time before COVID-19, in which live music was taken for granted, and before, in Santiago Botero's (El Ombligo) words "the world turned to shit." El Ombligo and The Young Mothers recently decided to release this performance as a tribute to this time and the one-off merging of this talented group of musicians. 
Taking traditional cumbia and gaita melodies as their inspiration, El Ombligo brought the Colombian-focused undertones to the typical style of The Young Mothers; experimental, progressive and free. Santiago Botero started El Ombligo as a way of exploring cumbia melodies:  "I heard Andrés Landero… It wasn't the rhythm part but the melodies that were really appealing to me. So I started just learning the melodies on the bass, just transcribing them and learning them. And then, from that point, I started doing music that had to do with that melodic aspect and I was forgetting about the rhythm aspect. I started playing free jazz or improvised music using those melodies as springboards for improvisation. And then it became El Ombligo."
Don't expect a highly polished, glossy recording. Botero emphasized the need for a "simpler and more direct sound" with no "chemicals" added: "It's very raw, no overdubs, no nothing, just what it was." Recorded with two stereo mics and nothing else, Botapierna truly encapsulates the organic sound and ambience of late-night gigs in Matik-Matik. With regular interceptions from the crowd, even the crowd singing along at one point, listening to Botapierna provides you with a mental picture of exactly what it was like, leaving you longing for a time when live music was normal.
Botero describes El Ombligo as "punk-influenced, noise music with free jazz". Take that as a starting point and throw in some cumbia groove, Miles Davis trumpet, typical La Sonora Mazurén keys courtesy of Ivan Medellín, and let the whole thing find its own way through improvisation and the result is Botapierna.
This three-track 44+-minute performance pushes the boundaries of what the local Bogotá music scene is capable of. As Botero suggests, it's a "set of songs that can be part of an imaginary soundscape of how tropical Bogota should be." 

Follow Sounds and Colours: Facebook / Twitter / Instagram / Mixcloud / Soundcloud / Bandcamp

Subscribe to the Sounds and Colours Newsletter for regular updates, news and competitions bringing the best of Latin American culture direct to your Inbox.
Share: