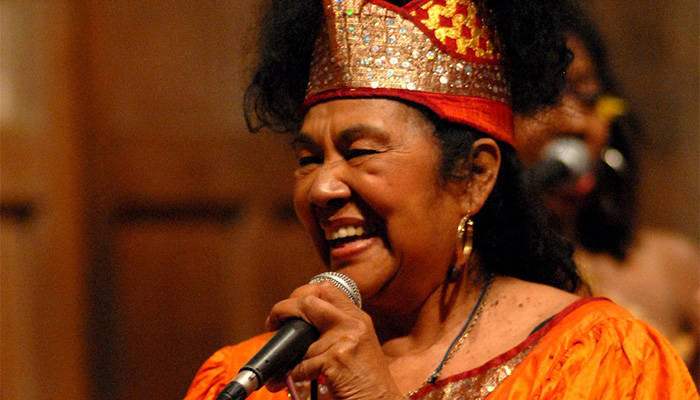 Kevin Clifford
Taking Time to Contemplate: An Interview with Totó La Momposina
28 April, 2017
Few artists have been as responsible for elevating the folk music of Colombia's Caribbean coast – and in particular cumbia – to the world stage as Totó La Momposina. Born in 1940 to a musical family, Totó loved singing and playing music from an early age, forming her first band in the 60s. However, it would not be until the end of the 80s and beginning of 90s that she truly got international recognition.
"Our house was like the cultural centre of Bogotá!", Totó tells me over a fuzzy phone line from Colombia. "The house was where we always made music", she continues. Though born on the coastal region, in Talaigua Nuevo (part of Mompox island on the Magdalena archipelago), her family moved around Colombia while Totó was still small until eventually the assassination of presidential candidate Jorge Eliécer Gaitán in 1948, heralding the beginning of 'La Violencia', meant that the family were forced to relocate to Bogotá.
Her mother Libia Vides, a gifted musician, then formed Danzas del Caribe, a folkloric group featuring members of the family. For Vides, it was a way of preserving the music of the Caribbean coast now that they found themselves so far away in the capital. Likewise, her father Daniel Bazanta would arrange parrandas featuring visiting and local musicians from the coast, with Los Gaiteros de San Jacinto, Alejo Duran and Luis Enrique Martínez amongst those who would come and play. Music was such a huge part of the home in Bogotá that, as stated in Revista Nomádas, neighbours would shout: "¡Que se callen esos negritos! ¡Cállense negritos!" ("Won't you negritos shut up! Just shut up negritos!") when they started playing drums and singing on the patio.
For Totó music and the coastal culture became an integral part of her life, just as was the case with her mother and her family before that (Totó actually belongs to the 4th generation of musicians in the family tree). This culture comes from the mixing of indigenous Colombians with African slaves, with the influence of the Spanish arriving later, resulting in musical styles such as cumbia, bullerengue, porro and mapalé, styles that originally united African drums with other percussion and vocals, and often indigenous flutes, and would be accompanied by specific dances. Increasingly, cumbia has become the term used to describe all of these styles. Totó describes it as "a rhythm that comes from slavery."
"There have always been indigenous people, all over the world, all of them have their own music, and the Colombians have cumbia," she continues. "But different people came to Colombia as slaves, and so when two slaves got together, their love for each other manifested itself in that way. So cumbia is a dance that you do in the street and the man brings a candle to the woman, with the notion of respect. Now, that candle is represented by the different movements of cumbia, like falling in love or acceptance or non-acceptance. For that reason there are various dance steps in cumbia where the woman is flirting and the man is also making his moves, because ancestral music is mimicry, like two doves courting each other."
This was the music Totó grew up performing, as well as researching, with Totó and the family group Danzas del Caribe playing various festivals and even appearing on Colombian TV. In one festival in 1954, they shared the stage with Celia Cruz, who told Libia that her daughter would go far. It was 10 years later that Totó began to test how far she would go, forming her first group Totó la Momposina y Sus Tambores. For years she studied and performed, honing her craft, until in 1982 she had her first breakthrough, being invited to perform in Stockholm by Gabriel Gárcia Márquez for the awarding of his Nobel Prize. You can watch a small snippet of Totó's performance in the video below (at 19 seconds):
http://youtu.be/-u6X6MMNy6s
The World Takes Notice
Following the exposure of the Nobel Prize show she decided to get even more serious, studying at Universities in Colombia, France and Cuba, as well as being offered a great opportunity to spend time in Europe, as she explains: "We got an invitation to do a promotional tour in a restaurant through Air France. They chose us. But I always thought if I was going to travel then I'd like to go to Europe anyway, to teach the new places about the old, not the other way round. So I didn't do it for commercial reasons, but because I'd thought about it."
Her first album, Colombie (also known as Cantadora), was released in 1983 by the French label Auvidisc, and would later be reissued in 1989 as her reputation grew, leading up to the release of La Candela Viva on Real World Records in 1993. This would be the album that really propelled her onto the international stage, leading to many worldwide shows and ensuring that Colombia's Caribbean folk traditions now had a passionate, educated and visible ambassador.
I ask Totó if she was surprised by the success of La Candela Viva. "No", she answers, "when you make music you try and make a musical selection of a record so that it works when you listen to it from start to finish, so that it's nice to listen to. I listened to it with the intention not of a great philologist or a social anthropologist, but to ensure that the messages get though, that it has a real sense of belonging. Because ancestral music will always be in fashion! And it's not the work of one person but rather a group."
Relighting The Candle
Further albums followed in the shape of Carmelina (1995), Pacantó (2000), La Bodega (2010) and El Asunto (2014), with Totó receiving Latin Grammy nominations for a number of the albums. Then in 2015 she released Tambolero, a revisiting of La Candela Viva, based on those original recordings from 1993 but using alternate takes, previously-unreleased tracks and newly-recorded elements to give extra weight to those sessions. It's a great listen, building on the passion and energy of La Candela Viva but with a better quality of production which gives the performances even more power.
Totó sees Tambolero as a homage to Batatá, a tambolero (meaning a batá drummer, and hence the album title) from northern Colombia. Speaking about Batatá, and the need for preserving this heritage and way of life, she says: "Batatá started the great dynasty of tambor players from San Basilio de Palenque. Almost always there's a tendency to forget and not recognise the people from the countryside who really produce the stories, and also the music, of the people. These are the people that have the time to contemplate. They're not thinking about consuming, instead in their daily lives they make time to go to the rose in the garden, for example, or to go and fish, and also to relax. They take the time to listen to the countryside and the rivers. They have to know the language of all the elements they're working with."
As cumbia has grown in popularity and morphed into many different sub-styles, I wanted to ask her what she thought about people remixing cumbia, and especially her own tracks. As usual, her response is as relaxed as you'd expect. "Well," she tells me, "that's like lending someone a piece of clothing, and if they don't look after it then you damage it, but if you look after it it will go on to be enjoyed. Everyone has a right to have a go, it's just some will stay and some will disappear."
Totó La Momposina has made it her mission to bring cumbia to the people, wherever they may be. The one thing for certain is that, unlike many of the artists trying to morph cumbia into ever-different shapes and sizes around the world, Totó will continue to be around, championing her music, her traditions, her way of life.
Totó will be touring the UK and Europe this spring and summer. Details of all shows can be found at totolamomposina.com/shows.
Interview translated by Rachel Eadie

Follow Sounds and Colours: Facebook / Twitter / Instagram / Mixcloud / Soundcloud / Bandcamp

Subscribe to the Sounds and Colours Newsletter for regular updates, news and competitions bringing the best of Latin American culture direct to your Inbox.
Share: