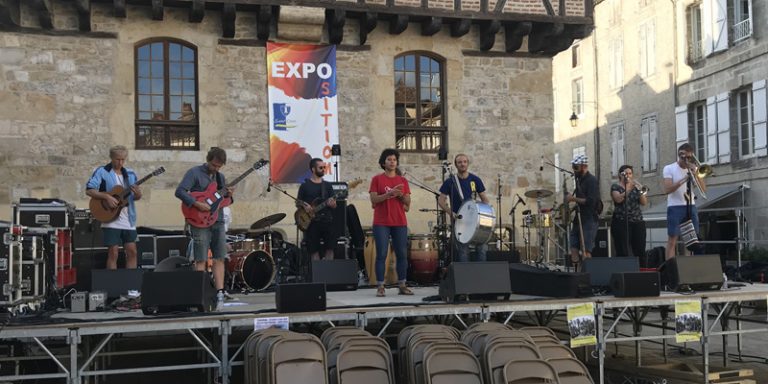 Mark Sampson
Yapunto Bring Colombian Folklore and Passion to Provincial France at Saint-Céré Festival
20 August, 2019
Yapunto, Saint-Céré Festival, August 10th 2019
Saint-Céré is a little market town in the Lot whose medieval heart is bisected by La Bave on its journey west to join the Dordogne. Overlooked by the twin towers of the chateau in which the French artist, Jean Lurçat, created some of his extraordinary tapestries, it's not the kind of venue you associate with a rousing open-air soirée of Colombian music, but then you wouldn't normally expect to see Toots Hibbert either in nearby Tulle or Omar Sosa down river in Souillac. A French summer can be full of musical surprises even in its bucolic heartland.
The Saturday evening weather was idyllic. The recent oppressive heat had abated and I sat on a bench of stone, waiting for the band to finish their sound check. Residents leaned out of surrounding windows to watch what was on offer later. The annual festival is largely classical, so cumbia is a rare and exotic treat. Observing a couple of women putting out serried ranks of plastic chairs, I wondered whether their effort was redundant in the light of what I was anticipating.
Around 7pm, the 10-piece band downed instruments and dispersed for a bite to eat at one of the nearby restaurants. I collared Alejandra Charry, the band's radiant singer and only native Colombian. It's a long way to Saint-Céré from her birthplace of Cali. So why France? Love and a cello, it seems – in the form of a boyfriend and a course of study at the conservatory in Lyon. There she hooked up in 2015 with some of the future members of the band. Mainly French and conservatory-trained as they are, I wondered how come they play what their first album confirms as such authentic Colombian music. Was it all her doing?
"Not at all. Obviously, I can teach them something about our traditional music, but I'm always learning from the others, too."
"So where did their love of the music derive from?"
"Well, before Yapunto! many of them were in a band called Belle Image. They toured all over, including South America – which is where they fell in love with the music of my country."
We enthused briefly about that music: a fabulous recent release by Rio Mira and the beauty of the marimba-drenched sound synonymous with the Pacific coast; the dynamic La Mambanegra, bigger for the moment in Europe, it seems, than they are in their native Colombia; and Yapunto's debut album, of which they are justifiably proud. Passion alone for the music, though, won't put food in their mouths. Even if they managed to shift a few dozen CDs at the end of the show, how do you keep an outfit of this size on the road? The various members of the band are dotted around France: some in Lyon in the south-east, some around the Loire, one even way down in the south-west in Pau. "It makes getting together to rehearse and play concerts very difficult," Alejandra continued. "Tonight, for example. This is just a one-off, and it would be so much easier if it were part of an organised tour." That they've kept going for four years now is probably testament to the French system of subsidising intermittants, which helps musicians and other artists survive the fallow periods.
One hopes that they can hang on till some well-deserved fame and fortune comes their way. For now, it was time to let the enchanting Ms. Charry go and join her band mates; time for some sustenance before the show.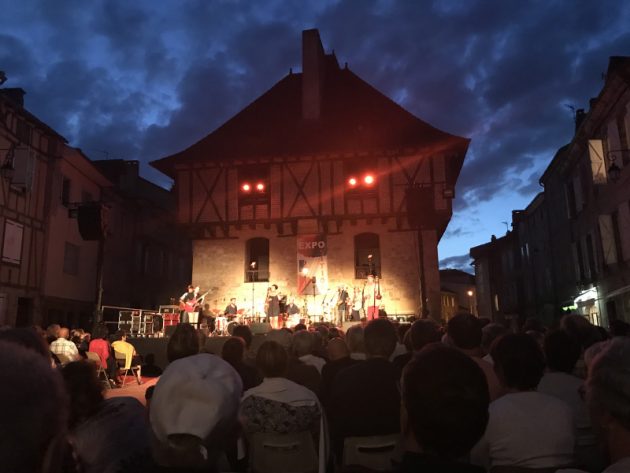 Musicians aren't best known for their punctuality, but the band members took their places on stage around 9.30pm, as promised, just as the light in August begins to fade: Morgan Cornebert on drums, Adrien Garrido on congas, alegre and platillos, David Delhomme on timbales, tambora, bombo and other percussion, Jakub Trzepizur on bass, Gabriel Bouillon on acoustic guitar, Sébastien Rideau on electric guitar, and a horn section of Boris Pokora on alto sax, clarinet and the gaïta – a wooden wind instrument that looks like an elongated recorder – Marie Bedat on trumpet and Stéphane Montigny, who gave it the full vulgar Monty throughout on his flatulent trombone. Plus la Charry herself out front, politely reminding the audience that it's fun and healthy to dance.
Not that they really needed a reminder. Halfway through the first number, the spirit had moved a good score or more, and halfway through a repertoire lifted mainly from the eponymous first album at least a hundred souls were gyrating to the infectious beat. The pace only let up – slightly – when the singer and a few cohorts stepped back to let Boris Pokora's gaïta lead the rhythm section through some more purely-percussive instrumental intermissions. By the time of the first of two inevitable encores – "Malo Viento", the album's memorable opener – the onlookers had left their windows to come down to the square and join in.
It was all over soon after eleven, which is the kind of considerate and civilised hour no doubt advocated by the festival organisers. But there was nothing staid or polite about the show itself. With verve, enthusiasm and sheer musicianship, and without ever having to resort to any enforced singalongs or any other bothersome theatrics, Yapunto must have opened a lot of unaccustomed ears to the euphoric sound of indigenous South American music. The inhabitants of a sleepy little market in south-west France will be richer for the experience. Some may even have bought the CD.

Follow Sounds and Colours: Facebook / Twitter / Instagram / Mixcloud / Soundcloud / Bandcamp

Subscribe to the Sounds and Colours Newsletter for regular updates, news and competitions bringing the best of Latin American culture direct to your Inbox.
Share: