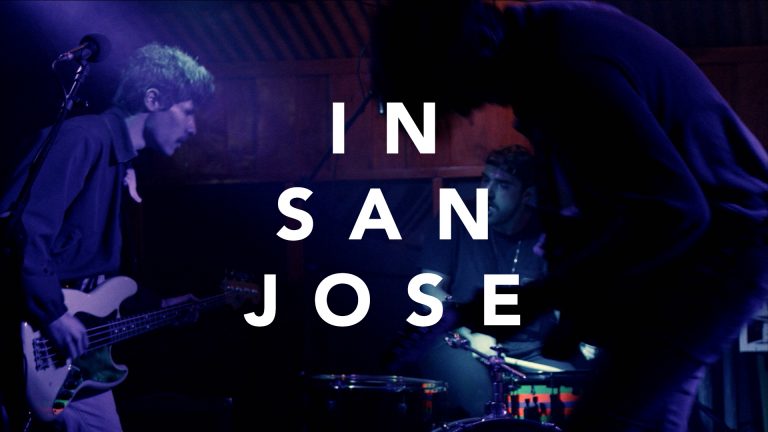 Get To Know Costa Rica's Indie Music Scene With Mini-Doc 'In San José'
11 April, 2017
In 2016 film-makers Willi Patton and Rachel Kichler visited San José to make a documentary about Las Robertas, the garage pop 3-piece who have been getting bigger and bigger over these past few years. In particular, Patton and Kichler were looking to make a film about the group's upcoming album, Waves of the New, which is due for release this spring and threatens to give them even more much-deserved exposure. This is certainly attested by the European tour that they have lined up for May and June this year.
Aside from this gem of a profile of Las Robertas though, Patton and Kichler went even further into the indie music scene in San José, speaking to four other bands to create In San José, an intriguing portrait of some of the most exciting and influential indie bands making music in the Costa Rican capital. Check out the documentary below:
As mentioned above Las Robertas will be touring Europe in May and June this year. Full details of this tour are below, as well as the clip to Waves of the New, the documentary made about their upcoming album, which is due for release very soon on Burger Records, The John Colby Sect and Buen Dia Records.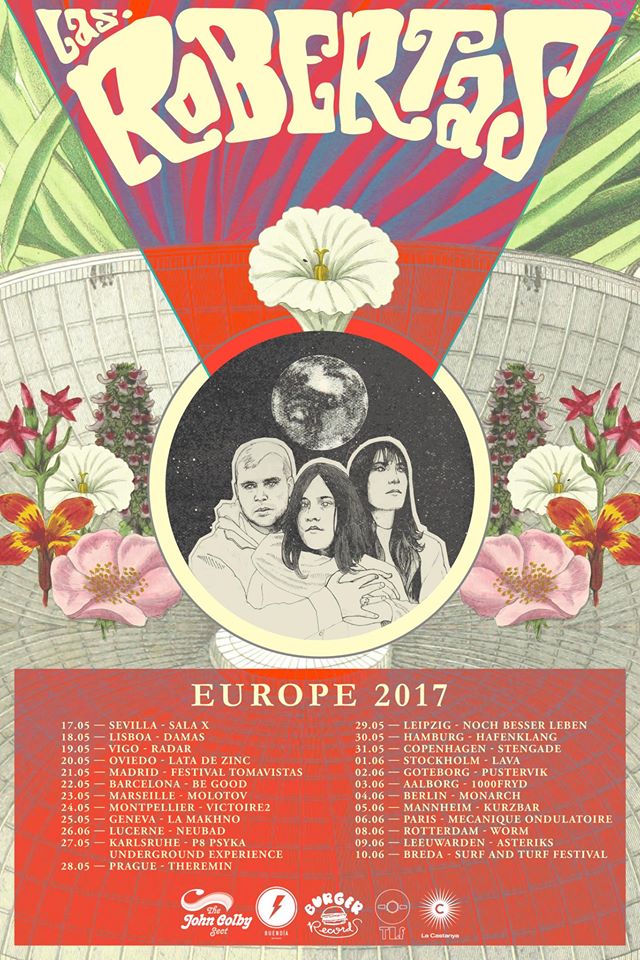 In case you'd like to know even more about the five mentioned Costa Rican bands here are descriptions of all of them courtesy of Patton and Kichler:
Las Robertas
Based in San José, Costa Rica, Las Robertas are Fabrizio Durán (drums), Mercedes Oller (guitar, vocals) and Sonya Carmona (bass, vocals). Las Robertas have played at festivals such as SXSW, Festival NRMAL, Primavera Sound, Rock al Parque, All My Friends, Levitation,Ruido Fest, toured all over Europe and America and shared the stage with bands like Echo & the Bunnymen, Pearl Jam, Warpaint, Flaming Lips, Primal Scream and more. Maintaining a distorted garage psych pop sound, their upcoming album Waves of the New is scheduled for release in spring 2017.
Colornoise
Colornoise are an experimental noise rock band from Costa Rica. Sonya Carmona (lead vocal, guitar) and Alison Alvarado (drums, vocals) released their first eight-track LP Fake Apocalypse in 2011. Later in 2012 they released the single "Time". Their second album Polychronic was released in September of 2013.
In May 2015 they released the single "Amalie" after third member Mari Navarro (synth, guitar) joined the band. One year later, "She Was Machine" is released as a second single for their forthcoming third album.
Niño Koi
Nino Koi is an instrumental rock band from Costa Rica formed in 2009. After a two- year hiatus that started in 2013, the band is currently active. The group's current lineup is Federico Salas and Mauricio Fonseca on guitars, Chris Robinson on bass, and Fabrizio Durán on the drums. Niño Koi's music can be found on their Bandcamp which includes their first EP Alegorías (2010) and LP La Pequeña Muerte (2012).
Monte
Monte is a rock trio formed in 2011. The band consists of Adrian on guitar and vocals, Franco (previously of Zopilot and Las Robertas) on drums, samples and vocals, and Pablo (Florian Droids, Hijos) on bass, guitar and vocals.
Ave Negra
Named after a poor translation in Spanish for Mickey Rourke's character in Killshot, Ave Negra were born in mid-2012 in San José, Costa Rica. It all started as a duo between Russell Davis and Felo Oller after they got to know each other at a party and shared a similar music affinity. Songs came together quickly and "Sensaciones Juveniles" was released in August that same year. Just a few months later Ave Negra were invited to their first international concert in Mexico for the Nrmal Festival in Monterrey; also in 2013 they released a cassette for the "Enamorados" singles.
Due to constantly touring and releasing music, Ave Negra built a strong fanbase in Costa Rica, with their songs beginning to be heard more often outside the country. After a second invitation to play at the Nrmal Festival and the addition of more dates to complete a two-week tour, the duo became a power trio when Fede Salas joined the band as the new bass player. As soon as Ave Negra returned to San José they began recording their first self-titled LP, to be released in May 2015; but just before closing 2014, the band went on tour in Spain for another two weeks.
Mexico, their second home, welcomed the band just after Ave Negra was released, this time for the Marvin Festival. As soon as the band came back to Costa Rica a long process began to record their latest EP Jóvenes Iracundos. The newest release was released in March 2016 as a 12" vinyl format thanks to the Mexican label Buen Día Records. Shortly after the EP was released, Ave Negra were invited to the first edition of Festival Carrusel, but this time with a fourth member, Arnoldo Von Storren, on second guitar. Now the band is about to release a 7" featuring all four members.
The Filmmakers
Backdive are a film-making duo based out of Austin, TX.

Follow Sounds and Colours: Facebook / Twitter / Instagram / Mixcloud / Soundcloud / Bandcamp

Subscribe to the Sounds and Colours Newsletter for regular updates, news and competitions bringing the best of Latin American culture direct to your Inbox.
Share: