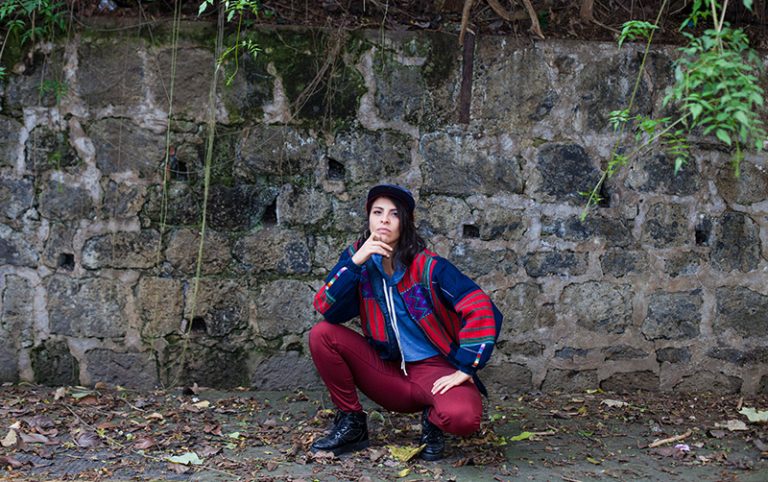 Meet Nakury, The Tica Rapper Taking Hip-hop Back to its Activist Roots
31 May, 2017
Mainstream hip-hop can sometimes appear to be dominated by tales of cars, jewellery and the high life, but there is a long tradition of activism in the genre. In Latin America, a new wave of rappers are taking note of this history and using their music as a force for change.
Nakury is one example, a Costa Rican artist that works to empower young women through music, break dance and workshops. With high levels of gender-based violence and a predominance of machista attitudes throughout Central America, Nakury was inspired to rap by her own experiences and a belief that art can help to bring change. After a rapid rise to prominence in the region, she has now released a new album called Via.
[soundcloud url="https://api.soundcloud.com/tracks/318641931″ params="color=ff5500&auto_play=false&hide_related=false&show_comments=true&show_user=true&show_reposts=false" width="100%" height="166″ iframe="true" /]
Born Natasha Campos to a middle-class family, Nakury doesn't fit the archetype of a rapper. Pressured by her relatives, she used to take part in beauty pageants and worked as a model before deciding that hip-hop was more important than pleasing her family. "I did the competitions with my hair dyed, extensions, nails, heels… but what I wanted to do was breakdance," said Nakury. "When I was 18 I entered Miss Costa Rica and it was all the same shit. After that one I threw in the towel and decided I'd never wear another pair of heels in my life."
As well as allowing a young Nakury to express herself, hip-hop culture proved to be an escape from a violent home life. At first, it was graffiti that gave her a certain freedom. "I used to escape from the violence in my house," she said. "We used to suffer a lot of domestic violence and painting was my way of getting away from that."
From graffiti to break dance and eventually rapping, Nakury found inspiration in hip-hop culture and the experiences that it brought her. She credits writing poetry and lyrics for her ability to see past the situation she found herself in and take control of her life. Nakury now works to make other Central American women confident enough to express themselves, women who may be dealing with their own violent situations or pressure to fit in. "One of the main reasons why these girls can't be artists is because of their families. That's what happened in my life," she said. "The fact that I can speak to these girls and make them realize that they can do things is another way of inspiring them."
In 2015 Nakury linked up with other female artists, including Rebeca Lane, Audry Funk and Nativa, to tour Central America and Mexico, and a second tour with Rebeca Lane took place in 2017. Nakury believes that music is a great way to spread a message, but they also make time to run workshops for women on the tours. All of the tours and events are self-managed, giving the artists freedom to do what they want and keeping their music out of the hands of the industry. "We want to manage things for ourselves," said Nakury. "We don't wait for a big festival to invite us to play or for a label to sign us. We do it because we want to and we need to."
[soundcloud url="https://api.soundcloud.com/tracks/318641296″ params="color=ff5500&auto_play=false&hide_related=false&show_comments=true&show_user=true&show_reposts=false" width="100%" height="166″ iframe="true" /]
This sense of independence shines through in everything that Nakury does, and she wants to transmit it to her audience. The rapper says that it's not only about breaking gender stereotypes and expectations, but rethinking possibilities in Central America. "Society tells you that you can't change your situation. They say that you can't do what you want because you have to work eight hours per day," she said. "All of this information is part of the collective subconscious and it leads to underdevelopment in our countries."
For Nakury, her music is a form of direct action which aims to make people reconsider what they can do with their lives. While protest movements such as Ni Una Menos draw attention to violence against women in Latin America and campaign for change, Nakury sees art as an effective part of the struggle, and one that can transmit ideas quickly.
"Political reforms are the achievements of social movements," she says. "As artists we have the chance to facilitate creative spaces where we can liberate our thoughts, discuss and even articulate activism."
Nakury knows that if you want to make people think, you've got to make what you're saying relatable. She says that her lyrics are more relevant to her fans than pop songs about life abroad. "We are singing from our context in Central America, addressing things that happen our lives and our community," she says. "People from all over the world identify with our messages because we share our reality instead of creating a romantic fiction of success."
It's been a long road for Nakury, and one that informs everything she does today. There is a new album, an upcoming tour, and thousands of new fans, including some that tried to discourage her from becoming an artist in the first place. "Now my family kind of like the music, they listen to it, but they all think that I'm completely crazy," she says with a wry smile.
After winning over the toughest crowd, Nakury is hopeful for the future. "I see that Central American women are working harder and harder to increase our representation as decision makers in society," she says. "A paradigm shift is approaching, starting with our daily lives."
Nakury's new 16-track album Via was released on April 20. It features collaborations with artists such as Rebeca Lane, Barzo, Kumary Sawyers, YOGI beatbox, Nacho Páez, and Guadalupe Urbina. You can listen to the album on Spotify, iTunes and Soundcloud, or catch Nakury live on her tour of Costa Rica in June and July.
Nakury also organizes Union Break, the largest hip-hop festival in Central America, and the 2017 edition is scheduled for the autumn.
[soundcloud url="https://api.soundcloud.com/tracks/318640871″ params="color=ff5500&auto_play=false&hide_related=false&show_comments=true&show_user=true&show_reposts=false" width="100%" height="166″ iframe="true" /]

Follow Sounds and Colours: Facebook / Twitter / Instagram / Mixcloud / Soundcloud / Bandcamp

Subscribe to the Sounds and Colours Newsletter for regular updates, news and competitions bringing the best of Latin American culture direct to your Inbox.
Share: