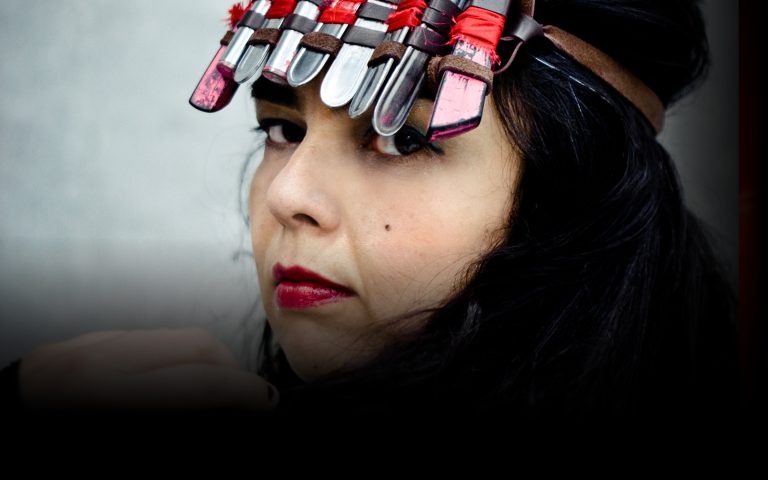 Soundtrack to the Struggle / ¡Arriba las Mujeres! Playlist
22 December, 2016
"¡Ay, qué manera de caer hacia arriba y de ser sempiterna, esta mujer!" ("Oh, the way this woman has of falling upwards and being eternal!")
These are the opening lines to Pablo Neruda's poem "Una Elegia para Cantar" (An Elegy for Singing) in which he praises the virtues of Chilean singer, songwriter and artist, Violeta Parra. Parra's exploration and popularisation of Chilean folk music was at the heart of the Latin American nueva canción movement of the 1960s and 70s. This radical period was defined musically by the fusion of folk-inspired instrumentation and lyrics advocating social and political change. Parallel movements such as tropicália in Brazil and nueva trova in Cuba, which also arose at this time, created a platform for social and political dialogue. The contribution made by female artists played a central role in the development of these musical protest movements.
Through their deeply political lyricism and incorporation of African or Indigenous musical traditions, artists such as Gal Costa and Maria Bethânia in Brazil, and singer Mercedes Sosa in Argentina, contributed to the fight against injustice and oppression.
The legacy of these inspirational women continues to this day. Within the vast world of contemporary Latin American music, amongst the ever-growing range of styles and genres, there are powerful Latina voices channelling the spirit of the protest generation. In this musical selection, artistic genres range from Latino trap to cumbia through to Afro-Cuban jazz. Despite their musical diversity, they come together in building a new narrative for Latin American women.
Female solidarity, inequality, internationalism, racism and police brutality; a whole raft of issues are covered by these contemporary artists. In some cases, overt political messages are relinquished in favour of descriptions of the daily struggles. In other songs, the act of protest lies in the female artist's defiance of traditional gender constraints that had previously limited their access to certain genres of music.
Hip-hop has a strong presence in this list. Flying in the face of the misogynistic and patriarchal undertones so often present in mainstream hip- hop, these artists are returning to the genre's tradition as a platform for cultural resistance. Their rhymes draw attention to issues such as gender violence, lack of access to education and the struggle to make their voices heard within their own community.
When we put this music in the context of the urgent problems facing Latin America today – rising inequality, gender violence, poor education, environmental degradation and human rights abuses – the importance of protest music cannot be understated. Equally, neither can the important role Latin American women are playing in finding the solutions.
This article originally appeared in Alborada magazine #3 (Winter 2016/17). Alborada magazine is an independent publication offering an alternative for those wanting a balanced account of Latin American politics and culture. You can get a copy of the magazine (print and digital) from alborada.net/mag3
¡Arriba las Mujeres! Playlist
Listen to Ursula's ¡Arriba las Mujeres! playlist using Spotify or via the videos below. Ursula has written about five of the artists featured on the 16-track Alborada playlist, so please read on to find out more about some of the artists involved.
1) Ana Tijoux "Vengo" (Album: Vengo)
As the daughter of Chileans exiled during the Pinochet dictatorship, Ana Tijoux was raised on the politically charged music of Victor Jara and Inti-Illimani. So influential was this period in her life that it is a theme that runs through her music to this day. "Shock", the last track on this playlist, provides a scathing attack on neo-liberalism and is dedicated to Chile's student protest movement. The value she places on her Andean ancestry becomes apparent in this track, the title song to her latest album, Vengo. Tijoux combines traditional folk instruments and rolling brass loops with hard-hitting lyrics exalting her indigenous heritage.
2) Karol Conka "Tombei (Tropkillarz Radio Remix)"
Rapper, singer and songwriter Karol Conka's debut album Batuk Freak blew a hole in the Brazilian hip-hop scene. Growing up as a young black woman in a poor neighbourhood in the southern Brazilian city of Curitiba, Conka's experience of prejudice and racism fuelling her desire to succeed. Conka draws inspiration from powerful black female artists of 1990s hip-hop such as Lauryn Hill and Erykah Badu, opening up a female dialogue in a male dominated scene. Her lyrics reflect this and make reference to her personal struggles, which she hopes will inspire other women. Finding power in her own sense of self is her form of protest.
3) Carolina Camacho "Los Tambores" (Album: Los Tambores)
4) Lurdez Da Luz "Andei" (Album: Lurdez Da Luz)
http://youtu.be/c_x0leP4CCk
5) Sara Hebe "El Marginal" (Album: El Marginal)
6) Daymé Arocena "Madres" (Album: Madres)
7) Rebeca Lane "Poesía Venenosa" (Album: Poesía Venenosa)
Guatemalan feminist rapper Rebeca Lane's socially conscious lyrics deal with the day-to-day realities of being a female hip-hop artist. In Lane's view "hip-hop is a political movement" and alongside other MCs from across Latin America she is using this platform to talk about urgent issues facing women. "Poesia Venenosa" is heavy in descriptions and idioms, making strong use of figurative language. Lane has spoken about her use of language as a metaphor for the struggles women face to being heard in Guatemalan society.
8) Kali Mutsa "La Telenovela (Tatsu Jones Remix)" (Album: Souvenance (Remixes))
http://youtu.be/VyaBSlTKSGM
9) Rabit "After Woman (for Bartolina Sisa)" (Album: Elysia Crampton Presents: Demon City)
http://youtu.be/jLYDso0lkWM
10) Wara "Leave to Remain" (Album: Leave to Remain)
The ten-piece band Wara, led by UK-based Cuban singer Eliane Correa, have been described as a 21st century London-Havana soundclash. Their album Leave to Remain fuses hip-hop, jazz and reggae with Latino rhythms, creating a sound that resonates with a London vibe. The title track's lyrics are a blistering attack on the human cost of the UK's immigration system; a system that holds many of the UK's Latin American community in its grip. Wara's lyrics challenge the concept of a person as 'illegal'. This feels all the more poignant when seen in the context of the recent targeting of foreign workers in immigration raids across London.
11) La Mulata "Contra Mi" (Album: Contra Mi)
12) Ava Rocha "Boca do Ceu" (Album: Ava Patrya Yndia Yracema)
http://youtu.be/ngTTH4iCjfs
13) Nakury "Fiesta Familiar" (Album: Fiesta Familiar)
14) Rebeca Lane "Estilo Natural" (Album: Poesía Venenosa)
15) Kumbia Queers "Plantala" (Album: Canta y No Llores)
Tropipunk was a term first coined to describe this Argentinian-based cumbia band Kumbia Queers. Their music harnesses the energy and spirit of cumbia yet their rock elements (they had a previous incarnation as a punk band) shine through by way of distorted guitar riffs and growling vocals. Despite the band shying away from being overtly political, they acknowledge that their cumbia style flies in the face of the misogyny and macho culture that permeates so much of the Cumbia tradition. Their refusal to conform to gender stereotypes and their use of the word 'queer' is opening up the conversation in their native Argentina and empowering their fans to do the same.
16) Ana Tijoux "Shock" (Album: La Bala)
To listen to this and other Alborada music playlists, visit alborada.net/music
This article appears in Alborada magazine #3 (Winter 2016/17). Grab a copy (print and digital) at alborada.net/mag3
Ursula Parvex is a teacher in London and a member of the Alborada Soundsystem. You can follow her at @ursulaparvex1

Follow Sounds and Colours: Facebook / Twitter / Instagram / Mixcloud / Soundcloud / Bandcamp

Subscribe to the Sounds and Colours Newsletter for regular updates, news and competitions bringing the best of Latin American culture direct to your Inbox.
Share: