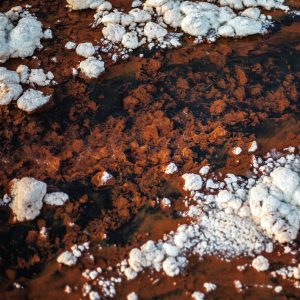 Reviews of Ariwo's first, eponymous album, released in May 2017, talked memorably of "a sonic terra incognita" and "a soundscape that was paralyzing and moving all at once". Listening to the stripped-back and hypnotically percussive electro jazz of this, their second album – rooted as it is in the improvisational approach of their live sets – it seems entirely appropriate that the acclaimed Cuban dancer Carlos Acosta has picked up on Ariwo. Some of the numbers on Quasi will constitute dance pieces for his new Havana-based contemporary dance company, Acosta Danza. [The troupe will be touring the UK later this year and are not to be missed.]
This is the kind of music to inspire a choreographer, or a pill-popping clubber, perhaps. The Cuban-Iranian band take their name from the Yoruba word meaning "noise" and the seven tracks on the album are all driven by the relentless throb of Pouya Ehsaei's keyboards and the incessant chatter of percussion supplied by ex-Irakere virtuoso, Hammadi Valdes, and congalero, Oreste Noda. It is the kind of polyrhythmic "noise", one imagines, that could – to use Jazzy B's phrase – "put you in a trance".
The fills are supplied by the Iranian composer and band-leader's keyboards and guest slots from Binker Golding on sax, keyboard wizard Joe Armon-Jones and Cuban trumpeters Thommy Lowry Garcia and Yelfris Valdes. It's the plaintive call of the trumpet in a chilly "sonic terra incognita" (particularly in "Pyramid") that triggers flashes of self-styled "Fourth World" trumpeter, Jon Hassell, the young British trumpeter Laura Jurd's band, Dinosaur, and the Groundtruther "concept-band" of guitarist Charlie Hunter and electronics maestro, Bobby Previte. The strap-line to the latter's 2004 Latitude will no doubt resonate with Ariwo: "What you hear is played 99% live… and 100% improvised."
Therein perhaps lies the rub. Judgement of the album ultimately depends on one's tolerance for what seems to be essentially improvised music. Although the likes of Terry Riley, Philip Glass, Steve Reich and co. long ago accustomed my ears to the kind of repetitious music that induces trance-like states, theirs is fundamentally composed music that relies on subtle shifts of key and tempo to create the kind of drama that keeps you on your toes. Here, though, a lack of variety qualified my enthusiasm. It's difficult to distinguish individual tracks. Most start with the patter of tiny beats before the percussion and keyboards quicken the pace to create an image of fast-moving traffic, coloured by the occasional chorus of ancestral voices (on "Ireme" and "Bandar") or the trumpet's clarion. On "El Alacran", the timbre recalls that of the Franco-Lebanese trumpeter, Ibrahim Malouf, and helps to conjure a Middle Eastern "soundscape". But only on "Dasht" does the pace slow down a little as the sound of a conventional piano comes into focus.
Good as Ariwo's Quasi undoubtedly is, to my venerable ears it would work better in the context of contemporary dance or a steamy, pulsating dance floor. Since my clubbing days are probably over now, I shall play it sparingly in the privacy of my own headphones.
Quasi is released by MANANA Records on May 17th

Follow Sounds and Colours: Facebook / Twitter / Instagram / Mixcloud / Soundcloud / Bandcamp

Subscribe to the Sounds and Colours Newsletter for regular updates, news and competitions bringing the best of Latin American culture direct to your Inbox.
Share: