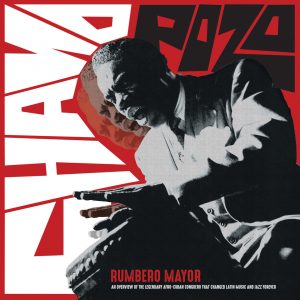 Review
Chano Pozo – Rumbero Mayor
It would be tempting to argue that the hot-blooded, fast-living rumbero of African origin from the slums of Havana was the inventor of what became known as Cubop or Afro-Cuban jazz. Certainly the course of Latin music history and the route to modern salsa might have been quite different without Luciano "Chano" Pozo. Yet we generally know fairly little about a life that ended violently at 33, and even less about his recorded output. Grosso! Recordings, part of the Vampisoul group of labels, has put that situation right with an excellent new double album backed up by Pablo "DJ Bongohead" Yglesias' informative liner notes.
Customarily, we "print the legend": a story that starts with the ace percussionist arriving in New York to seek fame and fortune at the time of the bebop revolution in jazz soon after WW2. Chano Pozo hooks up with Mario Bauzá, the lynchpin of Machito's Afro-Cubans, who happens to know that Dizzy Gillespie, his young ex-colleague from the trumpet section of Cab Calloway's orchestra, is looking for a conga player to kick-start a new experimental big band. Does he know the man for Diz! Cue the beat of the newcomer's leather-skinned palms on a conga (worn shotgun-style, strapped over a shoulder) before it merges with the pounding of massed percussion. The plaintive call of a trombone is then submerged by a cacophony of brass from which Dizzy's clarion trumpet emerges… "Cubano-Be" is still thrilling over 70 years later. At the time, its impact must have been like the 'nuclear weapon' that Dizzy himself described. Listen to the Yoruba drumming and chanting of "Ya No Se Puede Rumbear" and compare it to the first half of the big band's 'part 2', "Cubano-Bop", to appreciate just how Chano Pozo kindled his new employer's creative fire. Along with the Pozo-Gillespie-composed perennial classic, "Manteca", the two-part opus formed the big band's signature. Bass player Al McKibbon recalled how "some kind of magic happened… and when we played 'Cubano Be Cubano Bop' and 'Manteca' at the Apollo I thought the balcony was going to fall off its hinges… because Chano was really brilliant."
The fourth side of the [vinyl] album captures the brilliance of the few best-known American recordings. Yet, it's the back story revealed on the other three sides, recorded (mainly) in Havana and in New York, that's so compelling. The fidelity is understandably lower, but it's here that we really get to know a street-tough firebrand of rhythm, who was also a successful dancer, composer and leading figure in the annual Havana carnivals. He sang and drummed with local orchestras like Orquesta Hermanos Palau and Orquesta Casino de la Playa, and often backed the popular vocalist, Miguelito Valdés, who was to suggest that he try his luck in New York. His compositions, such as "Blen, Blen, Blen", the glorious "El Pin Pin" and "Nagüe", earned him renown but little reward. Certain Chano Pozo originals were picked up outside of Cuba by the likes of Machito and Xavier Cugat. They're all here, some restored and re-mastered for modern-day consumption. From the opening "Blen, Blen, Blen" to the closing "Boco Boco", these 28 prime cuts swing joyously and conjure up a bygone but vibrant era.
Chano Pozo died in December 1948 just short of his 34th birthday, gunned down in a Harlem bar when – cruel irony – he returned to New York to buy some congas to replace the set stolen while on tour. Like Robert Johnson before him and Charlie Parker after him, he left a legacy much greater than the sum of his years. In his liner notes, DJ Bongohead exemplifies his influence by taking the second track, "Ariñañara", and tracing a long line of subsequent re-recordings through the likes of the Joe Cuba Sextet, Fruko y Sus Tesos, Poncho Sanchez and the Spanish Harlem Orchestra. Mario Bauzá put it well: "Sometimes you gotta die and rest in peace for 20 years before the people start evaluating what you're doing. Now they want to know because so much has happened with the conga, that they want to know where that comes from, and they got to go to the roots." This is a chance to go to the roots and celebrate the life of a trail-blazer. The edition, though, is limited to 500 copies, so hurry hurry while stocks last. For devotees of Latin jazz – indeed Latin music in general – Rumbero Mayor is an indispensable album.
Rumbero Mayor is available from Grosso! Records

Follow Sounds and Colours: Facebook / Twitter / Instagram / Mixcloud / Soundcloud / Bandcamp

Subscribe to the Sounds and Colours Newsletter for regular updates, news and competitions bringing the best of Latin American culture direct to your Inbox.
Share: