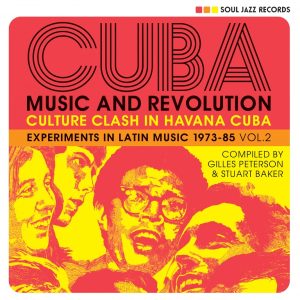 Review
Cuba: Music And Revolution (Culture Clash In Havana Cuba: Experiments In Latin Music 1973-85 Vol. 2)
I've said it before and I'll say it again, there are few things in life as enjoyable as a good compilation. Be it reggae, New Orleans soul, funk or R&B, and now Cuban music from a challenging era in the island's post-colonial life, Soul Jazz Records do make some exceedingly good ones. There's the music, first and foremost, but there are also the wonderful informative booklets, packed with enough information to satisfy any card-carrying historian or musicologist. Like Volume 1 – and indeed like the sister volume of Cuban record covers from the period – the collection comes courtesy of a partnership between Gilles Peterson and Stuart Baker, who penned the fascinating notes that accompany the 22 wildly varied selections. Together, they round up a few usual suspects like Los Van Van (whose mighty "Llegue, Llegue" surely must have been somewhere anthologised before) and Juan Pablo Torres (erstwhile member of Irakere, who sadly feature only in Volume 1), but the vast majority of the cuts are curios dug out, no doubt, from countless dusty crates in Havana. The music was all recorded for the state-owned EGREM label and its imprints, Areito and Siboney, and as such serves as a great companion piece not only to Volume 1, but also to Nueva Vision, a 2007 collection from Berlin's Sonar Kollektiv label, which certainly merits a mention.
What's so surprising about these multi-coloured selections is the way they appear to defy the diktats of the internationally ostracised, Russian-backed regime. Jazz, funk, disco and other forbidden imperialist fruits have a direct or indirect influence on many of the artists featured. Orquesta Riverside's "En Casa Del Trompo No Bailes", for instance, is pure big-band Latin jazz that updates with bravado the classic sound of '50s Cuba. Grupo Sintesis, Los Brito and Ricardo Eddy Martinez all serve up a variety of the jazz-funk prevalent at the time, while FA 5, Raul Gomez and Los Reyes 73, to name but three obscure artists, all bow to the deities of disco. And while the authorities attempted to turn back the inexorable tide of salsa, love-child of the indigenous son in any case, artists such as Los Latinos, say, were laying down (on "Quemando") convincing variations on a genre.
Most curiously of all, the whole notion of Afro-Cubanism was discouraged because the idea of identifying one group of Cubans as different from another didn't fit with the philosophy of a perfectly egalitarian society. Yet, inevitably, each and every track is rooted in the rhythms that were imported from Africa. Luis Carbonell's incantatory "La Rumba", Los Van Van's "Llegada" and Los Papines' splendid "Solo De Tumba y Bongo", for example, are all exhilarating percussion workouts, while "Como Arrullos De Palma" sounds a little like an Afro-Brazilian meeting of Virginia Rodriguez and the heavily percussive backing of Tambores de Enrique Bonne, creator of the pilon rhythm popular in the early '60s.
The sub-title of this collection is Experiments in Latin Music. Certain tracks are overtly experimental: the quasi-percussive vocal sounds that sound almost like turntable wizardry on Los Papines' extraordinary "Para Que Niegas" seem to pre-date the art of Bobby McFerrin, Zap Mama and Cuba's very own Vocal Sampling. Leo Brouwer's "Tema de El Rancheador de La Naturaleza" is a mad minute-and-a-half of pure musical CinemaScope. For the main, though, the experimentation lies in the way that musical influences from the world at large collide and cohere on a single beleaguered Caribbean isle. As with all experiments, some work, others don't. One or two of the selections could have been left in their dusty crates. The majority, though, offer plenty to relish. It's very much music of its time, of course, but given the social context and ideological constraints, the second volume of this musical portrait of an era is lovingly researched, judiciously assembled and thoroughly enjoyable.
Cuba: Music And Revolution Vol. 2 is released by Soul Jazz Records

Follow Sounds and Colours: Facebook / Twitter / Instagram / Mixcloud / Soundcloud / Bandcamp

Subscribe to the Sounds and Colours Newsletter for regular updates, news and competitions bringing the best of Latin American culture direct to your Inbox.
Share: