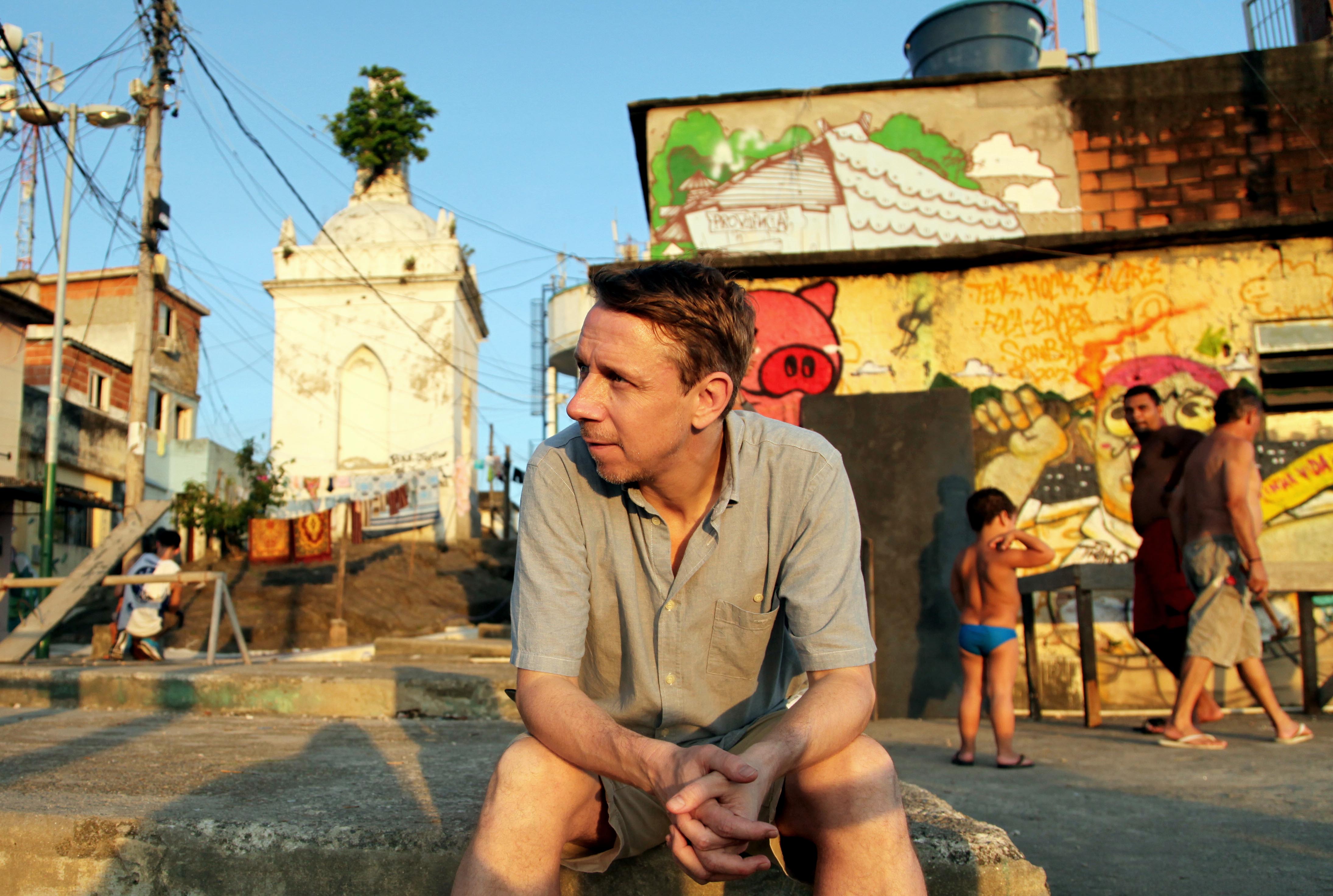 Brazilian Love Affair: An Interview with Gilles Peterson
26 May, 2014
In January this year, British-based DJ Gilles Peterson stepped out from his Brownswood Basement studio and his BBC Radio hot seat and headed off to Brazil to record a new album. Best-known for his work as a DJ, as well as discovering and nurturing new artists for record labels such as Acid Jazz, Talkin' Loud and Brownswood Recordings, this album saw Peterson return to production duties after helming the Havana Cultura albums from a few years ago.
For Brasil Bam Bam Bam (as the album is called) he recruited a crack team of Brazilian musicians and British producers – collectively known as Sonzeira (roughly translating as a "big, big, big sound!") – to put together an album with a modern approach but also drawing on Brazil's musical history, as well as Peterson's own journey: Brazilian music was one of his first loves when he broke through as a DJ on pirate radio in the 80s and it has been a big influence on him ever since. This is clear on Brasil Bam Bam Bam, an album that could be defining in Peterson's career. Here's the man himself to tell you about it…
Why did you decide to make a Brazilian album?
It was in the back of my mind since I did the Cuban records. I suppose I put Brazilian music on the back-burner for a while even though I carried on playing it and supporting it. My focus went a little bit more Cuban for a while. The Havana Cultura records that I did were kind of given to me – it wasn't my idea to do those – it came from Havana Cultura. They'd put me in that position where I had to become a producer in the more traditional sense of the word, so it was something that I'd not thought about previously. I'd been more of an Executive Producer or A&R man at that point, and done the odd remix but not done a lot of that stuff. It gave me the confidence to think about doing more things like that.
How did that idea then grow into Sonzeira?
So last year I went over to see Ted Cockle, who's the President of Virgin EMI, with the premise of archiving the Talkin' Loud catalogue [the record label that Peterson ran in the 90s] because I'd been very much involved with it for over 10 years and I noticed that there wasn't a great digital selection available. So I went to see Virgin to say "look, do you want me to get archiving it, or get someone to help archive it, before we all forget what happened?" and he was quite into that, but he said "look, what else are you thinking about?" And to be honest with you the last person I thought would be interested in a project like this was one of today's major record labels. I said "ah yeah, I'm thinking of doing a Brazilian project" and he said "I'm really up for that." I was like "are you sure? It's not going to be a Fatboy Slim, ya know, dance knock-it-out-for-Pepsi-Cola type of record?"
So, I almost just threw it at him as a laugh really and then literally I thought "fuck, I better get my shit together." So a few weeks later I got a flight to Brazil and went on a bit of a scouting mission. I knew I didn't have very long because the one premise was that we needed to get it done quite soon because there's not much pont making a Brazilian record that comes out after the World Cup's over. I went to see Orquestra Imperial in rehearsals for Rock In Rio and that was where I heard Emanuelle [Araújo] singing and met Kassin, which was really important for me. I went to see people such as Elza [Soares], Marcos [Valle] and started getting sketches into my head as to what I was going to do, and obviously with my schedule it's kind of difficult – I couldn't spend nine months working on it – as I had a lot of stuff on. I thought that January was my time to get into it, so I went back in January and sort of pitched up and got the old RCA studios, and Kassin [read our interview with Kassin about the album here] was amazing as my co-producer, and I brought over Dilip Harris and Rob [Gallagher, from Two Banks of Four] as well, who wrote a couple of things for the record. We just got in the studio and hoped for the best. We had seven days, we had three or four sketches that we knew we wanted to do, but the rest of it was on the spur of the moment really.
[soundcloud url="https://api.soundcloud.com/tracks/146228321″ params="color=ff5500&auto_play=false&hide_related=false&show_artwork=true" width="100%" height="166″ iframe="true" /]
What was the idea behind the album? Were you after a particular "Brazilian" sound?
The premise was to make a record that was a reflection of my influences as a DJ living in South London, listening to jazz funk radio from people like Robbie Vincent and whoever was playing Gilberto Gil back then. How come I was playing batucadas in a pub in South London at the age of 16-17 to a bunch of people? How did that happen? So this record to me was about going from that to someone who over 25-30 years has had an element of Brazilian music in my DJ sets, on my radio show and on my albums, so my gradual development of learning about and collecting Brazilian music, from the days that I was buying George Duke records with Flora Purim and Milton Nascimento on them, and going into the history of the music from that direction. In a way the direction of this album, I'm hoping that it has the same impact that Brazilian Love Affair had for me when I was just 17 years old or whatever and I bought a record and then ended up discovering loads more on it. It's not a Rio record per sé, it's not a bossa record or a samba record – it has elements and variations of the Brazilian sound that have influenced me, and hopefully it's going to be a nice way for people to get to know a bit about Brazilian music and culture.
How was the experience of recording in the old RCA studios?
Working out of the old RCA was brilliant because it's such a grandiose studio with so much good spirit in it. That's where they record the samba schools every year and all the winners come through there, and that's how come we got Arlindo Cruz to perform cause he was in the studio next door. It was just one of those great moments where he came in and we were doing some stuff and he was really into it and hung out. I wasn't that aware of him to be honest with you because he's very domestic as an artist. He's got a big TV show in Brazil and he's probably the most famous person on the record, weirdly enough, to Brazilians. He can't walk out on the street really, a bit like Mart'nalia. He was there and really wanted to play cavaquinho on the track and everyone was like "Gilles man?" and I was like "cool, how much does he want?" "Ah no, he doesn't want to get paid". It was really great, the spirit was so brilliant, we had such a great band.
[soundcloud url="https://api.soundcloud.com/tracks/149856966″ params="color=ff5500&auto_play=false&hide_related=false&show_artwork=true" width="100%" height="166″ iframe="true" /]
What was the highlight of the album?
If you're gonna say what was the moment of the record it was definitely Elza doing "Aquarela do Brasil". Number one, that was the song that I wanted to do before we went out there. It was a little bit of a "really? Do you want to…?" It was like the national anthem. But, the thing is it's such a fantastic song that I just needed to change it a little bit. I knew Elza, I'd done some work with her and I thought "this is the woman to do it" because I want someone to sing that song who's lived it, who's got 40-50 years of career behind them. But I wanted it to be done in a different mood. I said this to Kassin, "I really want to do this but in a minor chord, I want to make it emotive." The day before I got to Brazil, I went into the studio, with Kassin and his guitarist Guilherme, he played me his arrangement of it and it was just perfect for Elza. The next thing was just to make sure that she turned up as I'd heard stories that she was unreliable, not in the best of health. I was being told by everyone that if she arrives we're lucky, there's a 20% chance. So that day in the studio we were all a little bit anxious, but luckily she walked in and loved the way we wanted her to sing it. And she got in and there wasn't a dry eye in the place.
The funny thing is that she was telling us this story that when she was discovered it was on a TV show – they have these programs on TV, they love their X Factor-type shows in Brazil, don't they? – and she was basically this poor girl from the favela, who came down with her mum, she was 17 years old or something, and Ary Barroso was presenting, the man who wrote "Aquarela do Brasil", and she arrived on the stage and got introduced to the audience, and she looked so rugged, undressed, poor. Ary Barroso was semi making fun of her on stage and said "what planet do you come from?" in front of the audience. And she said "planet hunger" and then she sang and the whole place fell apart. That was her beginning, she became a superstar from then. The funny thing was she'd never before recorded his most famous song, "Aquarela do Brasil", so it's the first time she sang the song from the person who broke her out. That was a really historical moment. At the end of that performance I said "even if the rest of the album gets lost or forgotten I know that this rendition of that song will last, if only amongst Brazilian people, her version will be referrred back to for years. So even in 50-100 years if they're gonna pull out a version of "Aquarela do Brasil" there will be people going "you've got to pull out the Elza version on Youtube, or whatever Youtube is called in 100 years time." That was a great moment for us.
How do you think the British will respond to the album? Do you think that British people "get" Brazilian music?
Out of all the world musics, I think Brazilian music is the one music that British people are the most inclined to go far. I've done African, Latin records, and the ones that have always sold the best, by far, are the Brazilian records. I think it's because the British people en masse have a love affair with football, they love all the intrigue and excitement of Brazil. Even if you go to bloody Norwich City Football Club and they score a goal you hear Airto's "Celebration Suite" at the end of it. There's a thing here. These might be minor things. It's not like France or other places where there is a more intrinsic, fundamental understanding of world music than the UK.
It's a media problem, because in France and other places there's a much stronger network. Obviously luckily for us we've now got magazines and other publications that put a good spin on it all. To re-present these musics. In a way that's our role. That's where I see myself, it's about being a link man between people who are curious and who want to develop. It's great. Even a few years ago we didn't have people like Cerys Matthews on the radio, and Lauren Laverne playing Soundway Records, or people playing the latest afrobeat compilations. That wasn't happening 10 years ago. It was happening in France. So at the end of the day that is the difference because in the UK it really was just Andy Kershaw and Charlie Gillett in London – he was really the best champion of the way it is now, and Sterns as well, but it was really small in comparison to other parts of the world. To answer your question I think we've got a long way to go still in this country to really push it. But we have a very healthy and hungry public that maybe in other parts of the world they haven't got, so that's really exciting.
[soundcloud url="https://api.soundcloud.com/tracks/148013492″ params="color=ff5500&auto_play=false&hide_related=false&show_artwork=true" width="100%" height="166″ iframe="true" /]
What are your thoughts on the new music coming out if Brazil?
You can see from the amount of music coming out on all these compilations and the work that Lewis [Mais Um Discos] has been doing, and Jody [Brasil Music Exchange] and all of that, there's a tonne of great stuff. That's what made me so happy to work with Kassin. Even though he wasn't directly involved with it I loved the last Gal Costa album [Recanto], the one that was produced by Caetano's son Moreno. That record – there's been a few records recently that I've loved which are a great example of the old and new coming together – and it was great to get Lucas [Santtana] on this record, he was somebody that I really wanted to make sure we could got.
Was there anything you hoped to achieve with Brasil Bam Bam Bam that you didn't have time for or just wasn't possible for whatever reason?
The only thing that we haven't done on this record is gone too electronic, but I was looking to do that more with the remixes anyway. But it was hard to do that with the time factor, we didn't really have the time to twist it inside out and pull it out the other end and make it something that was more electronic. Hopefully we found the right place in the middle of making a record that was a nod to the past but that also had an approach that only I could have made in a way, with what I know from the dance world.
Read our interview with Sonzeira co-producer Kassin here.
Sonzeira's Brasil Bam Bam Bam is available from Amazon and iTunes
You can listen to clips of Brasil Bam Bam Bam as an interactive YouTube video below:


Follow Sounds and Colours: Facebook / Twitter / Instagram / Mixcloud / Soundcloud / Bandcamp

Subscribe to the Sounds and Colours Newsletter for regular updates, news and competitions bringing the best of Latin American culture direct to your Inbox.
Share: