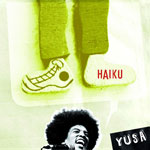 Cuban Zen: Yusa's Lived Poetry Shines on Haiku
|

31 May, 2010

A haiku, as poet Octavio Paz put it, is lived poetry. For Yusa, the Cuban singer-songwriter and multi-instrumentalist, this means the swaying of the sea, the hue and cry of the city, a toy's rattle, a loved one's dreams. Compared to everyone from Joan Armatrading to Erykah Badu, Yusa captures the intimate poetry lived in the changing, imminently musical Havana on her latest album Haiku (Tumi Music).


This is not the Havana evoked by the elder statesmen of Cuban music popular in Europe and the U.S. Instead, it is a vibrant, young, thoroughly modern musical metropolis echoing with funk, jazz, rap, and soul, but keeping its connections to its deep African and Caribbean heritage. "The Cuban music scene is rather unknown abroad, and the information that comes out of Cuba is always partial, as if Cuba was outdated and there were no modern, urban music or constant fusions," Yusa explains. "I believe this is its most unknown side: the richness and diversity of Cuban music. Cuba is a young country, but with a very alive culture, the fruit of many cultural mixtures."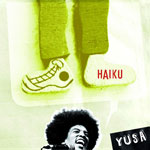 This diversity shines through on Haiku, revealing Yusa's personal ties to both old and new ways. The title track, "Haiku de paz" (Peace Haiku), was born from a melody that Yusa had roaming around in her head for weeks, but she couldn't find the right lyrics to fit it. An unusual solution soon presented itself: "One day, a dear friend told me something she had dreamed, and that shaped the four short verses in this song. I liked the minimalism, and I understood this as one of the features of this record: The essential." This essence harkens back to Cuban tradition, as the song's chorus, sung by friends from the Afro-Cuban rock band Síntesis, praises the white-clad Orisha god of purity and the mind, Obatalá. Old meets new, personal meets universal, in a Cuban Zen embrace.
Two essential features of Yusa's experience growing up in Havana—the city and the sea—resound in her music. The sounds of the city, from car horns to children's cries, flit through Yusa's songs, while her inner world echoes in the lyrics. This subtle soundscape was gently encouraged by Haiku's Brazilian producer, Alê Siqueira, who has produced songs for Marisa Monte and Bebel Gilberto and whose work with Brazilian pop great Carlinhos Brown won him a Latin Grammy in 2004.
Siqueira's unique, playful approach to recording meshed perfectly with the delicate, intimate songs Yusa brought with her into the studio. To perfect these songs, as Yusa laid down tracks on twenty different instruments, "We played a lot. Everyday we'd bring to the studio details of sounds, tunes from toys; we created sounds in the studio out of the most unsuspected things," Yusa laughs. "We had fun and we were free until the sound we wanted came to us."
Yusa's love of music and early musical training is intertwined with that other constant of Havana life, the sea. As a young girl, Yusa (born Yusimil Lopez Bridon) would sit by the sea after school, doing homework and strumming the guitar. "I have a natural feeling for the sea because my father was a merchant seaman, and I have always been surrounded by water," Yusa mused.
She began studying music in elementary school at age six, later going on to a well-respected Cuban conservatory, where she became close friends with many of her future collaborators and acquired her unflagging attention to musical detail. She also made the unusual choice to devote her musical studies to the trés, an instrument more often associated with male musicians from the Cuban countryside. Yusa, in fact, was the only student in her graduating class to major in the instrument.
After a stint playing Cuban traditional music with a group of fellow graduates, Yusa broke new ground as their group morphed into a jazz ensemble and she took up the upright bass. While later musical explorations led Yusa to the electric bass, in part as a member of Brazilian roots rocker Lenine's band, her most recent work has been a reconciliation and reconnection with the guitar and the trés. "The guitar is the instrument I use the most, for many reasons," Yusa notes. "One of them, the one that fascinated me most was its minstrel spirit. I realized I could carry it anywhere. Wherever I am, there's always a guitar nearby."
Capturing the minstrel spirit associated with the guitar is part of what Yusa calls the "integrity" or balance sought by roots-oriented artists like Lenine and herself. "I feel an almost mystical respect for my traditions and my roots. But I'm a woman of these times, a musician from now and not from other epochs. And I would like to be faithful to both sides, to love the parents as much as the children."
Finding balance and peace between past and present is an ongoing challenge as Cuba faces a new era. But Yusa looks to the future with great hope for her country's burgeoning music scene: "When creative people react to new vital experiences, new narratives arise, new ways of making and saying," Yusa reflects. "I hope that the changes will have an impact in the way Cuban music is promoted and disseminated, in its institutions. I trust this, with a lot of optimism. And with effort, too, because we all have got to be part of changes for good."

Follow Sounds and Colours: Facebook / Twitter / Instagram / Mixcloud / Soundcloud / Bandcamp

Subscribe to the Sounds and Colours Newsletter for regular updates, news and competitions bringing the best of Latin American culture direct to your Inbox.
Share: