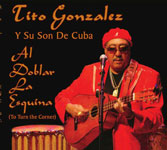 From Fisherman to Cabbie to Músico: Tito Gonzales Turns the Corner
18 April, 2010
There aren't many people who can claim to have cut their musical teeth while traveling worldwide as a fisherman, been blasted onto national television as part of a taxi-driver's collective of musicians, and had a government agency land them a gig playing for one of the top Cuban son bands of their era.  Tito Gonzales spent his young life walkabout, picking up guitar licks around the rim of the sea thanks to a Cuban-run company that sent fisherman like him far and wide to find the catch. The open water swept him into the urban narrows, and, back on dry land, he traded up for the sound of the tres (small Cuban guitar) and the Cuban son, yet his talent only led him to ordinary labor. Fate had in store for him a different destiny, a rapid ascendance from cabbie to celebrity and star of the Cuban music scene. Now, with a new life in San Francisco and the songwriter's freedom to experiment and story-tell, Tito, a consummate master of Cuban traditional music, brings a fresh sound to a lifetime of experience. His new album, Al doblar la esquina, features a fresh take on classic Cuban son backed up by exile talent in his band, the "Son de Cuba."

Tito Gonzales possesses the sweet, confident eyes of an amorous gentleman of a certain age. Accordingly, Tito's lyrical poetry embraces love and the lack thereof. Al doblar la esquina opens with "Buscar a alguien," a cheer-up song that Tito wrote for his lovesick pianist, whom he found one evening, saddened for his lack of a companion. This upbeat hello to the sound of the son, featuring Tito's frank poetic voice, is unworried and upbeat, like "Cuando tu te fuistes," another song for a comrade in heartache. This one is for the young man who painted the album's perky cover art, a landscape of Havana in rich Caribbean colors. Somewhere in that tangle of golden alleyways, Tito waits to meet you, just around the next corner.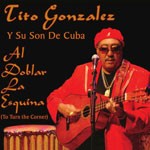 There is plenty new to discover on Al doblar la esquina. Tito, who first appeared on the Cuban music scene pushing forty and fully-formed, is still possessed of the creative impulse that drove him more quickly than most up a long and slippery ladder. Tito had a steady job as a taxi driver in Havana when, one day, he and some of his work buddies decided to put on a show for International Women's Day, an annual celebration. They knew he had some talent with the tres, a guitar-like Cuban instrument with three doubled strings and now Tito's signature axe. He had rediscovered the tres, which his father had played when Tito was a boy, after a long tour with the Cuban national fishing fleet, but had hardly touched it for over a decade. Until that day, music had been in and out of Tito's life: he flirted with the guitar when he was callow and into Elvis Presley, the Beatles, and Frank Sinatra. He rekindled the romance when his ship docked in Spain but soon traded his Spanish guitar for a tres, only to drop it again for a steady job as an auto mechanic. Now however, Tito and the son had found each other, never to part. The drivers practiced, the performance was a hit, and Un Grupo de Taxi Son, an all-cabbie son band, was born.
Perhaps the life of a working man granted Tito the perspective of age that tempers the wild tumbao, or "licks," that he plays on his tres. This speed and accuracy is something Tito learned quickly as his talent took him from a taxi-driver band to the top ranks of Cuban son musicians. After an appearance on national television, Tito got a job with a government-run musical talent agency, which assigned him to Estrellas de Chocolate, a son group stocked with expert musicians. "I didn't have much experience with sheet music because I had just started," recalls Tito. "I could read music, but this was very complicated." He had been studying the guitar with Octavio Sanchez Cotán, who told him he was "crazy" for trying to keep up with the rest of the band. Cotán sent Tito to the famous Papi Oviedo, who was also the Estrellas de Chocolate's former tres player. Oviedo confirmed Cotán's diagnosis of "crazy," then sat Tito down to learn the band's music. The lessons were charged with urgency, yet Tito was unturned. "I started to think that, if these guys were able to make music with them, then I could too . That encouraged me to keep trying." He slept with his tres at his side.
Today, Tito's original songs are deceptively simple – between their fluid melodies and retrograde rhythms, they evoke a focus and introspection that Tito attributes, in part, to his new life in America. There is Bonnie, his wife, to whom "Cancion para Bonnie" is dedicated. "I take the pen in my hand to write down your wishes," he tells her, long past youthful games. Their love story began at a Buddhist meeting (both practice Mahayana Buddhism in Oakland, CA.  "Tito didn't speak English and I didn't speak Spanish, but there was a connection that transcended words," remembers Bonnie. This led quickly to a new life together in San Francisco, where Tito discovered not only his first taste of faith, but also Cuban musicians on par with those at home. On Al doblar la esquina, Tito has recruited some of that expatriate talent, including band leader and jazz artist Jose Dumen, who arranged the music.
Off stage, Tito teaches the tres (including some workshops at the Berkeley Jazz School), and he has dedicated this album to his students. On stage, Tito is the flawless showman, draped in suits and dignified fedoras in solid secondary colors. The quiet man comes to life with an energy that carries into the studio, where his smooth, mature voice, sometimes compared to that of classic son singer Daniel Santos in his later days, delivers love notes up and down the street with every slight inflection.
Yet, as lightly as the swagger of Tito's jangling tres and his familiar, stately baritone call friendly neighbors to alight their doorsteps, the bright streets of Havana are painted, too, with memories. Even as Tito calls us to dance with "Fiesta en el barrio" and "Cana tobaco y ron," his lyrics are drawn to hindsight. "Aquel viejo amor" reflects delicately on his former wife, the love of a life now past, while "La despidida" tells an older story, both for Tito and for fishermen everywhere. In this song, he recalls his time with the fleet, when a girlfriend's parents disapproved of their relationship. In the end, all those years ago, before the tres, he went back out to sea. So, he sings, "carry on with your life."
Across the blue water of the Caribbean, around Cape Horn to the bay of San Francisco, the trail of a simple man arcs gently into the horizon like the wake of a ship. Today, Tito is a man you could see on the street, waiting for his blind date but hardly accounting the time. Yet, if you stop awhile, perhaps share his stubby cigar, you mare share in the son scrapbook of memories that is Al doblar la esquina.
Courtesy of W0rld Music News Wire

Follow Sounds and Colours: Facebook / Twitter / Instagram / Mixcloud / Soundcloud / Bandcamp

Subscribe to the Sounds and Colours Newsletter for regular updates, news and competitions bringing the best of Latin American culture direct to your Inbox.
Share: